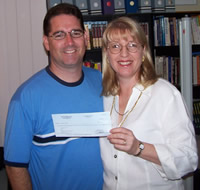 "Make Money While You Sleep" – That's the mantra that Andrew and Daryl Grant focused on when they started their ebook business on the Internet.
If you are a long time reader of Entrepreneurs-Journey.com you already know who Andrew and Daryl Grant are. The two part podcast interview I did with Daryl, where she breaks down each step of how she and Andrew generated $250,000 in their first year of selling e-books online, is still one of the most popular interviews I have ever released on this blog.
I frequently get positive feedback and suggestions that I should have charged for the information available in the podcast. You can have a listen for yourself here – Part 1 and Part 2.
A Fantastic Workshop
Back in March of this year I attended Andrew and Daryl's first ever live workshop in Brisbane, which was an in-depth, 4 day training workshop with more than 200 budding e-book publishers. You can read the coverage I did, including what Andrew and Daryl taught us each day, in the three part article series I wrote starting with the first article here – Lessons From Daryl and Andrew – Day 1.
It was partially because of attending this workshop that I went on to launch Blog Mastermind in the next few months, which obviously was a huge turning point in my own business life.
On the third day of the workshop they talk about building membership sites and it was by following Andrew and Daryl's model that I came up with the idea for Blog Mastermind.
The Workshop Is On Again This Time In Sydney
Andrew and Daryl are again running their four day event and this time it will be in Sydney on 27-30 July . It's a fantastic workshop and I wholeheartedly recommend it to anyone interested in generating passive income from an ebook business or if you just want a clear and simple introduction to online marketing.
You get to follow along and hear Andrew and Daryl breakdown exactly how they built their ebook business, how they set up their membership site which generates over $40,000 a MONTH and listen to them talk about other crucial topics, like breaking down unconscious barriers that are stopping you from making money online.
I'm heading down to go to the special event dinner on Saturday night, which is a cruise on Sydney Harbour (awesome!), and attending the event on Sunday to jump up on stage to again talk about blogging like I did last time. So if you want to say hello, I'll be there on Sunday.
Tickets Selling Fast
If you are interested in attending the event you better act fast because Andrew told me they are nearing their 500 person capacity for this workshop.
You can register here –
Look Inside the Grants' Internet Business Workshop – Sydney
The price is $995 per ticket, however you are allowed to bring a friend, so if you split the cost you can both attend for under $500.
What is Covered in the Workshop?
Here's breakdown of each day –
On DAY ONE they'll show you the processes and tools they used to modify their subconscious beliefs about earning passive income. Like many of us they discovered that none of this works if you don't have an underlying, subconscious belief that you will succeed.
DAY TWO is all about building an ebook business. It's the nuts and bolts of every step in the process of building a successful ebook site. They explain and demonstrate every step and answer any questions you might have about it.
DAY THREE is a more advanced strategy they've been using lately with a subscription site. It's the one that's made them $40,000 a month within 3 months of starting. While the strategy is more advanced (and therefore needs more technical and marketing knowledge), it produces a more steady and secure income than ebooks.
DAY FOUR helps you plan and implement your overall internet business. They show you how they plan their business. It's based on an 80/20 planning process that they used with hundreds of businesses back when they were management consultants.
Again, here is the link if you would like to sign-up –
Click here to register for the Workshop
Bonus If You Register Before This Weekend
If you decide you would like to come to the Grant's workshop and you buy your ticket via my link I'll give you three months free membership in the Blog Mastermind mentoring program if you sign up by the end of this weekend.
Once you buy your ticket just lodge a helpdesk request with your receipt number and I'll get your free membership set up ASAP.
Remember that's only if you buy through this link –
Look Inside the Grants' Internet Business Workshop – Sydney
You also better come up and say hello on Sunday when I am there so I can meet you in person.
As always the networking at these events is awesome, so make sure you have your business cards ready to go and I'll see you there!
Yaro Starak
Sometimes Making Money While I Sleep