This review is by Robert Kingston.

As you may have heard, keyword research is one of the fundamental parts in the process of search engine optimization. I know a lot of the readers of this blog seem to be interested in drawing more search traffic so I found it only fitting to take on this sponsored review.
Today, we're going to be taking a look at the relatively young (~1 Year old) keyword research tool Wordze, as I performed keyword research on one of Yaro's sites that I manage – MiniRiders.com.au.
What is Keyword Research?
For those of you who are unfamiliar, keyword research in the organic search world, is the practice of discovering keywords and monitoring the performance of your current keywords to draw extra organic traffic.
As an example, Mini Riders is an Australian forum for miniature bike enthusiasts and we tend to get most traffic based on keywords such as "mini dirt bikes" and "pit bikes". However, those keywords only supply us with about 5 percent of all the traffic we receive from search engines. If you really take a hard look at the traffic we get, you'll notice most of it is derived from long tail searches, which we don't track. In addition, we often lose our footing with some of our keywords at different times or fall behind trends in the industry.
This is where keyword research tools like Wordze come in. In one way or another we would all like more people visiting our websites. As Yaro explored in his article about the long tail, you may not be able to compete for the major terms, but it's certainly possible for people to draw in traffic from a long tail key phrase without much effort. Wordze provides a number of tools for its members to take on the task of keyword research, specifically to help with this process.
What exactly does Wordze do?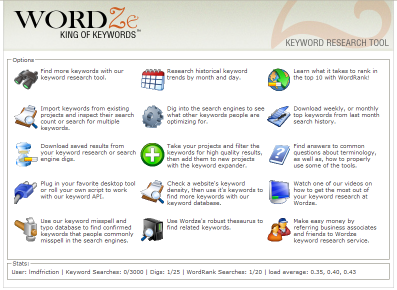 Wordze purchases user search data from ISPs from around the world and they claim on their site that they receive between 7-13% of all internet search queries. Basically, with that data, they let you find out which keywords are most popular and also how hard it is to rank for those particular phrases. Like all good specialists though, it has a fair few tools which allow you to dig much deeper than you could at Overture or the Google Sandbox (which is what most amateurs rely solely upon for their research).
Let's take a look at some of the flash tools they have on offer:
The Keyword Research Tool
As the heading implies, this is a standard keyword research tool that you can use anywhere and it even has an option to explore historical data. This is useful for finding similar key phrases to the one you enter.
The WordRank Tool
This is probably the niftiest tool Wordze has, which shows you which factors of your site are important in gaining a high ranking for specific keywords. It's based on monthly links pointing to the domain, the domain age and how many items are returned in the search results. Whilst it's not perfect, it gives you extra insight into what you should do to rank for a particular keyword. It can be used in conjunction with the KEI (Keyword Effectiveness Index – based off the number of searches for a keyword against the number of search results) to give a more accurate depiction of the difficulty of ranking for that keyword. Generally, the lower the WordRank and KEI, the easier it is to attract traffic from a phrase.
The Dig Tool
This one returns some really wacky results! I wouldn't expect anything less from a tool which analyzes thousands of websites and extracts their keywords. I used it anyway. Since it takes a bit of time to process this tool, I had my dinner and it was ready for me to explore when I got back. After checking what it turned up, I soon found out that this tool is great when used in conjunction with the filter tool.
The Filter Tool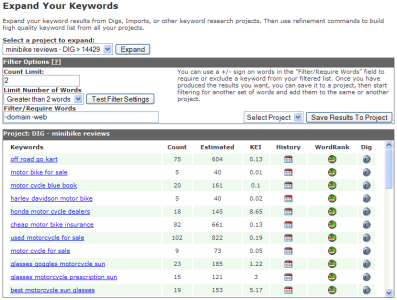 Once you've built up a list of keywords, you can proceed to cut out the junk by filtering out certain words or by requiring others. I struggled with this tool for a bit, but as I played with it more and more I began to see patterns which led me to find terms with an appealing KEI.
Competitor's Keywords Tool
My second favorite tool in the Wordze arsenal was the tool to analyze competitor's keywords and add them to your list. All you had to do was type in the URL of the site in question and Wordze returned a list of 1, 2 and 3 word key phrases from the site. Generally, when I searched for the related keywords, I received good results, however at times it was frustrating drawing relevant results for general words, such as "video", "pit" and "mini". Nevertheless, I added some more keywords to the list and moved on.
Misspelled Words Tool
I was reluctant about adding misspelled words to our keyword list. Most search engines these days have a search suggestion which calls the user to follow a link to the proper spelling if it's incorrect. I didn't end up using it much but I found it pretty interesting to play with. Besides, I figure most bikers on the forum don't care much for spelling mistakes, so it's more than likely that we're already well ranked for misspelled words anyway.
Download/Export Tool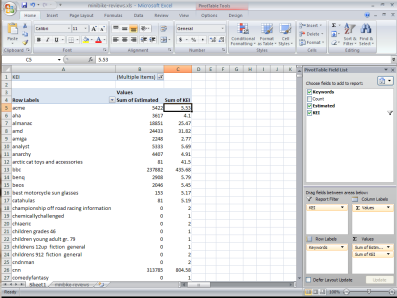 As my keyword list kept growing, I trimmed it down a little in the filter tool offered by Wordze and then I exported the keywords to Excel. This was fantastically useful – I could edit and sort through my list of keywords in real-time through a pivot table. This made a huge difference to the way I could track down the perfect keywords. Even though it saved the KEI number with the keywords, it could have been so much better if it displayed the WordRank as well. I doubt that will eventuate though as WordRank seems to be a very server intensive process.
The End Result
I wound up with a whole bunch of keywords which I can play with on the site. It would have been nice to have access to some advice on Wordze regarding how to use the keywords I found but I feel I know what to do. Regardless of that, it proved that we can effectively target the long tail by encouraging our members to write articles in our mini bike reviews section.
Pros:
At $7.95/day and $35/month, it's quite affordable for anyone into SEO, especially when compared to WordTracker.
You can access the Wordze API to use it in your computer with your own software.
The ability to save results in a number of formats (CSV, XLS or TXT) is quite helpful especially when creating Pivot Tables in Excel.
There are many effective tools for keyword research at your fingertips like the Competitor Keyword finder, Dig and the filter tool.
Your data is presented very quickly as opposed to Overture and it covers all the popular sources.
Cons:
There seems to be a lack of support on Wordze for newbies about keyword research and SEO.
It was somewhat difficult to distinguish keyword performance in countries outside of the UK and Canada but you could also argue smaller countries don't have a large enough body of consumers.
For the more scientific people out there, there was no real breakdown of the data collected; therefore their sample data could be a reflection on the users they're monitoring and the types of users on the ISPs they're monitoring.
Account creation was somewhat annoying. When I had clicked back when creating my account, it wouldn't let me use the same username. Also, they don't take PayPal.
Lastly, the thesaurus isn't perfect and doesn't account for the slight differences between countries. E.g. Favourites as opposed to favorites.
Conclusion
In summary, the Wordze toolbox is quite good for the SEO enthusiast in you. You will need to understand the importance and intricacies of keywords and user search behavior but at just $7.95 for 1 days access, it's well worth a look. Although, I think like most pursuits, you should follow it for more than a single day. Also, I still think it's only healthy to use other tools and develop a basic understanding of your topic area in order to dig a little deeper into the data. For now, there are areas in keyword research which computers cannot help you with.
Robert Kingston
Keyword Explorer