Michael Kwan is fast becoming a review king and he's offered to help me out here at Entrepreneurs-Journey too. In this review, Michael investigates an e-book by Eric Brown called "SEO Essentials For a Top 10 Search Engine Ranking". Read on to see if Michael thinks this book will help you improve your search engine rankings…
SEO Essentials e-Book by Eric Brown
You can find a list of other reviews and links to the products and resources I use to run my online business in the
Resources Section
of this website.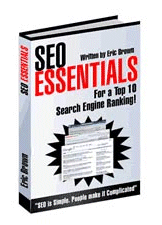 Name: SEO Essentials For a Top 10 Search Engine Ranking
Creator: Eric Brown
URL: www.seotips4u.com
Purpose: Learn how to optimize your website for a top ten search engine ranking
Reviewed by: Michael Kwan
Search engine optimization. It's a term that every website owner should know and it's a concept that many of us obsess over for our dot com endeavors. We want to rank as high as possible on as many search engines as possible, driving targeted traffic toward our websites so that we can hopefully make some money from these visitors. The money part of the equation can come from advertising, product sales, affiliate commissions… that part of the picture has limitless opportunities. But before you can even attempt to make money, you need visitors, and SEO plays a huge part in getting you those visitors.
On page 79 of his e-book, SEO Essentials For a Top 10 Search Engine Ranking, Eric Brown writes:
As I've said many times, "SEO is simple. People make it complicated."

Like everything else, the SEO industry is powered by money, so its secrets are closely guarded — at least they have been until now.
It's arguable whether SEO is really as simple as Brown makes it out to be, but when his e-book boasts a hefty 191 pages of text, diagrams, and hints, you start to wonder just how simple it really is. Is this e-book really going to launch your site onto the first page of Google search results for "iPhone"? How about "Viagra" or "Search Engine Marketing"? Let's find out.
Your Goal, His Tips
Very early on in the e-book, Eric Brown states that your obvious goal is "to appear in the top 10 search engine results for your selected keywords and/or keyword phrases." That much is clear. This is because "search engines provide the best source of targeted website traffic available on the Internet today, with between 60 and 85 percent of all Internet purchases started with a search conducted by a visitor at a search engine."
If you want to increase your sales, increasing your exposure via search engine optimization and search engine marketing is probably a good place to start. But you already knew that. It's the getting there that's the challenge.
Description Before Education
While Eric Brown's e-book is 191 pages long, as I've already said, it should be noted that the actual education on search engine optimization doesn't start until Chapter 6, which kicks off on page 78. The first 77 pages are filled with basic background information that will serve as a foundation for any SEO work you will do. Without this groundwork, none of the search engine optimization lessons would make any sense.
There are 9 chapters found within SEO Essentials For A Top 10 Search Engine Rank:
SEO and Website Owners
Purpose and Perspectives
The Main Components of a Top 10 Search Engine Ranking
Websites
Search Engines
Search Engine Optimization
The Importance of a Solid SEO Foundation
11 Steps to SEO Success
What Now?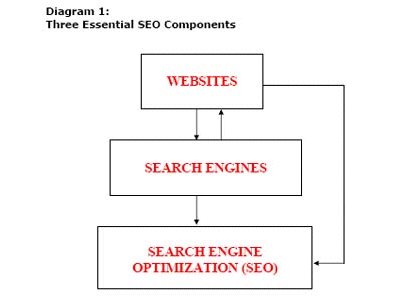 In the foundational chapters, Eric covers such popular topics as understanding HTML code, niche markets, domain names, and design & structure. Interspersed in the massive body of text are a small handful of diagrams meant to help illustrate what Eric is trying to say.
The 11 Step Program for Search Engine Superstars
Realistically, it's Chapter 8 that serves as the meat and potatoes to the SEO e-book. The other chapters are informative and well-written, sure, but for most of the people who are reading this review, there's a good chance that you've heard it before. As Eric says, SEO is simpler than most people make it out to be.
Chapter 8, 11 Steps to SEO Success, is 38 pages long. It starts with a website analysis and an evaluation of your niche market. This is important, because before you can set on any sort of marketing journey, you have to understand your target market and how you can best address their needs (and attract their attention). I'm not going to dish out the details — you're going to have to buy the book for that — but you'll find that going through the 11 steps will require a lot of evaluation, research, and eventually, optimization. The last step is in the program talks about keeping proper records and tracking what has been done.
Although some people may glaze over Chapter 6 — Search Engine Optimization — it can also serve as a great launching point for an Internet marketer. Sections in this chapter will help you with onsite optimization, offsite optimization, SEO copywriting (and how it's different from general copywriting), and "algorithm factoring".
Buy SEO Essentials for Under $55
Eric's book is on sale for $54.17, a $13 savings off the regular price of $67.17, through SEOTips4U.com. Unfortunately, there doesn't appear to be an affiliate program in place, so you can't make any residual income for helping Eric Brown sell his e-book. This could probably be the next natural progression for Mr. Brown's journey through Internet marketing.
That's assuming that he can follow his own tips and rank in Google for "SEO", "search engine marketing", or "SEO Tips".
For more information and to grab your copy of the book, go to –
www.seotips4u.com/learnseo.html
Michael Kwan