I invited Fran Kerr to complete a review of Gary Evan's new site, Positivity Space, a community membership site focused on using the Law of Attraction to improve all areas of your life. Here is what Fran had to say after spending sometime inside the community site.
******

Taking a bit of a wander through the 'law of attraction' related membership site, PositivitySpace.com, was quite a pleasant experience. In fact, I was somewhat delighted that Yaro had given me this task. What other job allows you to leaf through numerous articles and videos on personal development, spirituality and more importantly – the law of attraction.
Positivity Space is a membership site or online community founded by Gary Evans, as a means of creating a one-stop-shop for all your law of attraction needs, including downloadable resources, training videos and a really easy way to connect with like minded people.
Navigating Through PositivitySpace.com
When you first log into the membership site, you're presented with a news page, which lists the latest resources added in a blog style article post along with a message from Gary. I love how easy Gary's made it to see what's new and what's been updated so you don't actually have to hunt for it yourself. I also really like the blog style news post so members can add comments if they wish.
Downloadable Resources
I was impressed with the quantity and variety of the available downloads. Positivity Space has a section titled 'Downloads' which is a large bank of resources (mainly PDFs) either directly or indirectly related to the law of attraction. I could easily spend hours in there leafing through and reading the resources.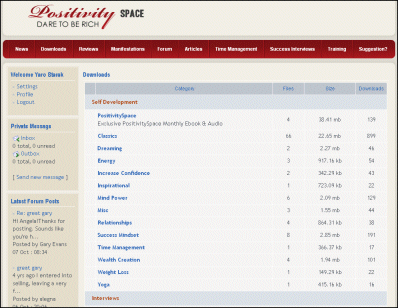 The problem is, when it comes to spirituality I'm a complete snob. I've been fascinated about spirituality and personal development for the last ten or so years so I've read a lot and done a lot of research of my own. I also tend to feel that yoga and meditation is the answer to everything so I often disregard a lot of the new age and 'em>personal development information out there.
I found the content of many of the downloads did not align with my personal spiritual beliefs and thus I disagreed with what some of the resources said. Some of the downloadable books were written badly, to be way too academic, or as if they were quite old.
Take for example the yoga book I downloaded, Lessons in Gnani Yoga (The Yoga of Wisdom). I've been attended an awesome yoga school for most of this year so I've already developed a basic understanding of the practice of yoga and its benefits. I also practice yoga daily so I have a thirst for knowledge to learn more about yoga and how it can be incorporated into my way of life. It should be easy to please me when it comes to yoga resources. Unfortunately I got bored of this yoga book after page three. I'm sure there was some good content in there but the way it was written made me quickly lose concentration so I started to scroll and skim looking for something interesting.
I was similarly unimpressed with the content of the dreams book I downloaded, Your Dreams Revealed. To be honest, the very long preface (21 pages long) lost me in the second paragraph when I felt like I was reading the bible.
I almost didn't want to open the books on 'energy' because I've studied energy and auras for a long time now and I know there's a lot of incorrect information out there. However, the book on auras that I opened wasn't too bad. It was certainly too novice for me and I almost chuckled at the suggestions for choosing your own form of meditation, but at the same time this book would probably be quite beneficial to a newbie. I remember reading a lot of books like this when I was just starting out and they did offer some value.
I would suggest that if you know a lot about spirituality and personal development that you may not get a lot out of these resources. However, I'm guessing that if you have an interest in the law of attraction – and particularly if you're new onto the spirituality scene, then perhaps you may get a lot more out of these downloads than I did.
Ratings Feature
There's an option in the downloads section for members to rate a download if they wish. There are so many resources that I'd personally probably look at the ratings before I made my selection on what to download. Once the community starts to grow, this rating feature is going to be incredibly valuable and very useful tool.
Time Management System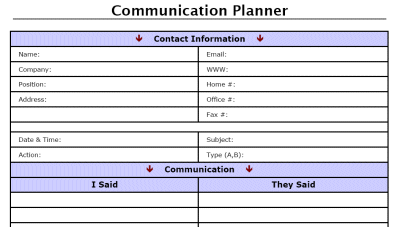 Gary has added a time management section which I really liked because I love tools that help keep me organized. This section includes a downloadable time management system, which is basically a series of Excel forms. The package also includes PDF versions so you can print the forms out and fill them in by hand if you prefer not to work online.
There are also eight Camtasia training videos along with a PDF user guide which I was very impressed with because it covers all learning styles and is exceptionally informative.
Training
Gary is in the process of creating a series of Camtasia videos for law of attraction training. There are two videos currently available, "What do you really, really want?" and "Burning desire". Gary is planning on releasing eleven more training videos over the next several weeks.
I'm happy Gary has put a considerable amount of work into the Camtasia videos. He's done a great job with the multimedia, which includes a bit of music, some nice imagery and some PowerPoint style slides. I would liked to have seen Gary's face at least once during the video considering he's talking all the way through it, but what he's done is considerably better than eleven and a half minutes of a head talking to you.
The Positivity Space Community
Now this I liked. Probably the best feature of this membership site is the integrated community aspect. Members can interact with each other via the forum, the internal mail system (great for sending private messages and really easy to use), or by posting comments to any of the articles within the site.
There's also an option to suggest book and movie reviews and then post comments and star ratings for reviews already submitted. This creates a little book club community which is really nice. I read a couple of the book and movie reviews on my brief visit, and have already planned a trip to my local video store soon!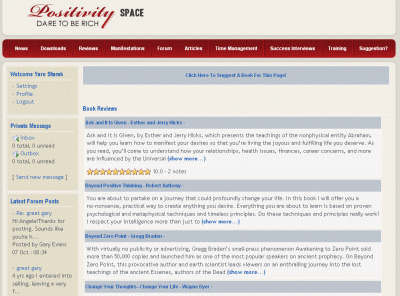 Other interactive features include a manifestations section where you can share your manifestation experience or comment and rate on others. PositivitySpace.com uses a star rating system where each vote can give up to ten stars.
The Techy Stuff
The navigation can get a little confusing, which unfortunately takes some of the enjoyment away from visiting the site. There are also inconsistencies with items opening in new windows, including internal hyperlinks. It was a while before I realized I had several browser windows open.
Using a breadcrumb trail within the navigation system also would have added value for members and would have made the site a little more intuitive. I found myself embedded quite deep within the system a few times, and had to click my browser back button three or four times before I figured out where I was within the site.
Gary has included a funky little text box editor for the article comments. Although I love a good text box editor, this one is a little weird because you can't actually preview your comment, and the modifications (you can change text colors and size, images and links etc) appear in some kind of smart code, so if you can't convert code to display in your head then the outcome may be a bit of a surprise.
The good news is PositivitySpace.com appears to work well in both major Internet browsers – Firefox and Internet Explorer so members should be able to use their favorite browser.
Will Positivity Space Change Your Life?
Um, unfortunately no. I'd say the Positivity Space membership site is a great resource and online community for the law of attraction if you're a newbie to spirituality and personal development, but it's not going to change your life. The content is just not at the level of life changing quality.
I think the actual community is fantastic for anyone interested in the law of attraction, but the resources just don't seem to offer enough value to more advanced spiritual beings, especially not if you have to pay to be a member of it.
On the positive side, the site is relatively easy to use, the design is simple and not at all cluttered and there are plenty of tools and resources available.
Best of all, Gary has created a really nice community feel and a heap of avenues for members to interact both with the content and each other.
There is a $1 seven day trial if you are interested to sampling the site, after that you will be charged $57 a month to keep your membership active.
If you want to see what Positivity Space has to offer, go to –
Fran Kerr