I've mentioned before that I derive some of my income online from websites I have purchased – forums in particular – that bring in a steady stream of passive revenue.
It's not a huge source of income for me (about low four figures at the moment), but given the return on investment – you can buy a website and earn back your investment cost within 12 months at most (usually closer to 6 months) – it's hard not to take advantage of all the amazing opportunities currently available in the online real estate world.
Dominiche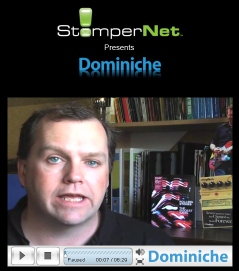 Ed Dale became famous as an Internet marketer because of his amazing story of selling 38 niche websites for 5 million dollars. He's gone on to make over 9 million from website trading and it's pretty clear Ed knows how to make money from buying and selling websites.
Ed, along with his friend Frank Kern, created a program called Dominiche, which teaches people how to replicate their system for locating, buying and profiting from website real estate. Earlier this year Ed joined the team at StomperNet and it appears that Dominiche came along with him.
Presently Ed is producing a series of videos introducing people to the world of buying and selling websites as part of the relaunch of Dominiche, this time brought to you by StomperNet. I just finished watching video number 8, where Ed explains how sometimes it's better to have little money when entering the web property market.
Yaro Quits Blogging
I have to be honest with you, if there was one business opportunity that I would give up blogging for, it's buying and selling websites. I love this stuff. It's an entrepreneur's dream, finding ASSETS that produce revenue, picking them up at bargain prices and if you like, flipping them for a nice profit.
There's an absolute gold mine of websites out there that produce solid income and sell for crazy low prices, if you know how to find them. Thanks to the natural growth of the Internet, provided you do some simple due diligence, it's very hard to make a mistake when buying web property. The market is hot right now – there's never been a better time in my opinion to get into this area of business, even as a side project, like I have.
I've asked Ed for a review copy of Dominiche and he's given me access, so I'll be conducting a review sometime in the future. Since Dominiche is an award winning information product and I've seen the caliber of Ed's previous work – and well, Ed is an Aussie too – I reckon this is one product I can recommend to you right now, no worries.
As an added bonus, people who buy Dominiche this time round also get two months of free access to StomperNet, which if you have time to study everything, is a beautiful combination of products.
One teaches you how to locate, assess, purchase and sell websites, the other gives you the tools to increase website traffic. More traffic equals more money when it comes time to sell, so if the idea of buying web property, "renovating" to increase traffic and then flipping for a fat return appeals to you, this could be the ideal product.
Just remember my usual disclaimer – if you are knee deep in a business already that you enjoy and are moving forward with at an acceptable pace, don't go jumping ship just because something sounds good. If on the other hand you have been looking for the perfect online venture, you have the time to study and implement, then Dominiche is a top choice.
It Doesn't Get Easier Than This
I honestly believe buying websites is the easiest way to get into Internet business. You don't have to go through the hassles of building traffic, producing content, waiting for the search engines to rank your site, attracting links, determining whether your business model can even make money – it's all been done for you. You just have to check that the sites you want to buy are indeed what the seller claims, and then step in with some upfront cash.
Of course if you have no money at all, buying sites isn't an option – or is it? Just like with property in the real world, there are ways to acquire sites with no money down, many of which mirror the methods in the real estate industry offline.
You can find investors and/or partners to fund the purchase while you handle the research, acquisition and renovation process, or use a "vendor finance" model where you work with the seller to arrange the purchase of the website for no money down. I haven't used either of these models myself, but I suspect Ed knows how all this works and the answers are within Dominiche – I can't wait to dig into the information and find out!
As you can see, I'm pretty excited about this product, more so than usual because I "get it" – I can see and have experienced the opportunity that exists and it's pretty darn simple – you can figure this out too if you know how to assess websites.
The Launch Is Tomorrow
Dominiche launches tomorrow (Tuesday USA time). It's not a "cheap" product, but like I said, this is one I have no issues recommending to you.
In the meantime, if you haven't yet had a chance to take a look at the lead-up videos and resources and "meet" Ed in person, spend a few minutes now to watch. Here are the links –
Just beware the screaming baby!