Angela Wills visited the IncParadise.com website last week for a review and she also conducted a brief interview with John Vanhara, the president of Inc Paradise. If you are in the USA and have considered incorporating a business this review should help to clarify a few questions you have.

For this review I stopped by IncParadise.com, a website that offers incorporation services for 50 states in the US.
I don't know a thing about incorporating. I think mine is a good perspective to do the review since it's likely most people coming to the site are new to incorporating and just want to get their business incorporation set up.
There are some things that I would expect to see on the main page of a site that offers incorporation services. Here are some questions I was asking myself as I looked for information about the service:
How can they help me incorporate?
What do I need to do to incorporate?
How much will it cost for my state?
The first question was something I didn't immediately find a clear answer to. I'd like to see something that includes a plain English description of the benefits and advantages to working with the company – why should I choose them over other services? The second two questions are answered well when you navigate to the information for the particular state you'd like to incorporate in.
Overall, the site offers a large amount of information about becoming incorporated. For each state they list the state filing fee and the fees for "checking name availability, preparing state-approved articles of incorporation, filing articles with state and sending articles or certificates of incorporation" – which sounds pretty comprehensive to me, but is probably just standard procedure for incorporating.
In each state section there is a link to free forms that are exclusive for Inc Paradise clients.
Every page for each state includes a summary of how long it takes to become incorporated, which is something every business owner will want to know. Inc Paradise also offers a price comparison table for each state so clients can be sure they are getting the best price. I actually used the chart to compare the prices of competing services.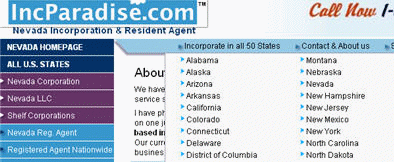 One of the major issues I found with the IncParadise.com home page is that it shows the information for Nevada only by default.
While the company is based in Nevada they are offering services to business owners across the United States. After looking around the site I did find a way to bring up pages for each state with information on how to incorporate in that state, but this may not be something everyone will stick around to find. The website is very "busy" and it can be hard to navigate to what you are looking for immediately without confusion.
To get more information about the site and services I also interviewed John Vanhara, the president of Inc Paradise.
John, please describe the service you are offering at IncParadise.com?

We help entrepreneurs start their own corporations. You might be a person thinking about starting a business or you have already started as a sole proprietor. When you decide that you want to go one step further and start a real corporation we can help you to file all the paperwork. We know the procedures on how to file the paperwork correctly. We will help you start your own company without spending big bucks for lawyers. For example when a lawyer charges $5,000 for filing a corporation, we charge $89.

What does it mean to become incorporated and why would a business owner consider taking that step?

There are different reasons why a person would decide to become incorporated.

If you are starting a new company and you know that you will need venture capital down the road, venture capitalists will rarely invest in you unless your business is incorporated. If I start a new corporation and I plan to seek investors, I will start it with millions of shares available. You can specify in your articles that you want 25,000,000 shares because one day you hope your company will go public. That means you will need a lot of shares and 25 million is a good number.

Other people incorporate for asset protection. For example, you make money in your online business, but decide to invest in real estate too. I am actually doing this myself right now. If you buy all real estate in your own name or in the name of your company it is a big risk. It's much smarter to set up a separate corporation for each property you own. If something goes wrong with one company or one business you keep other assets separate from the failing business.

There is always the possibility of something going wrong and by making the investment of a couple of hundred now, you can save yourself headaches later.

For example, you might own five homes and someone happens to fall in front of one of your houses and break a leg. They sue you. Lawyers will look at the owner of that house. If they see that it is your home personally and you own four more homes they will try to sue and take all your possessions. If the house is the only property owned by one corporation, they can touch only what is owned by that corporation. Nothing else.

Other reasons for starting a corporation is easier access to money. When you have your own company you are building so called "business credit". Banks prefer to lend money to corporations than to individuals. It is much easier to have access to business capital when owning your own corporation.

How can someone make the best use of the information you offer on your website?

When I started Inc Paradise I had just one service and that was Nevada corporations. Then we added all different types of companies (LLC, non-profits, partnerships, etc.), then we added incorporation in all 50 U.S. States. I know that it is probably getting complicated, so I suggest starting at our pricing chart.

This page offers quick links for each state where we offer incorporation service. It also has links to frequently asked questions and advice on if you should set up an LLC, INC or S-corp, etc.

Why would someone hire a company to help them incorporate, can't they do this themselves?

You have to know if you make more money learning how to file the paperwork or if it is worth it to pay a fee to have someone else do it. I would guess it takes a minimum of five hours to learn everything and the chance you would do something wrong is high. If you don't have much cashflow and you need to save money, I would say file it yourself. If you can make more money using your time in other areas of your business then focus on that and let other people handle the filing the work.

How would someone who is new to incorporating best navigate your site without feeling overwhelmed?

It can be very confusing. We try to place a lot of information on our site. I would say write us an email and tell us what you want to do. We will give you a suggestion as to what we think is the best solution for you, free of charge.
I learned a lot about incorporation by reviewing this site and interviewing John about the services he offers. I think they provide a wonderful service to business owners and it's important that you know who the people are behind a company. The Inc Paradise website does a good job of introducing me to those who make the business run.
I'm no expert at incorporating and there are a lot of options to choose from, so you have to do your research before deciding. The main concerns I believe you should consider before incorporating are:
Be 100% certain you are choosing the right company format for your business and personal situation
That you are dealing with people who know what they are doing and have a proven track record – consider even contacting previous clients if necessary
That you are not being over charged
My advice is to seek friends and colleagues who have already incorporated and ask who they went through, what format they used and why, and how much they paid.
If you don't have any existing resources to call upon, Inc Paradise is a good place to start for free information and possibly to handle your corporation needs too.
Angela Wills