I was given special access to Brian and Tony Clark's new membership site Teaching Sells as a joint venture partner to see if I felt the program was worth recommending to you.
Every other blogger in my industry has already written their promotional posts about the program during the first few days when Teaching Sells was released. Although I know my blogging peers all work very hard to offer great content and unbiased opinion when they recommend a product, there is also an element of urgency whenever something new launches. As you probably can guess, in terms of affiliate sales the sooner you promote the more you make because you beat the other affiliates.
I was on holiday during the launch of Teaching Sells so I decided to hold off my post until I could actually look inside and review the content, rather than attempt to rush a post during my holiday purely for the sake of getting in quick for maximum affiliate sales.
I've just spent some time going through what's available to members after joining and here's what I think of Teaching Sells.
Can You Make Money Selling What You Know?
When doing this review I had to change my point of view. As a blogger, who gives away a ton of free content and a membership site owner who also charges for a ton of content, I have a certain bias regarding the core principles that Teaching Sells promotes – the idea that you don't have to give away content and can instead sell it for a profit.
I feel like I both agree and disagree at the same time with the main thesis, so I am interested to study how Brian and Tony present their offer and also what they teach inside the program.
I decided to put myself in the shoes of someone with no online presence, but perhaps with some knowledge in an area that I feel could be valuable to people and hence profitable. My hope, as this persona, is that Brian and Tony can teach me exactly how to translate my knowledge into a profitable online business by selling what I know.
The golden question really is – can you make money charging for what you know?
The Core Modules
Teaching Sells is a 12 week course broken down into five modules. They are:
How to Create Content that Sells
How to Effectively Market Interactive Learning Environments
How to Create Killer Multimedia Content with Quick and Easy Tools
Seven Profitable Business Models for Interactive Content Developers
Your Blueprint for Building Membership Sites with Open Source and Low-Cost Software
There is also a community forum for members to interact in, which, if Brian and Tony remain present in long term, could become a very valuable sounding board for students to get feedback and help from.
Note I could not go through every module above because they were not all available in entirety at the time of writing this review.
Brian and Tony and their screencast expert, Shane Arthur, offer their materials in a wide range of media, including text, screencasts, audio MP3s and interactive flash presentations. A lot of what I saw at this early point in the program was teaser information about what's coming soon – very good teaser information though – and I'm excited to see all the different ways they will present resources in the future.
There is enough to work through in the first module, which is available immediately, and no doubt as the charter group of students go through the program, Brian and Tony will continue to release the rest of the modules.
First Impressions
I must admit I felt lost at first and I'm not entirely happy with the content management system they are using to deliver the information – I just wasn't exactly sure where to put my eyes upon entering and the very large screen width on my wide screen monitor didn't help. After playing around and shrinking my browser to a more manageable width I figured out how things worked. Expect a little confusion at first, but you should be fine once you snoop around and see where all the links go.
I started reading the first module and I noticed a strange feeling – I felt like I was back at university reading an online course. I'm not sure why that is – perhaps it was because of words like "instructional design" and the academic tone of the content. The information is great, but I did have to force myself to concentrate sometimes to absorb what was being said, although I think most people say that about anything you have to study.
Who Is The Target Market?
I started to realize that perhaps Teaching Sells is not targeted at absolutely beginners like I expected it to be. Given the tone and style of content, I think the program is best suited to somewhat educated people, which actually makes complete sense.
If Tony and Brian want their program to perform and actually get results for their students, they need to attract a certain type of student who possess at least some degree of knowledge, since the whole premise is selling knowledge.
That doesn't mean you have to know what you are going to sell before joining, but you do have to be prepared to acquire some knowledge at some point or you won't have any wares to offer in return for money.
The Good
Let's start with the obvious – Brian Clark is behind this. Brian, famous at least publicly for his blog, Copyblogger, knows how to write compelling content. I don't know how much of the content Brian is specifically teaching, but you can rest assured he won't put his name to anything he is not satisfied with.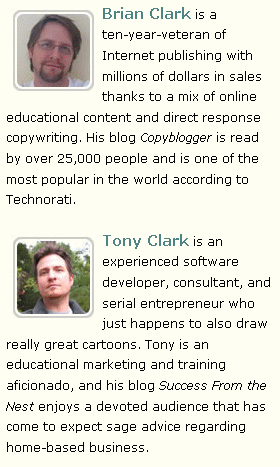 I didn't know of Tony Clark before this program was released, but Brian wouldn't be partnering with anyone who didn't know his stuff, so I'm sure this pairing will perform well together.
The program is extremely affordable, but that's only because now as I type this you can still join as a charter member for the discount price of $97 for the first three months (offers end October 2007). That really is a bargain and I'd join this just to have the information available even if you don't get to it for a month or two, so you can lock in the cheap price.
I like the fact that Teaching Sells will help you with the software tools by teaching how they create the information using different media. As Shane states in the welcome screencast for module three, the program will teach you how to use audio editing software, Camtasia screen recording software, flash development software and other tools you can use to create multimedia training materials. It's nice to have people show you the best resources to use so you don't have to hunt around for them yourself.
The Bad
I have to admit I'm not a fan of the writing style in *some* of the articles so far…but that's something very personal to me, and you might totally disagree with me, in fact I know many people would. I like a casual talking voice like a friend is chatting to me, sometimes Teaching Sells speaks to me like a lecturer at university, which back when I was studying, would put me to sleep.
The articles are short and although the premise is great, I'm not being told what to do just yet. I am being told why there is such a great opportunity to start selling knowledge online, but not exactly how. However this could all change as the later modules are released.
Although the course has interactive assessments, which I think are a brilliant addition, so far at least, I don't see direct task orientated training presented. I haven't been told what to do and I haven't been offered examples of how other people did things. I like successful case studies and then specific tasks to do to replicate the success that the case study presented. So far I haven't seen this in Teaching Sells.
All these points could entirely be my personal preference and you may find things different, so I recommend you try the program out and see if you like it, there's always a money back guarantee if you don't.
Too Soon To Be Conclusive, But Too Tempting Not To Try
Given most of the course is not available yet I really can't judge this program accurately. What I can say is that the premise is great and I expect things will just get better – and now is by far the best time to join.
Brian has openly stated, true to his teaching methodology, that the charter members are there to help him craft a better course, hence the cheaper price. I can attest to this process – it works, and that's exactly why I offered a cheaper price for the early bird students who joined my blogging program, Blog Mastermind.
The first group of students are there to help you construct a great course and you can't do that without active participation from real paying members who provide live feedback. In return for help, feedback and the understanding that the program is still in early development, charter members are rewarded with a cheaper price. That doesn't mean the program is bad, and really it doesn't matter if it starts off a little shakily, because you lock in your price for lifetime, so as the program improves you still have access at the discount rate.
Act Fast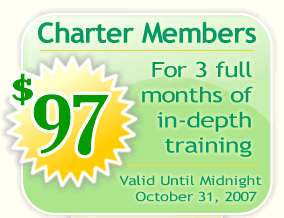 I know this may sound like hyped-copy, but the deadline for the special charter member price ends October 31st at midnight, about 24 hours from the time I posted this article. I don't know what the new price will be, but at $97 for THREE months and a no-questions-asked 30 day money back guarantee, you may as well join this just for the sake of taking a peek.
Here's the link, and yes, this is my affiliate link in case you were wondering –
Yaro Starak
Selling Knowledge