Easy WordPress Membership Sites is a video training product on how to set up a membership site using the WordPress blog content management system, presented by Matt NG.
You can find more reviews and links to the products and resources I use to run my online business in the
Resources Section
of this website.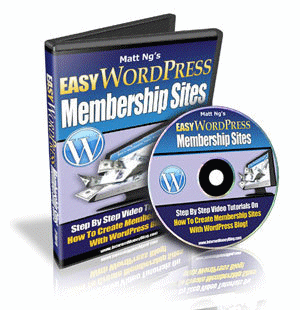 Product Name: Easy WordPress Membership Sites
Creator: Matt Ng
Website: http://internetmarketing-asia.com/ezwpms/
Purpose: To guide you step-by-step through creating your very own "members only" site using a WordPress blog.
Price: $19.90 USD
Reviewed by: Bryan Clark
The task of creating your very own membership site can be a daunting one. Matt Ng saw the potential to deliver a powerful informational product, and he delivered with this video training package. Let's find out whether it's worth investing $20 in this product.
What Is A Membership Site?
A membership site is a website that only allows members to view what is inside. Most of these sites charge a fee (usually monthly) to view the materials. Membership sites usually offer premium information that you can't find elsewhere or attempt to do all the research for you, providing only what you need to know about a certain topic so you don't have to waste time searching for it.
A membership site can be anything from a fan club, to an online class or a private forum where members can meet and interact. They can serve just about any purpose that you dream up as long as you meet people's needs and wants. I'm sure there is something that you can create, place behind a membership site and sell access to.
Who Is This Product For?
The short answer – Everyone. I know that you've kicked the idea around about trying your luck at a membership site. It's a pretty hot topic right now. This product will walk you through every step of the process. The tutorials are easy to understand, informative, and most importantly… cheap.
Easy WordPress Membership Sites picks up right after purchasing a domain name and hosting, and walks you step-by-step through the process of setting up a WordPress blog and creating a membership site with it.
Why Do I need A Members Only Site?
A membership site is a great way to generate a passive income stream. Passive income is what we, as Internet marketers are ultimately searching for, right? A membership site is the mecca of Internet marketing. It's a great way to generate cash, build your list, and to start offering products and services to your very own paying customers. Does it get any better? I don't think so.
If you are anything like me you are probably asking yourself why you need this product. The information is available online, but it's not incredibly easy to find. So why spend the money? Well for one, it's only $20… finding information takes time. If you could pay $20 for someone to do all the legwork for you why wouldn't you?
Personally I would use the membership site to help with my branding campaign. Having my very own membership site is a great way to become an "authority" type figure in the virtual world. Even if you don't have products to sell, you can use this software to provide a valuable service to your customers. For example, let's take Yaro. Yaro uses his membership site, Blog Mastermind, to teach bloggers how to make more money, build traffic, and become better bloggers. I'm sure that you have something to teach as well. Whether it be bass fishing, or fashion – there is a market on the net for absolutely EVERYTHING!
What Do You Get For Your Money?
The product itself is a series of six easy to digest videos. Each video covers a specific topic for starting your very own membership site using WordPress. The videos are short and extremely informative, delivering the information that you need without a lot of filler.
Easy WordPress Membership Sites is targeted towards complete beginners, although some of the technical jargon may go well over your head if you are new to this industry. I feel that the product itself is a bit too technical for a complete beginner, but anyone that has a small amount of website tweaking experience can follow along quite easily. It doesn't take a genius to be able to utilize the methods taught, but a complete rookie would most likely fall short of mastery.
The methods that Matt walks you through can be found for free with some extensive digging, but it's nice to have them all in one place. It can save you a lot of time and energy. Here is a breakdown of the 6 videos-
Installing WordPress onto your domain
Installing and activating the needed plug-ins
Configuration of plug-ins inside the WP-Admin panel
Installing a new theme – enabling and optimizing a chat function
Tweaking the layout
A general walk through of the sign-up process
Ready to get started? Wait just a second… You also have to pay an additional $25 for the WordPress membership plug-in to get all of this to work.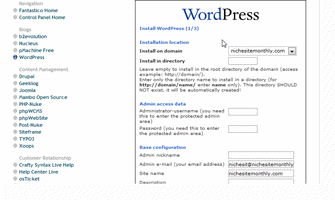 The plug-in will change your default WordPress installation to a full members only blog and you will be able to select if you want to give access to logged in users only or restrict access to certain posts, pages or categories. It uses Paypal recurring subscriptions or one time payments (the choice is yours) and automatic user account management. User accounts will be deactivated if the subscription ends and they will be asked to pay again to reactivate their membership.
Benefits
Usability – Anyone from an intermediate level on up should be able to grasp these concepts pretty easily. Some novices will understand it too, but others will need a bit of help.
Value – At under $20 these videos are worth their weight in gold. I guess we should actually call it $45 since you have to buy a plug-in too, right? Still, at $45 it's good value because the same service would cost a few hundred to a few thousand dollars if you had a web designer do it for you.
Helpful – Easy WordPress Membership Sites is extremely valuable when it comes to the information that it delivers. You could even use the knowledge to start your own service and set up membership sites for others.
Potential – Using this product, there is no limit to how much money you could make with the right mix of products/services, marketing, and proper management. There is a market for anything and this gives you the ability to bring the "anything" to the people that need it most.
Freebies – Well… Kinda. Matt offers up over 100 WordPress themes that you can use for your installation. All of these themes can be found elsewhere for free, but it's nice to have them in one place.
Problems
Easy WordPress Membership Sites isn't without a problem or two.
Poor production – The volume goes from high to low at semi-regular intervals. A little more post-production work could have easily equalized the volume so that it remained constant at all times. This isn't enough to make it a bad product, but it's something that should be mentioned, as it can get annoying at times.
Target Audience – The product seems to be marketed towards complete novices, yet there is some information that should go further in depth to allow them to completely understand the tutorials. For example, it has an entire video devoted to installing a WordPress blog onto your hosting account, but it doesn't go into detail. It shows you how to do something, but it doesn't really tell you why it needs to be done.

Matt provides a four minute video showing you how to install WordPress, yet only devotes about 90 seconds to showing you how to ftp files to your site. I'm a pro at using ftp software, yet I felt lost when the video explained how to use it. This isn't a very big deal if you are in the intermediate range when it comes to these sort of topics, as you'll pick it up pretty easily. But beginners need to make sure they have help if they need it.

Leaving You Hanging – After showing you how to set up your site, Easy WordPress Membership Sites leaves you hanging. There is absolutely NOTHING about how to launch your site, manage it or produce content for it. I could use a little more post-build advice.
Conclusion
I wouldn't recommend this to users who are just starting to experiment with a self-hosted blog unless you had help, but for everyone else I would give it a huge thumbs up. This product does exactly what it says it does – it shows you how to create a membership site using only a WordPress blog and a few plug-ins.
What it doesn't show you is far more important. It doesn't show you how to optimize the site, promote it, or even how to integrate your blog into it. I would definitely recommend this product, but I think that it should be used with Yaro's helpful series on "How To Launch A Membership Site".
Using this product I was able to start my own membership site in under an hour. I'll be using this later to market an informational product that I'm working on. These videos, at under $20 are definitely a bargain. Creating a membership site can cost upwards of $1500 if you have a web designer do it. Want to create it yourself?
Value: 7/10
Ease of use: 7/10
Potential ROI (return on investment): 10/10
Overall: 24/30
For more details or to purchase your copy click here –
http://internetmarketing-asia.com/ezwpms/
Bryan Clark