Web 2.0 Wealth System is a series of training videos by Alex Sysoef designed to teach people how to create profitable blogs, with the claim that if you follow the step-by-step instructions you will begin earning money within seven days.
You can find a list of other reviews and links to the products and resources I use to run my online business in the
Resources Section
of this website.
Product: Web 2.0 Wealth System
Creator: Alex Sysoef
Website: www.web20wealth.com
Purpose: This product is intended to help you increase or start generating blog income using a simple system that takes minimal time to implement.
Price: $67.00*
Reviewed by: Bryan Clark
* Until December 1st 2007 Alex has offered a $20 discount to readers of Yaro's blog, so you can get his product for $47.
Alex created this product with the intentions of making sure that anyone who bought it wouldn't be a member of the "one and done" blogging group. Statistics show that most bloggers blog consistently for approximately one to three months before giving up. Why do they give up? They are overwhelmed!
I'll tell you, as a newer blogger myself (that's me, Bryan Clark, not Yaro), there are many ways to get overwhelmed when it comes to trying to decipher all of the blogger "code" that comes with the territory. Simple things to experienced bloggers can be a headache to the newbies. Terms like RSS, SEO, PPC, Affiliate, CPC, and more, can all seem like a foreign language to a new blogger.
Alex Sysoef stepped up and has offered a product designed to help people new to blogging get over the beginner curve quickly. His product is the best I've tested so far when it comes to guiding beginner to intermediate bloggers down the path of Internet income.
Who Is It For?
This product is easy to follow, and you can use it regardless of your skill level. Alex has a pretty heavy accent, so you'll need to listen closely, but it's not too difficult to understand.
Web 2.0 Wealth System was created for the beginner, but I would recommend it for the intermediate blogger too – you will stumble across a few gold nugget ideas that you didn't know before, even if you are familiar with blogging. Advanced bloggers will probably find much of the training redundant, so if you are familiar with how to set up a WordPress blog, install critical plug-ins and the best monetization methods, you probably don't need this product.
I was pleasantly surprised by some of the tips Alex talks about in the videos, in particular the monetization suggestions, as he offered a few ideas I had never heard of before. For example, the section where he covers using AssociatedContent.com was particularly refreshing. Not many other blog trainers talk about this service as a way to make money from a blog and it's interesting how Alex leverages the site within his system to generate multiple sources of income from the single stream of content.
Why Would You Need This Product?
I'll be frank wit you, you don't need this product. You can learn most of these strategies yourself if you are willing to do some digging. But if you truly value your time, why spend months researching when you could just spend a weekend watching Alex's videos?
When I first started blogging, I spent three months straight gathering the information that I could have learned in a single weekend with the help of this training course.
What Is In The Product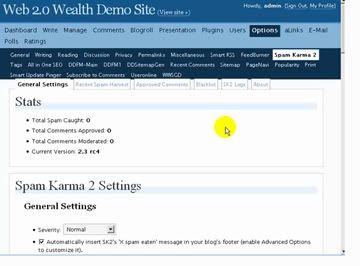 The product itself is a series of videos, e-books, and software. The methods are largely taught via the video medium and there are about 15 of them included as I reviewed the product (Alex keeps adding more). Some of the videos are quite long (30-40 minutes) so I'd recommend viewing them with a rest in between so that the information soaks in.
The videos start out assuming that you don't even have a blog, so as to make an easy reference point for complete beginners. Alex walks you through the steps of buying your own domain name and setting up a hosting account. After buying a domain and setting up hosting, you are walked through the steps of installing WordPress software onto your new domain.
The videos aren't just for novices. The first videos are the beginning of the system teaching you how to get started and then they progress in difficulty as you advance through the system. Web 2.0 Wealth System dives into tougher topics, such as modifying your theme, monetizing your RSS feed, and advanced traffic building techniques using social bookmarking sites.
Alex includes a blogging goodie-bag for everyone who buys his training program, including a free easy to customize blog theme and over a dozen preloaded plug-ins. You don't need too much technical knowledge as long as you know your way around a computer and the World Wide Web. If you can copy and paste and follow instructions, you should be good to go!
Here is a breakdown of all of the videos in Alex's system. These are just the main videos, there is more information in the complete package that I will let you discover yourself for the sake of brevity.
Purchasing a Domain
Installing WordPress
Configuring Your Blog (beginner)
Configuring Your Blog (advanced techniques)
Monetizing Your Blog
More Monetization Methods
Monetization Methods for Those Outside The US
Promoting
Basic/Advanced Posting
Automated Affiliate Program
Using Plug-ins
Monetizing Your RSS Feed
Bonus – Podcasting
Feedburner Configuration
Customizing Your Theme
Using Google Webmaster Tools
The Good Points
It's easy to get started. This system is easy enough to follow. All it takes is basic web knowledge, some free time and you'll be on your way to making money in your first week.
Simple, yet advanced topics are covered. Simple enough to get started, but advanced enough to keep more experienced bloggers interested.
The Guarantee. Alex is so confident in his system that he offers a 100% no questions asked money back guarantee.
Room For Improvement
No product is perfect, but here are a few things I would have done differently, had I created the system.
Focus more on traffic building. This is one area that bloggers just can't get enough of. Traffic building tips and tricks do exist in this product, but I feel there could be more of them. Bloggers would gladly pay $67 (or lots more) for a system JUST about building traffic.
Some of the videos are pretty long. Instead of 30-40 minute videos, keep the busy people in mind by shortening them into easily digestible videos. The longer videos usually cover several topics (or sub-topics), so you could easily split them up into separate videos.
Should You Buy This?
What I like about Alex's system is that he really does offer a method to make money very quickly, as long as you are from the USA (his AssociatedContent.com technique requires that you are an USA resident in order to get paid). His monetization strategy is quite clever because it guarantees you get paid for producing your content straight away. You won't get rich of course because AssociatedContent.com, even with the bonus system, only pays a few dollars per article, but for some people that's all the encouragement you need to get started.
I won't go into detail about how Alex uses AssociatedContent.com, it's too detailed to talk about here and I don't want to give away all of Alex's secrets. I think the section on this technique alone is worth the price of admission, although it won't be for every type of person because it does involve publishing your content in multiple places online. It's not exactly a formula for building a super-authority blog, but it certainly can make you money. Much like the Blogging to the Bank strategy, this program is about creating multiple blogs using the same system without necessarily requiring any of them to become authorities in their niche.
Alex's other monetization strategies, such as AdSense, Amazon.com and affiliate programs like ClickBank, have been talked about before on many blogs that cover making money online, but Alex does a great job to show you exactly how to implement each method. His videos go through each step at a reasonably brisk pace so absolute beginners may feel a bit rushed, but if you know your basics you will find the pace quite comfortable.
If you want a quick crash course in profitable blogging, this is a package worth investing in. It won't make the money for you, but it will give you a system that works if you sit down and follow it. Just don't expect to get super rich super quickly – no system can promise that.
At $67 (or $47 if you buy before December 1st) this is one of the better options out there for learning how to make money blogging. With the money back guarantee that we've come to expect from products like this, you shouldn't have any hesitation at least trying this system out if the offer is compelling to you.
To read more about the product and buy your copy, click here –
******
Update:
Alex sent me this message after the recent upgrade to WordPress –
I just wanted to make sure that you are aware that my system has been upgraded to latest WordPress 2.3.1 version and all functionality is fully in place. Only one video changed to accommodate the changes to WordPress and all existing customers received a full upgrade package as part of ongoing support – Alex Sysoef.