Fran Kerr is my web assistant and helper with Blog Mastermind and a partner in a new eBay lead generation venture we are working on (can't talk about this one yet!). She's also a guru at natural skin care and runs a blog, High on Health.
Part of the her role in my business is to help promote Entrepreneurs-Journey.com by performing many of the more basic marketing techniques, like submitting to blog carnivals and social voting sites.
Earlier in the year I asked her to have a play with the social bookmarking software Web2Submitter to see if it's worth using as a tool to help bloggers get more traffic from social marketing. Here's what she had to say about the program…
Automate your social marketing activities with Web2Submitter – Submit your content to Digg, StumbleUpon, Reddit, Propeller, etc automatically with this software from Jack Humphreys.
You can find a list of other reviews and links to the products and resources I use to run my online business in the
Reviews Section
of this website.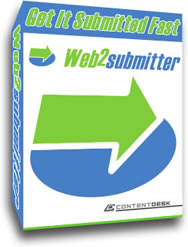 Product Name: Web2Submitter
Creators: Jack Humphreys and Brandon Hall
URL: http://web2submitter.com/
Price: $47.00 USD
Reviewed by: Fran Kerr
I was really excited when I received a copy of the Web2Submitter, because it promises to make social bookmarking so much easier.
Web2Submitter is a software package that has the intention of saving you time and increasing your traffic by automating most of the process of submitting your blog or website articles to social bookmarking services. The idea is to submit to as many services as possible, with very little effort.
So, How Does It Work?
Before you can actively start using the software to submit to social bookmarking sites, you need to enter your username and password for ten different social bookmarking services. This means you need to create accounts with all ten services. It's not compulsory to provide details for all ten, only the ones you wish to submit to. For the sake of evaluation, I provided my details for all ten services.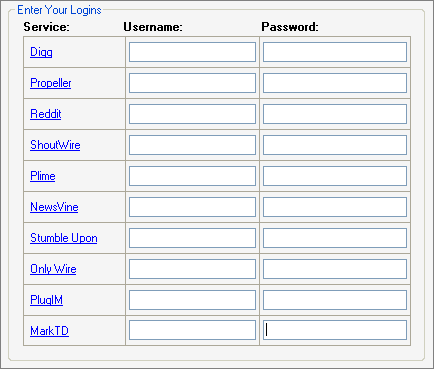 To make things complicated, Only Wire is an online tool that provides a similar service to Web2Submitter. So the first thing you need to do when you create an account with Only Wire, is provide usernames and passwords for their list of social bookmarking sites. In total, I created accounts with 32 social bookmarking services. Most of them I hadn't even heard of before. And it took me all afternoon.
Time to Submit
I thought after all that time I'd spent creating accounts with 32 different social bookmarking services, that I could now sit back and let the magic happen. Well, it doesn't exactly work that way.
When it's time to submit your article, the process is broken into three steps.
Step 1 involves entering your article's title, link, description and tags. This is the one thing about the tool that saves a bit of time. I liked how I only had to submit this information once. Keep in mind however that you need to enter these details for every unique article that you submit.
Step 2 requires you to log into each social bookmarking site. You select the ten services from a drop down list and hit login and it does the rest for you.
Even though it was slightly automated, I found this step a bit annoying. I wish Web2Submitter had some kind of tool that showed me what I was already logged into. I had just made new accounts with all ten services so I assumed I was still logged into them. Still, just to be on the safe side I logged into all ten again.
I discovered if you're already logged into a social bookmarking service and you try to log in again with the Web2Submitter, it acts like you're not logged in. It then takes you straight back to the sign-in page and you can't tell if you're logged in or not. For some services, if you click 'login' then it goes nowhere because it's confused, why are you trying to log in when you're already logged in?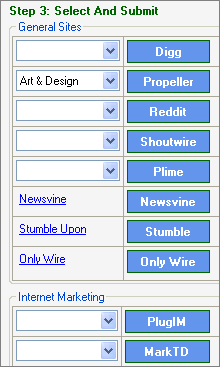 Step 3 is where you finally get to submit your article to the social bookmarking services. This involves selecting a category from the drop down list (if there is one) then selecting the big blue button for each service you want to submit to. The Web2Submitter tool will automate as much of this process as possible. Really all it does is open the service up in the Web2Submitter browser window (for example it opens http://www.digg.com), then fill in as many fields as it can for you. Then it will submit your article. You can watch the whole process happening right in front of you without touching the keyboard or mouse.
Sounds not too bad doesn't it?…So why do I have a problem with Web2Submitter?
My Frustration
My frustration started when Web2Submitter had a problem with some of its automation. There were at least two services for example which had problems with my login details. Because the Web2Submitter tool was trying to automatically push through my login details and the social bookmarking site was trying to reject my login, it created an endless loop. I was completely helpless, there was nothing I could do. I had to madly try and click on the 'Home' button in Web2Submitter to get out of the social bookmarking site. In fact, I had so much trouble just trying to log in to StumbleUpon that in the end I gave up and just submitted the article manually through Firefox.
The software does a reasonable job of automating the submission process to social bookmarking sites, however I am dubious about submitting articles to so many different sites, especially because each bookmarking site focuses on a different niche. Is it even a good idea to submit your blog article to a bookmarking site not really related to your topic?
There are only handful of bookmarking sites you need to worry about that you can easily submit to yourself, then again, perhaps I'm missing the "trick" and maybe submitting to every social bookmarking site is a good way to get traffic, even if they don't specifically match your topic.
For example, MarkTD and PlugIM are both marketing services, so every article I write on my health blog cannot be submitted to either of these two marketing sites. I also wonder whether there's any point in submitting to some of the smaller services (like I saw in the huge list in Only Wire) because it appears that not many people use those social bookmarking sites. If I were to choose a great way to market my article I don't think it would be submitting to 22 social bookmarking sites that nobody looks at.
Quantity Approach
I think Web2Submitter focuses on a strategy of quantity over quality when it comes to submitting to social bookmarking sites. The idea is to place your article in as many of these services as you can, thus creating exposure and a large "footprint" for your articles in the social bookmarking sites, even if your article never makes it to the front page of any of the sites.
In the training materials that come with Web2Submitter, Jack is clear to point out that just using the software alone on every article you publish is not a good idea. You should submit your best content and use the social bookmarking and voting sites as they are intended – to highlight quality content.
The Buzz Group
One particularly good bonus feature of Web2Submitter (there are two bonuses) is the access you get to the Buzz Group, which is a special group only for customers, who work together to help promote content in social bookmarking sites. The process is quite simple – you join the group and then help your fellow members by voting for their content and you are allowed to submit your content, which is then in turn voted for as well.
This is a somewhat risky approach to social voting because you want to be careful not to artificially inflate the votes and rest assured that sites like Digg know when you are trying to game the system. The Web2Submitter team have set up a fairly good system that it is definitely getting results for some people based on the testimonials on the page, if you believe them of course!
If you buy Web2Submitter you can consider joining and participating in the Buzz Group, which can potentially deliver some solid traffic results to your content.
Would I Recommend This Product?
The question you need to ask is whether $47 is worth spending to cut a little bit of time submitting your content to bookmarking sites. Web2Submitter will save you time, but at least for my test, there were bugs and I'm just not sure you need to submit to so many sites anyway.
If you currently submit content to a lot of social bookmarking sites, possibly as a saturation and "conversation domination" style strategy, Web2Submitter definitely speeds up the process, I'm just not convinced this is the optimum method to drive traffic from social bookmarking.
I'll leave the decision up to you. I personally won't use the software again because I prefer to submit to the one or two bookmarking sites relevant for my blogs manually by hand. If you have a lot of sites and a lot of bookmarking to do, then Web2submitter is worth checking out.
The addition of the Buzz Group access might just be the tipping point that makes it worth buying Web2Submitter, but you have to decide whether you want to participate in such a group as it may be looked upon as a way of "gaming the system", so you have to be careful.
It should be noted that there is a 60 day money back guarantee, so you can try the program and the Buzz Group and if you decide it's not for you, just ask for your money back.
To purchase the software, watch an introduction video, read the testimonials, learn more about the Buzz Group and read further information about the program, click here (the sales page is not very long) –
If you have purchased this software and put it to good use, or have comments about the Buzz Group or any feedback at all, please leave a comment to this review and let me know.
Fran Kerr