I have to hand it to Edmund Loh and Vince Tan for coming up with a slightly different spin on the traditional namesqueeze page for their new Internet marketing newsletter launch – IMGuerilla.com.
If you are not familiar with the namesqueeze, it's a very common technique in the Internet marketing world for capturing (squeezing) the contact details of people who show a predisposition for what you offer and/or in exchange for information about a topic. You can read my more in-depth explanation of a namesqueeze page here – What Is A Namesqueeze?.
David DeAngelo's (or really Eben Pagan's) namesqueeze page at DoubleYourDating.com is considered the de-facto benchmark for a successful namesqueeze. It's been tested and tested and tested and performs amazingly well, so well that there are hundreds of copy-cats (me included) who replicate David's techniques. You shouldn't just copy it blindly, although I expect you will still do okay if you do – it's that powerful (elegantly simple is more like it).
That being said, the namesqueeze is undoubtedly becoming boring and stale, especially in the Internet marketing niche – it's everywhere. Which is why when I went and had a look at what Edmund and Vince had come up with that I actually stopped and read the page from start to finish.
These two Asian Internet marketers have used a comic strip instead of copy (well they used a little copy) to capture opt-ins to their squeeze page, and I think they have done a great job. It's interesting, entertaining and best of all – stands out from the crowd as different and hopefully sets the tone for a unique newsletter launch too.
Here's a quick sample…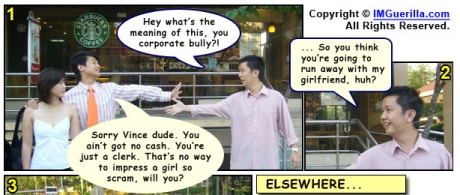 You can read the whole comic at http://IMGuerilla.com/.