One of the biggest advantages of building an authority blog in your niche is you start to get the attention of the big players in your industry.
This is a HUGE advantage – In fact it can be the difference between operating your business in obscurity and struggling to convince anyone to promote your product, to becoming a big player yourself when you have A-list joint venture partners promoting your work.
If you don't have an authority blog there really is only one other surefire way to get on the radar of the guys and girls with the big email lists and the big blogs – get in their face at an event.
You see this photo?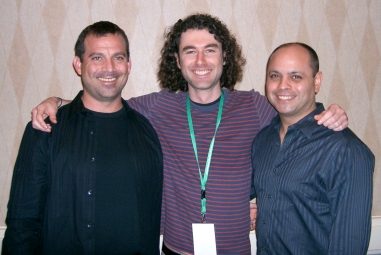 That was taken at Rich Schefren's Strategic Profits event last year in February. It features Rich on the left, me in the middle and Mike Filsaime on the right.
If you don't know these two guys, it doesn't matter, but what does matter is the size of their email lists and influence. Rich just won the StomperSMARTS affiliate competition, so he sold more of that course as an affiliate than any other and it's safe to say his email list is way over 150,000 people now – probably over 250,000.
Mike is known for his viral marketing power and his goal to build the largest email list. I have no idea how large his list is now, but I suspect it's over 500,000 subscribers, which is insane, and he's constantly in the top 10 of affiliates for the Internet marketing niche.
The reason I mention these two guys is that thanks to attending an event I put my face in their sphere of attention. Since then we have met again and spoken over email and on calls. To put it simply, these two guys are now willing to promote a product of mine assuming it is quality. Just having Mike and Rich on board as affiliates is enough to launch a business and these are two of the most valuable relationships I have.
It all started after attending an event.
Rich's Next Event In Disney World in February
If you currently operate in the Internet marketing, business or social media industries then pay attention to this. Rich and his Strategic Profits business are putting on their next event coming up in February. It's called "New Beginnings" and it's in Disney World!
If you want a chance to meet some of the best of the best and begin relationships with people who could become A-List partners for your next launch, this is an event worth attending. You can check out the full details at –
http://www.strategicprofits.com/live1/
There are various levels of price, but you can get a ticket for under $1,600 if you just want to attend the main event for 2 1/2 days, February 24-26 2008.
Here's the spiel I just received via email…
From Rich –
This conference is going to be the best thing I've ever put together– bar none. Here's why:
1. The hottest, most successful people in the biz will be there, all sharing their very latest strategies and techniques – including myself, Frank Kern, Jeff Walker, Mike Filsaime, Janet Switzer, John Carlton, Gary Vaynerchuk, Mary Ellen Tribby, Tom McCarthy, Paul Scheele, and even Jay Abraham.
2. Much of the content will revolve around social media marketing, which is HUGE right now and something everyone wants to learn. The buzz from this event is already building. This one event will give attendees an accelerated course in the strategies and techniques that are working RIGHT NOW in Internet marketing.
3. Attendees will have a chance to work up close and personal with their favorite marketers in smaller, more intimate workshops and a special limited-access bootcamp. They will have a chance to meet with and talk to some of the most successful people in our industry.
4. It's going to be a blast! The conference will be held right in the middle of Disney World and attendees will stay in one of two luxurious resorts at discount prices – and they can even bring their entire families! Plus, we've arranged for gourmet meals… special receptions… entertainment… THE WORKS!
5. We've structured the event into 4 different price options to match every budget and time constraint, including a VIP package that delivers the best possible experience.
6. The 2 1/2 day main event will be a NO-PITCH zone. We're not allowing any pitching, in the big room, which doesn't sit well with a few of my presenters. But I don't care — I want this to be a content-packed week instead of another paid-to-be-sold-to seminar.
Full Details: http://www.strategicprofits.com/live1/
In case you are wondering, I personally won't be coming from Australia to this event, but I really wish I could. I'm flying to Canada from April for six months this year and plan to attend some events during the middle of the year when I am in the Northern Hemisphere again, so I had to skip this one.
Having been to Rich's event last year though, I know it was one of the smartest things I did in 2007, so I have no hesitation recommending the event to you this year. Rich puts on a good show and well, it's in Disney World…nuff said.
If you do go to this event say hello to Mike, Rich, Jeff, Frank and John for me!
Yaro Starak
Conferencing in 08