I just had a great weekend. It was the Australia day public holiday here on Monday so I hosted a traditional Aussie BBQ housewarming party at my place. It was nice to have friends over, eat some good food, play some cards and then head to the park for some running around.
Now of course, it's back to work!
With the profile of this blog I'm constantly sent reports and e-books to look at and unfortunately nowadays I have little time to read them, but I try to squeeze some in when I can. Today I picked out a few of the best to recommend to you and they are all free!
5x Profits Secrets by Dr Mani
Dr Mani is blogging like crazy on his Money Power Wisdom blog. He knows his stuff, so it's worth adding his feed to your readers if you are interested in blogging and Internet marketing, the Doc has been in the game for a long time.
Dr Mani is a real doctor and much of his Internet business profits are used to fund heart surgery for under-privileged children in India. That's a pretty noble cause and one worth supporting.
His new report – 5x Profits Secrets – reveals some of the fundamentals of successful marketing, including:
Risk Reversal
Customer Testimonials
Bonuses
Upsells
Split Testing
Follow Up
Continuity Programs (membership sites)
If you are not using these techniques or you are not quite sure what they are, Dr Mani's report is a short and concise introduction to them all. The whole report is only 14 pages so you can get through this one in 10 minutes easy. It also serves as a solid checklist for any product you plan to sell online in the future.
Here's the link again – 5x Profits Secrets
How to Develop Money-Making Niche Sites with WordPress by Caroline Middlebrook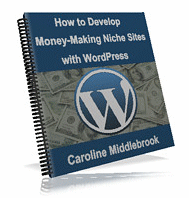 Rising star blogger Caroline Middlebrook recently released a book about using WordPress to create niche sites.
As Caroline notes, it's not about "professional blogging" as we know it –
Thus the overall strategy is to pick a niche that has profitable keywords, build a small website around it and then leave it to bring in search engine traffic. Rinse and repeat to build a collection of sites that bring in a residual income without requiring maintenance.
If that sounds interesting to you, grab a copy of her book, it's free – www.caroline-middlebrook.com/blog/niche-sites-wp/
ABC of Google Analytics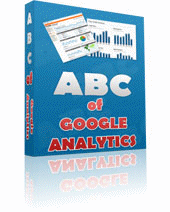 Althaf Ahmed from Blogrepreneur.com sent me a copy of his book covering Google Analytics.
I have to admit that statistics are not my strong point but we all know how important web analytics are. Google's Analytics is fast becoming the de facto standard statistics package that most webmasters look to and as anyone who has ever ventured inside the service knows – there are a ton of features. You could spend hours looking at all the data.
If you are looking for a good introduction to Google Analytics then Althaf's book is a great place to start. To download a copy you will need to opt-in to his mailing list on his blog, but as always there are no obligations to stay subscribed if you don't want to.
The opt-in form to request the free ebook is here – www.blogrepreneur.com
Take Your Pick
Do you need help with marketing? – Grab Dr Mani's report. If you are looking for a technique to make money online, try Caroline's guide and if it's about time you figured out what all the numbers inside Google Analytics mean, then Althaf Ahmed's book is worth investigating.
Speed Reading
One last tip before I end this. If you struggle to make it through reports and ebooks like this, download RapidReader software.
I've been using this program to read PDFs and it definitely speeds up the process. You can get through a 20 page book in about 10 minutes easily, maybe even quicker if you increase the speed settings.
Yaro Starak
Rapid Reading