I've had a few queries asking what is going on with my RSS feedcount. As I type this article, my feedcount according to the Feedburner chicklet looks like this –

Yeah, 34,015 readers, not bad considering I was around 6,000 a few days ago, then I jumped to around 17,000 and now it's doubled that number.
So what's going on?
As reported in this article where I asked – Will Feedburner Feed Counts Include AWeber Email Subscribers? – the answer is yes, they do.
I had set up my blog blaster (RSS-to-email service) in AWeber a LONG time ago, in fact, before I even used Feedburner and I realized I had my old standard WordPress RSS feed plugged into AWeber, so it wasn't reporting to Feedburner.
I went into AWeber, switched over to my Feedburner "burned" feed and now my AWeber email subscribers are also included in the feedcount. Here's how the feedcount breaks down now –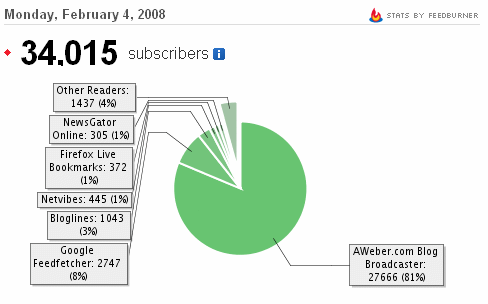 However, something is not quite right with these numbers because I do not have 27,000 AWeber subscribers – not yet anyway. I suspect AWeber and Feedburner haven't quite got the communication right and no doubt tomorrow or the next day the numbers will settle to a true reflection of reality. I suspect it will fall to around the 22,000 mark, still a nice improvement.
Gobala stated – Aweber/Feedburner Integration is Good News For Marketers – and I have to agree. What will be interesting to see is if some of the Internet marketers out there with email list sizes in the hundreds of thousands begin using Feedburner chicklets on their blogs, thus catapulting them into the top of blog rankings even if the blog itself doesn't get that much traffic.
Does this mean the Feedcount chicklet will lose its position as the standard measure of blog status, just like PageRank has? I doubt it, people still look to PageRank as a measure of a site's worth and I suspect Feedburner chicklets will continue to be the social proof tool of choice for blogs, regardless of how accurate a measure it is. Once a standard is adopted, it's hard to change it.
In the meantime I'm going to go and enjoy the one moment in history where I can pretend I was almost as popular as Darren. Even when the numbers are broken I can't beat him! (…it's not a competition Yaro 🙂 ).