If you're a regular podcast listener you may have heard of the Sterling and Jay show, which like this blog, covers Internet marketing and entrepreneurship.
Co-host of the podcast Jay, or aka Jason Van Orden, just released a new video as part of his launch of "Traffic Attraction Formula".
You can watch it here after you opt-in and confirm your email –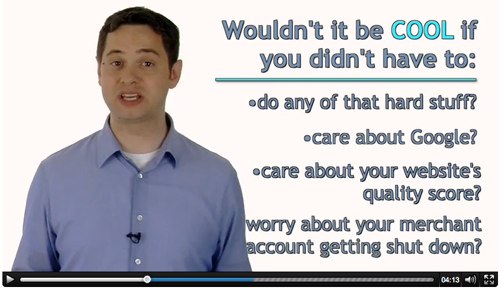 Jason made a big claim, stating that he has a traffic generation method that doesn't require any of the usual tools, for example –
No need for Google at all – that means no need for organic search traffic or paid advertising using Google Adwords, the most popular Pay Per Click system
No reliance on JVs or affiliates for traffic
No need to spend money on advertising banners, or text links or co-registration leads
No mention of blogs, twitter, facebook or any social media
Needless to say I was curious what exactly this traffic technique is, especially because Jason was able to rank as the number one selling affiliate for last year's Product Launch Formula 2.3 by Jeff Walker, using a relatively small list of only 10,000 people (I ranked 4th with a much larger email list).
Clearly Jason can get traffic that is full of buyers, which is not easy. Jason claims there is no need for hard selling or any tricks with his method, which as a soft sell blogger appeals to me, so I sat down and just finished watching the 13 minute video he calls –
The Alternate Universe of Internet Marketing
What Is This Secret Traffic Strategy?
If you watch the video, about half way through Jason will reveal what tool he uses, and I'm sure he won't mind if I spill the beans.
His secret weapon is iTunes.
Yep, the iTunes software is in fact one massive search engine full of multimedia content, and in the case of Jason and his podcast, he ranks incredibly well for top business terms like "small business" "internet marketing" and even the top level term "marketing".
When iTunes first came out I had one of the very first business podcasts in it and due to lack of competition easily ranked well for business related terms (this was several years ago). However I've had problems maintaining my entry as iTunes lost my previous episodes and frankly, I didn't bother doing anything to find out what was wrong. I just forgot about it and consequently iTunes dropped me out of their listings.
Clearly I should have chased this up, because like Jay and Sterling, I could be reaping significant traffic from iTunes right now. No doubt you could do the same in your niche, if you're willing to complete a few steps and produce content on a regular basis.
In the video Jason doesn't show you exactly how to rank well in iTunes, but he does highlight some important points about why iTunes should be part of your traffic arsenal, for example…
Currently Apple has hundreds of millions of people with registered iTunes accounts
These people use iTunes to consume content on their computer, iPad and iPhone, so if you currently produce content this is another place it should be indexed
ITunes users have credit cards attached to their accounts and are used to buying things – it should be obvious why this is a good thing
As I said, the first video from Jason won't show you the "how" of how to do this, but it will give you an understanding of what Jason is talking about.
Once you opt-in and confirm your email address you will get access to the first video and will be notified when the additional three videos are released over the coming week.
You can begin this process by opting in here –
I'm going to keep an eye on this launch since I already have a podcast, therefore I'm in a prime position to capitalize on iTunes traffic if I just get my game together a bit better than I have in the past.
If you're thinking of creating a podcast or already have one, this launch is worth taking a look at.
Yaro Starak
Investigating iTunes