I have a confession to make.
I'm lazy.
This has served me well in some instances, for example it has forced me to find elegant and simple solutions that require minimal effort and complexity to set up and function. I've also sought out 80/20 ratios in my life based on what I really want – not just what society says I should want – to build a lifestyle that most people would dream about.
However laziness isn't always beneficial. It can lead to poor decisions that result in inefficiencies. Ironically, because I decide I don't want to do something or try something new, I end up working longer, despite the fact that I decided not to make the change because I was lazy.
Laziness is like that sometimes, you don't realize that just making a tiny effort at the start to change something will reduce your work load long term. The smart decision is in front of you, but inertia is powerful, sometimes you just can't be bothered to do something new or different.
Today I have a perfect example of situation that if I made a simple change I could have saved myself some effort and no doubt made more money too. All I can say today is "better later than never", as I have now made the change.
More importantly, you can make this change today and take advantage of something that all bloggers who use WordPress to sell affiliate products, should use.
What am I talking about?
It's called Ninja Affiliate Plugin by Max Blog Press. Here's why I use it…
Affiliate Link Management Made Easy
Way back in 2005 I wrote a review of a product by Perry Marshall that I promoted using an affiliate link.
The link looked something like this –
http://www.entrepreneurs-journey.com/yaro-recommends/adwords-ebook.html
There are some problems with that link, but before I tell you what they are, a quick refresher about affiliate links.
When I joined Perry Marshall's affiliate system I gained access to an affiliate control panel where I could generate affiliate links for any of his products. In this case the real affiliate for his adwords ebook is –
http://m171.infusionsoft.com/go/adwords-ebook/SC286085/Text
What I did was manually create a HTML file that redirected to the above link, and then used the entrepreneurs-journey.com affiliate link above as the link on my blog articles.
Why do you do this?
For several reasons…
You can use that link in multiple places across your blog and if the real affiliate link ever changes you only need to update the one file to update the link across your entire blog.

This actually happened with Perry's program as he switched to Infusionsoft to manage his affiliate program and all my links with him changed. When that happened I just updated the one file, rather than dig through my blog archives to find all the articles that contained that link, which would be a nightmare job.

The link is a lot more compelling from a marketing point of view. It's got my domain and my name in it recommending it, so it's more powerful in terms of copywriting persuasion than the raw ugly link you receive from the affiliate software.
In theory the link should be safer from other people stealing my affiliate credit for referrals. I personally never understood how this works, but I think it's something to do with cookie stuffing which can mean your affiliate ID is replaced by another affiliate if the user has the cookie. Using your own custom link bypasses this problem. That's my basic understanding of it anyway.
Those are some reasons to use an affiliate link redirect. I made the mistake of creating a stupidly long structure for my links, which became a problem when sending out emails as they would line break to fit the width settings of email clients, causing the link to break. I should have used a shorter link rather than the /yaro-recommends/ directly on top of an already long domain name.
The other major mistake I made was to create these affiliate links manually. I literally had to create a flat HTML file using a text ditor, and sometimes a new directory too, for all the affiliate links I created. That's a lot of work for what should be a simple function.
My old system doesn't provide any statistics on how many times my affiliate links are clicked, so I don't know what my conversion rate is in terms of clicks to sales.
So What Does The Ninja Affiliate Plugin Do?
I knew about this plugin a long time ago. I knew there were better ways to manage my affiliate links. Simpler ways.
A long story short, I should have used this plugin from day one, but I was too "lazy" to get it installed.
Ninja Affiliate is a tool to create, manage and track affiliate links on your blog. It uses a very simple interface where you can paste in the raw affiliate link to create a redirect that looks however you want it to look.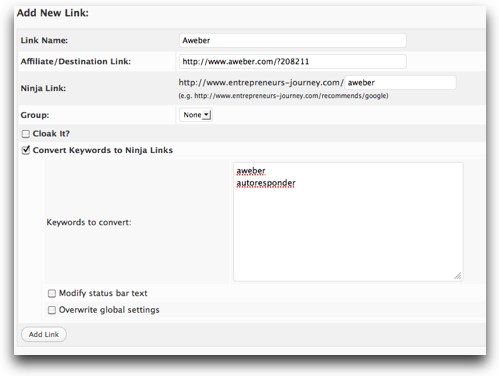 It also spits out data on clicks on the affiliates links you create –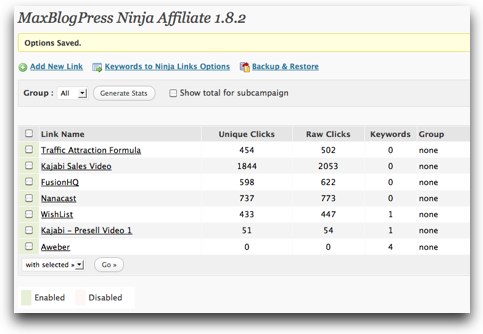 One really powerful additional feature is to automatically convert certain words into affiliate links.
For example I can make the word "AWeber" turn into my affiliate link for the AWeber autoresponder service, or even redirect to my review. This means I don't have to manually make the word a link each time I write it in a blog article.
What's even better is once you install and activate the plugin, it will retroactively apply affiliate links to keywords on your old blog posts if you want it to. All your past blog content can suddenly start making you money. That's pretty powerful, especially if you didn't have your affiliate game together when you started your blog and haven't got the energy to go back and manually add links.
The plugin offers some nifty features to control how this works. For example you can set it to only convert the first two keywords in an article into affiliate links so your articles don't look like spammy posts full of affiliate links.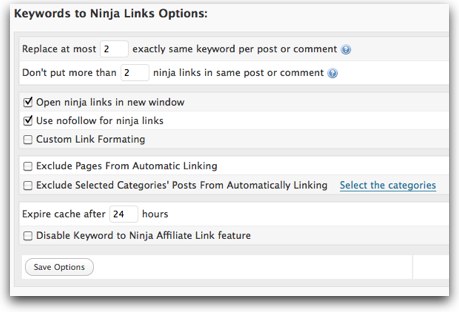 For me though, the best feature is it adds a nice little drop down box into the page where you write blog posts that contains all the affiliate link redirects you have created.
You can then highlight a word in your blog post, select the appropriate affiliate link and instantly create the link. This is the kind of control I want over where I place affiliate links, and it makes the process a simple highlight and select process to apply affiliate links. This saves me time.
You Need This If You Are An Affiliate Marketer
This is not a free plugin (I've got a discount deal for you if you are quick – see below), but it's not that expensive and you can easily recoup the cost with just one or two affiliate sales as a result of using it.
In my mind it's a no-brainer to use this plugin if you are an affiliate marketer selling anything using affiliate links on your blog.
It's not a complex plugin. It doesn't do a lot, but what it does is powerful and makes my life easier.
Installation is two minutes. Like most plugins you just upload and activate, there's very little to configure, you start making links and away you go.
There's a few handy settings you can play with if you want to to control certain things, including cloaking links, it shows you referring pages links were clicked on (this is pretty cool – it displays what pages on your blog generate the most clicks), links can be made nofollow, and all kinds of other cool stuff.
If I had one complaint it's that you have to pay for this plugin. We get spoilt with so many great free plugins, but obviously Max Blog Press (run by Pawan Agrawal) is a for-profit business who make great plugins, so charging a fee is understandable. You get what you pay for sometimes- and I've yet to experience a problem with this plugin.
Do You Want A Copy Of Ninja Affiliate For Your Blog?
Pawan was nice enough to offer a special discount of $30 off the normal price for this plugin for my readers, however the deal expires in 48 hours from the time I posted this review.
Here's the affiliate link I created with Ninja Affiliate to promote this discount offer –
http://www.entrepreneurs-journey.com/ninjaaffiliate
If you click that link you will be taken to a page where you can see all the features of the plugin, including a video showing you how it works, screenshots and examples, and an order button to buy it.
It's $97 at full price, but if you act before the end of Friday the 29th of October USA time, you can get it for $67, a special just for my readers I arranged with Pawan.
Even at $97 this is a great plugin that helps you make money, so if you're not cloaking and tracking your affiliate links, grab Ninja Affiliate Plugin by Max Blog Press.
Yaro Starak
Affiliate Marketer Since 2005