Today's article pays tribute to an extraordinary creative who has just passed. It also may be the most interesting article I've ever written for Entrepreneurs-Journey.com, at least, it is in my mind.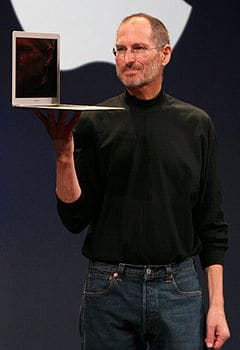 Unless you've been living under a rock, you know that recently we lost one of the great creative minds of our time, Steve Jobs.
The week following his death, there was a plethora of articles, tweets, status updates etc. expressing the gratitude and reverence for the man who not only changed the physical world through the fruits of his creative expression, but changed our internal world through his inspiring words and living example of triumph against incredible odds.
Now, two or three weeks after his death, he's slipped out of view again. "Steve Jobs" is no longer trending on Twitter or getting tagged in articles and his quotes have disappeared from Facebook updates.
In this article, I'd like to share with you a few of the insights I've had as I reflected upon the ending of the life of Steve Jobs. This article also relates to one of the pointers he left the living to consider as we set the course for our own lives.
The Gift That Hits Like Sledgehammer
One of the realizations that hit like a sledgehammer as I reflected on the life and death of Steve Jobs was that my own choices and course I've set for myself in life are screaming at me louder than ever to take a good hard look at myself in the wake of his passing. 
Ironically, all this has been facilitated by the technology he created. The MacBook and the iPhone I use have been flooding me all week with reminders to scrutinize what the hell I'm doing with my life.
If you're living in a world that's been influenced by Steve Jobs, like me, your time spent online in the week following his passing had a barrage of quotes and snippets of speeches from him telling you to "have courage to follow your heart and intuition… don't lose faith… find what you love and do it… don't settle until you do…" and perhaps most importantly "your time is limited."
Your Time Is Limited
I say this is of more significance than the other points because unless you really get that last phrase in a truly visceral manner, then all the other points turn into fairy floss – light, fluffy, pretty and sweet – but completely devoid of any lasting life enhancing value. They can be deftly shared around social media in a fuzzy feel good way, and just as conveniently forgotten. As the tidal wave of Job's influential and inspiring words recedes with shock of his passing, you go back to business as usual… unless you're extremely aware of your own mortality.
You get a glimpse of your mortality when someone dies. It has more impact if it's someone personally close to you or someone like Steve Jobs who has had a massive impact in the way you live even though you've never met them. Death is a great gift for the living, because it forces you to examine your own life and ask yourself the hard questions like:
"What the hell am I doing?"
"Am I using the days of my life to do what I really love?"
"Is the course I've set for myself taking me in the direction of my dreams or am I treading water – or even worse, going in the opposite direction?"
Why You Lose Sight Of The Gift
The big problem is that most people don't seem capable of retaining the awareness that your time is limited. You don't seem to fully grasp this until you've had a first hand experience of your own mortality. So you don't keep examining your life and asking yourself those hard questions, and it's all too easy to bury your dreams under the weight of daily routine and responsibility. The daily grind is a killer of dreams, and it often takes a near death experience to escape the daily grind and breathe life back into your dreams.
Here Is The Gift, Don't Forget To Take It With You
The people I've met who have had first hand experience of staring into the face of death all share a common gift.
I've interviewed a few of them for this blog, including Kerwin Rae, John Assaraf and Jeremy Britton.
The gift they get is a lasting awareness that their time is limited. They no longer waste their time living someone else's life. They have the courage to follow their hearts and intuition, and they don't care if their lives don't match the commonly held image of success prescribed by society. They do care about doing what they love, they do care about going to bed at night having done something wonderful, something that matters to them.
These are all the things Steve Jobs urged us to do again and again through his words and by his life's example. But the people I see who live like this are the "lucky" ones who have been blessed with a life threatening situation that leaves them with a lasting impression that their time is limited.
What If I Already Forgot To Take It With Me?
So what about everyone else? We all want to have the courage to follow our hearts and intuition, we all want to go to bed at night having done something wonderful that matters to us. How do we sustain an awareness of our own mortality and harness its power to drive us in the direction of our dreams?
Here's what I'm going to do. I'm going to turn this article into a series of articles to keep the hard questions alive in your mind and remind you to keep asking yourself them. You're all intensely aware of the magnitude of Steve Job's impact on this planet from following his heart and intuition and never settling for less than his dreams. I'm going to write about some of the people living now who are striving to accomplish feats as massive as those accomplished by Steve Jobs in his lifetime, people who have the capacity to change the world and are doing something about it. (BTW, you have the same capacity.)
You Need Kindling To Keep Your Dreams Alive
"To keep dreams alive, you need to breathe life into them everyday – your life."
The other reason for writing this series of articles is to inspire you to keep following your dreams, whatever they are. Everyone I am going to write about in this series is no different from you or me. Anyone who creates anything that leaves a lasting influence in this world is actually identical to you and me in almost every way. The main thing that sets them apart is they had a clearly defined dream, a strategy to make it happen and they took the necessary steps to bring their dream to life.
I don't want you to go back to business as usual any more than I want me to go back to business as usual. If you really want to celebrate the life of a great creative visionary of our time, don't just hit the retweet or share button, do something more to keep your dreams alive.
Whatever it takes, whether it's creating a series of articles, videos, getting more connected with people, going for a ride on your skateboard. I don't care what it is, as long as it rekindles the light in your eyes and fire in your heart.
Thanks for the reminder Steve.
Cheers,
Neroli.
P.S. For whatever reason, this article runs a million threads of further insight and inspiration for me to write more.
I'm going to include in the series something that relates to the aspect of fading from consciousness once a life or death becomes yesterday's news. When you think about it, we're all busy creating and trying to get noticed for our work, and it's a bit of a wake up call to see that even someone with the creative impact of Steve Jobs becomes yesterday's news only a few weeks after his departure.
What does it take to stay in people's minds? Obviously, being alive gives you more of a chance to accomplish this…so you have one advantage.