In 2007 I decided my blog was due for a new look, but it was not just about a cosmetic face-lift. I wanted to improve usability, clarity and most importantly, highlight a very important aspect of my business – the Blog Profits Blueprint/Blog Tips newsletter email opt-in.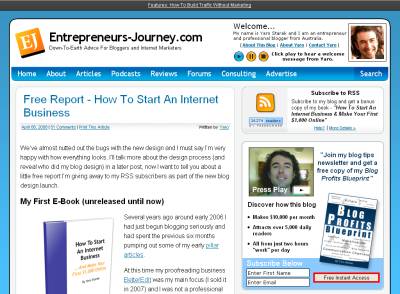 Blog Designer: Mick Real
I've worked with a good designer friend now for over a year – Mick Real – who contributed to the look and feel for Blog Mastermind, the cover for the Blog Profits Blueprint and now, the complete redesign of Entrepreneurs-Journey.com.
Mick and I worked many months, putting together a layout, tweaking it and then implementing it over the top of the WordPress platform. There's a lot to this new blog design and it was quite a monumental effort for both of us to get it right, but I'm pleased with the outcome and we have plans for enhancements in the future too. It's great to have a designer who is enthusiastic about blogging and I have to pass on a big thanks to Mick, he's been a devoted designer throughout the process.
The Importance of the Email List
I've already hinted many times in previous blog posts and email newsletters about what having an email list has done for my business. A blog is good, but for all but a few of the very top bloggers, most people will never enjoy significant conversion by marketing purely through blogging, they just never build a large enough following of readers.
Email marketing is more forgiving when you have fewer subscribers and is a very effective direct marketing communication tool. When an email list is combined with a blog as an entry point, it makes for a powerful one-two punch and the basis for an entire Internet business.
I don't think every blog needs an email list, but I think every blog could benefit from one. Most bloggers struggle with one content commitment – writing regularly to a blog – so to include an email list as an additional outlet that requires content, can be difficult. I would argue that an email list requires a lot less "fresh" content than a blog and is more specific in topic, so can easily be set up and then let to operate effectively without constant attention (unlike a blog), but I digress, that's a topic for another blog post.
Most bloggers are content to focus on generating income from advertising and don't think beyond that, so an email list doesn't factor into the model they are pursuing. I'm trying to change that – and at several points through Blog Mastermind I emphasize the power of email marketing – but for now I'll probably sit as one of the few bloggers who leverage the blog and the list in a symbiotic relationship.
For me, I'm already convinced about email marketing, so I knew my new blog design had to highlight my email newsletter and better present the Blog Profits Blueprint as the incentive for joining. My last few blog + email list combined promotions have brought in at minimum $5,000, one breaking $10,000 and another closing in on $20,000. I could never have dreamed of doing this with just my blog. I know what a good email list can do and I want to continue to build on the great foundation I have laid so far.
The Opt-in Form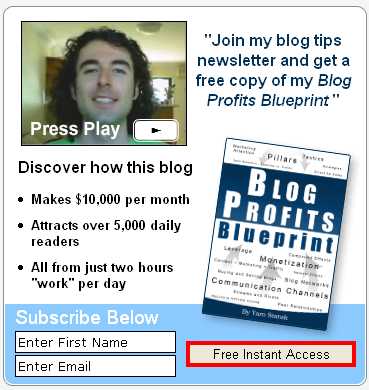 For the new design the key feature that I want draw attention to immediately, is the email newsletter opt-in form. To do this, we placed the opt-in above the fold and used my face in a video still as an attention grabber (faces are huge attractors based on eye-tracking tests done on websites).
For the new design I decide to combine two of my email lists, my very first email list, the Blog Traffic King newsletter and the Blog Profits Blueprint list. I now offer a single list called the Blog Tips Newsletter and you receive a free copy of the Blueprint when you join. Behind the scenes, I have over 50 email newsletters focused on building traffic and improving your blogging, which are cued up ready to go out as a weekly newsletter. It made sense to follow up the Blueprint with this great sequence of content.
This change also made my business model very simple. I have one main list for people who want to build a great blog and learn how to make money from it (my prospects list). The newsletter begins with a quality free report and continues with weekly tips in email format. I spent the previous two years writing a ton of great content about blogging and it's now sitting in my email autoresponder sending out the emails once a week automatically. I build relationships with my readers over time and it all occurs without me lifting a finger because I've done the hard work – I leverage content I already produced.
By the way, all of this content is NOT published on my blog, so if you want the blogging tips and the Blueprint, you have to subscribe to the newsletter.
This newsletter is the first step in my sales funnel, or really, my blog is and the opt-in to the newsletter is the second step. It's such a simple process. Create value by producing a top blog and thus attract traffic from all kinds sources and then funnel some of that traffic to a list by offering more specific value.
To facilitate this outcome, I wanted to make use of video and create a very clear and powerful opt-in form for my blog. I think Mick did a great job at turning my intentions into reality. The opt-in form on this blog I believe is one of the best you will find, combining video, imagery, some simple dot points, a call to action and lots of white space. I continue to bring in between 50 and 100 new subscribers to my newsletter each day, so it's definitely doing it's job.
Advertising Placement
Second only to affiliate income as a revenue source, is direct advertising, so the new blog design had to include various positions for banners and other advertising elements. We still use OpenAds (err…OpenX) to manage advertising campaigns on this blog.
Mick and I played with different banner sizes and placements, but in the end we settled on some standard formats, including the ever present 125*125 box that so many blogs use today. I swapped out my old tower banner from the previous design and now have a leader board in the footer of site, and the standard 468*60 and 250*250 banners came through from the old design. We added a new text rotator at the top (using the Zazz Post Ticker plug-in), which at one point was a floating bar, but I decided I liked the more elegant and less intrusive "locked" bar, where we can highlight some popular posts and offer space to advertisers.
I've got a few more ideas for sponsorship, but for now three packages are on offer. I have plenty of space available and as long as you are NOT promoting the thousanddollarprofits program (we are maxed out of sponsors promoting that campaign), then please see the advertise page and consider sponsoring Entrepreneurs-Journey.com.
Making Use of Audio
Two years ago when we did the first custom blog design I included three audio buttons to describe certain areas of this website. At the time, I was one of the only bloggers to embed audio in their blog design and I wanted to continue to make use of it in the new design.
I love my audio testimonial recorder, so when it came to decide what elements we would keep in the right sidebar, that was one of the first things I selected. Mick went to work and tidied up the presentation nicely and I expect with the new design, this may be the first time you even realized there is an audio testimonial recorder on this blog. I encourage you to leave a comment using the recorder and remember you can mention your blog address, so it's free promotion for you too! – just be sure to say nice things 🙂 .
I kept one audio button from the old design at the very top in the right area where I introduce myself and this blog. As a new audio feature, I decided to include a podcast player embedded right in the main design in the footer, inspired by Steve Pavlina's use of the audio player. This little player takes some of my best podcasts and makes them available directly from any page in this blog. You can get the podcast player from Wimpyplayer.com.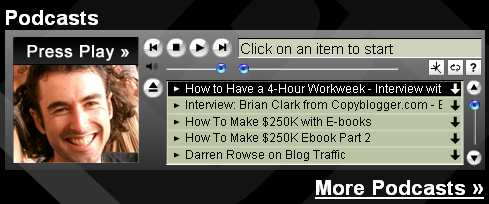 I'm always surprised how few bloggers make use of video and audio when they are such powerful tools, so if you are thinking of doing a new blog design, consider how just a little multimedia can make your site jump to life.
Catching Up on WordPress Plug-ins
With the new design I had the opportunity to include some WordPress plug-ins that were becoming mainstays at many other blogs, including the top commentators plug-in, the threaded comments plug-in and the popularity contest plug-in for listing the most popular articles at the top rather than using a static list that never changes.
Mick also worked some custom magic creating some tabs so I could highlight my own favorite articles and point to the reviews of products I have written in the past to help drum up more affiliate sales. These are controlled using the WordPress blogroll function, so it's easy for me to add new links, plus they rotate, so I can put more than four in and highlight many of my previous articles to increase the length people stay at my site and how many articles they read.
Organizing Pillar Articles
One of the greatest challenges for Mick was the creation of a system for me to handle my pillar articles automatically.
Previously I created a page in my blog called "Articles" that I manually updated by including my best content under broad categories I made up (not the same categories I used for my blog content – which was definitely a silly thing to do in hindsight!). I would manually copy and paste the HTML to update this article archives page, clearly not the best way to do it because of how much time required for upkeep.
For the new blog design I wanted an articles page was easily updated. To do this, we created a separate set of categories and if I tick the box when writing the article, it will automatically appear down the right sidebar on the articles page (or reviews on the reviews page or podcasts on the podcasts page). To see this in action, have a look down the right sidebar in the Articles page.
I only do this for my best content, not every blog post I write. I think it's important you have a page that highlights your best content so people don't have to wade through your archives month by month or category by category. It's one of the first things I tell Blog Mastermind students to do when setting up their blog structure.
The custom hack was not easy and there is no plug-in out there that can do it how we have it set up. Hopefully that will change so more bloggers can automatically create archive pages and easily highlight just their best content in each category. Maybe Mick will release the function as a plug-in 😉 .
Giving Away a Free E-Book To RSS Subscribers
Following in the footsteps of Chris Garret who offered a free e-book to his blog subscribers, I decided to give my book – How To Start An Internet Business – away only to my RSS readers.

We haven't quite worked out all the bugs for the delivery of the book via RSS for all feed readers, but so far most people using the more common readers can access it (download instructions are here). We accomplish this by using the RSS Feed Signature plug-in to add some extra content to the end of every blog post read via RSS.
I noticed a jump of about 500 RSS subscribers after releasing the book, so I think this tactic can be an effective incentive to help boost your RSS, but of course it's always the strength of your content that matters most.
More to Come…
Mick and I have laid a solid base foundation with this new blog layout. I haven't talked about all the new features but I covered most of the main changes.
From your point of view, you should look at some of the ideas I have implemented and consider whether they apply well to your blog design and more importantly – can they help meet your objectives quicker?
In my case the main focus is my email newsletter, hence the attention to the opt-in. Your goals may be different but I'm sure there are ideas in my blog design that could serve as inspiration for changes to yours, especially if you have similar goals as I do.
In the future we plan to make further use of marketing techniques, like split testing opt-in forms, testing different offers to build segmented lists and promote different products, and maybe even some form of personalization or membership integration.
As many people recently commented to my last two posts, none of the design changes matter if the content at this blog is not quality. If you don't bring in the traffic, no clever design elements will make one ounce of difference, so my focus – and of course your focus too – is always on creating quality content first. However, a great blog design can help you derive more from your efforts at building a readership, so do not underestimate the impact of a strategic blog layout.
Yaro Starak
Blog Marketer