Most of the marketers I see online make me shake my head in disbelief. I can't believe that some of the biggest and brightest names in the internet marketing industry can be so naïve when it comes to marketing tactics in the twenty-first century.
Marketing – much like the internet itself – is always changing. You can't take a technique that you learned five years ago, implement it, and expect the same success you had when marketers first learned about it. That's not to say five year old techniques don't work, but it certainly isn't as effective as it was then.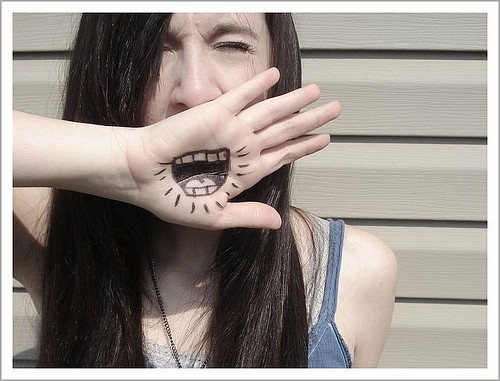 The problem is, all but the very best internet marketers are refusing to evolve. They're selling tired products, using the same gimmicks, and even marketing the products the same way that you would several years ago.
This is the age of social marketing. The marketers that build a name for themselves over the next five years are those that are actively engaged with their audience. They aren't "selling" products, they are solving problems.
Here are a few things marketers are doing wrong…
The Hard Sell Is Dead
Stop pitching products as if I were the last person on earth. If I want to buy your product, it's going to be because it fits a need, or sells me on a goal that I may express publicly, or hold somewhere deep in the recesses of my own mind.
The hard sell is dead, but it appears it isn't going anywhere because some of the sales-turned-marketing gurus don't realize that when a salesman pushes, clients now have multiple options. Rather than pushing back, negotiating, or even making excuses, it's easy enough to just walk away and look for a similar product.
Those that still try the hard sell on the masses, who are faced with multiple buying decisions daily, are missing the point. You can't pressure someone in the digital world. There are simply too many options. Although this isn't completely ineffective, you'll continue to see its effectiveness drop as those pesky millennials reach consumer status.
Your Email List Sucks
I still maintain the importance of having an email list, but the way most marketers use it is beyond awful. Either provide me enough value in every post that I don't want to unsubscribe, or don't bother me until you have something of value to give me.
One of the best email marketers I've ever run into was Russel Brunson. Russel doesn't bother me often, and his mailings aren't full of fluff. It's an exciting headline, a short snippet of copy, and then a link that allows me to continue reading, or move on to my next email. If you aren't on Russel Brunson's email list, it's time to educate yourself.
Stop With The False Promises
I don't care about your friend that "made $6,000 in one day using this magical Google technique."
Skip the spam bin by skipping the hype when pitching me. Tell me how it helps me, and then send me somewhere that I can find out more. Don't send me a 750 word sales letter via email. I don't care, and more often than not – even if it's a good product – I'll never click through to find out what the product is you are pitching to me.
Quit Beating A Dead Horse
The internet is always growing, and always changing. It's only natural that some things that made us tons of money a few years ago are beginning to fizzle out now.
I'll give you an example. Just this week, I received an email from a guy that I formerly considered a top marketer. Sadly, he was pitching a product on a topic that we've all known for some time to be dwindling at best, and completely dead at worst. The topic? Article marketing using directories.
With the Panda update, this approach is only going to work on your simplest keywords without much competition from others. For those bigger campaigns, you're better off spending your time trying to invent a time machine so that you can go back in time and invest in Google or Yahoo.
Another great example of this is the "site flipping" niche. Although this certainly isn't dead, it isn't the thriving beast it was a few years ago when I made my mark by introducing thousands to the game. You can still buy, fix, and sell websites rather quickly, but the idea of instant profits by building a site are all but dead.
Now it takes actual work and discipline to build a top-notch site before sending it off to market. I remember when I could put a PLR book on a custom built landing page and sell it for $250. This took all of two hours.
It doesn't work anymore. Quit trying to sell me products with old material.
Forced Urgency Is For Suckers
Am I really to believe that – even though your countdown clock says I have 16 hours – if I come back to your site in three days I can't get the same "lower price?" Of course, I've been burned by this once before, but by an atypical marketer.
In general, we all know that the urgency you are trying to create is the work of a countdown script that's just going to reset next time I visit the page, or every few hours/days. I don't need to buy your product now, and I'm certainly not going to if I feel like you are trying to create an urgency for me to buy.
There is no urgency to buy. The urgency is a hunger in your pockets and it can only be filled by lining it with my cash.
7 Free Gifts That I'd Rather Not Even Spend The Time Downloading
Oh… the gifts.
I hate free gifts in most cases. The best marketers pack these areas with products from parallel markets. Generally these products are those of their friends or acquaintances and they feel that they provide real value.
Often they're PLR (private label rights). If you don't know what PLR is, just look up the term "junk" in the dictionary. Private label rights are products that are created and then sold with the intent of being re-branded, and re-marketed as new products. In reality, these are low-quality products that don't create any real value, all while giving the illusion that you're getting something extra for nothing.
What You Can Do Differently
Be honest. Be genuine, and have faith in your product.
If the world needs your product, you won't have to beg them to buy it. You don't have to offer additional bonuses to give the false impression of value. You don't have to create a "buy now" mentality.
Good products are, for lack of a better term, good products. These products have value, and this value sells itself. That's not to say you don't need to give your customers a little nudge every now and then, but you certainly don't need to wear a polyester suit and wear the persona of the used car salesman.
Create quality products and engage your audience. They'll tell you what they want. Deliver that, and you have a customer for life. Simple. Right?
Bryan Clark
Image courtesy of Demi-Brooke on Flickr.