This is going to be slightly off topic from the usual business and blogging but I've had a bunch of people ask for photos from my trip overseas, so I thought I'd stick some up here.
As I mentioned in my previous post – Life Portability: Mixing Travel, Business and Pleasure In One Seamless Lifestyle – I'm presently doing some island hopping, making my way from Australia to Canada for a six month stay.
Arriving in Fiji
Fiji was the first port of call on my trip, a mere three hours flight off the coast from my home of Brisbane. Having never been to Fiji I was curious what the island would be like.
We landed in Nadi and it was hot. Nothing too extreme, but since Brisbane didn't really have a summer this year it was the first time I had felt humidity in a while. Temperatures in Fiji are quite constant and what you would expect for a tropical island. The days max out at about 30C and the nights drop to low twenties.
Upon landing at Nadi airport and quickly clearing customs we were shuffled into a taxi with a driver who turned out to be more than just your average cabbie – he also masqueraded as a tourist guide to make extra money.
He offered us a more extensive tour of Nadi city as a detour before our hotel for an "extra fee" of whatever we felt was appropriate. We accepted and he showed us around the city area before taking us to the resort. We gave him an extra $15 as payment for the short tour, which as it turned out was equivalent to nearly a days pay in Fiji.
On our taxi tour we were informed that there is high unemployment in Fiji and thus high crime too. Nadi and the surrounding area is quite run down, old buildings and a lot of Fijians that seem to be just hanging around, which is probably because of the unemployment.
The contrast upon entering the man-made island resort area, which includes several luxury hotels, a golf course and restaurants, was extreme. Clearly there is a big division between the average Fijian lifestyle and how some tourist experience Fiji.
The Fijian dollar is about 70% of the Aussie dollar and with a tiny economy I was expecting cheap everything. That rule was thrown out after entering the resort island. Meals were $20 and up, bottled water is $8 and chocolate bars $4. If you leave the resort area prices drop about 75% – that is some serious mark-up! Even with the 30% discount on the currency exchange, it was not cheap living in the resort area.
Eating and Reading
I managed to contract a throat infection that erupted the day after landing in Fiji, so unfortunately most activities were out of the question for me. Instead I focused on low-key things to give my body a chance to recover – eating, reading, and eating some more.
Buffet breakfast every morning – lots of fresh fruit in Fiji
I went to six different restaurants, some were good, some were not so good and no matter whether it was pasta, BBQ, Japanese or pizza – it was all made by Fijians.
Bula
I'm not sure if it is because Fijians are naturally friendly or they are instructed to greet every single tourist with a traditional hello to keep the atmosphere friendly at the resort, but I very quickly learned the word "bula" and repeated it several times a day.
Bula, as far as I can tell, is sort of like Aloha/Mahalo in Hawaii. I'm sure there is more to it and I'm showing my ignorant tourist side here, but needless to say it's a word you have to quickly become very comfortable with.
Every single time I pass by a Fijian working at the resort they let out a bula. Strangely enough, Fijians don't seem to greet each other with quite as effusive use of the greeting, so I do feel as if I'm getting a decidedly tourist experience.
I had intentions to see more of the island away from the resort area but my body simply did not comply so I'll have to save my exploring for Hawaii instead.
Tropical Paradise
Fiji, from the perspective of a tourist at least, appeals to those who like to sit by the pool and read or head out and get into water sports. The vibe is laid back (even more than in Australia) and Fijians seem to be very chilled to the point of boredom sometimes, but I suspect that's just because of the monotony of the jobs they perform every day at the resort.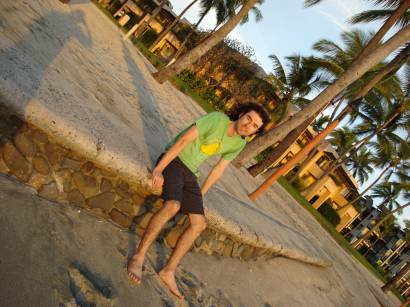 The sunsets in Fiji are amazing
Unfortunately I wasn't really able to give Fiji a proper look around, so I'll withhold judgement for now. Based on the resort I stayed out, I'd opt for a trip to local Australian beaches before Fiji, but that's probably because I never had a chance to see any of the outer islands, which are apparently very beautiful.
Next stop is Hawaii, an equally beautiful place, but with a distinctly different vibe. I'll be blogging from Waikiki next.
Yaro Starak
Island Hopping