I'm writing this from the apartment I'm renting in Vancouver this week. It's a bit chilly here, but that's okay, because I'm writing about Hawaii now and it was wonderfully warm there.
The throat infection/head cold I had in Fiji finally left mid-way through the week in Hawaii so I was able to venture out and do some proper tourist things and even get into the ocean for a swim.
Hawaii I like better than Fiji simply because it's more built up and there's more happening. I also like that it's part of the USA so you get the ridiculous amount of choice when it comes to food. I stayed right near a grocery store and had a kitchenette in my apartment in Waikiki, so I was able to cook food at home and not eat out every single meal.
Hawaiian Luau
Those who follow my Twitter Feed know that I went to a Luau, which is a Hawaiian feast-party. On Twitter I called it a "Lua" initially, which unfortunately means potty, so it's not a mistake you want to make.
I've been to a proper Luau once before, in Maui when I was a teenager traveling with family and I remembered it being authentic and a great experience. This time, the luau was fun, but it felt very much commercialized and less authentic.
One of the main reasons this Luau felt more like theme show was the voice over guy who narrated and sung on the stage – he sounded like he was from a television game-show like the price is right. If you watch this video I took of the unveiling of the traditional steam cooked pig, you can hear the voice over guy and you will see what I mean…

Hawaiian Luau Steamed Pig
The actual show was entertaining and the food was passable (especially if you love 5 different kinds of meat) but this is definitely not the luau to go to if you want a truly authentic experience.
Aquarium and Bus Tour
I popped into the aquarium for a visit one afternoon, which was a cool experience. They have some truly amazing things under the sea – some of the animals look like aliens.
Some sea-aliens at the Hawaii Aquarium
I took a half day bus tour as well, which was extra exciting when our bus broke down in the middle of a two lane tunnel up a mountain. Ironically there were great views just at the entrance and exit of the tunnel, but we were stuck on the inside of the tunnel looking at concrete.
When we did finally emerge from the tunnel after a replacement bus was driven to us, we made it up the mountain to a lookout, which is right in the middle of a wind tunnel. The wind was mighty strong and can very quickly turn a good hair day into a bad one. Here's a shot of my hair…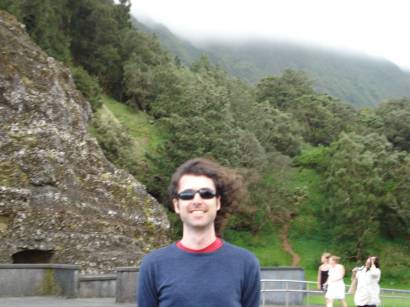 My hair was quite tame compared to some of the ladies on the tour
In the middle of the tour we take a stop at a rest area with some souvenir shops that I had previously visited on a past trip to Hawaii a few years back. I remembered there was a cluster of trees and bushes next to the rest area where whole families of stray cats and kittens lived.
I'm a kitten fan and while there were not as many cats lazying around this time, I did manage to find a few and this very sad little kitten who had fallen off the curb onto the road and couldn't get back up. I rescued it and put it back on the grass, and very quickly went and washed my hands.
Me and the little kitteh
Hawaii has such an amazing range of scenery. You have lush mountains on one side and beautiful ocean on the other, with windy roads, waterfalls, cliffs, coves, surf breaks and everything else you would expect in a tropical paradise.
The main industry in Hawaii, not surprisingly, is tourism (pineapples and sugarcane come next) so the place is well and truly decked out for any type of tourist – those who like to be pampered and driven around, to people who like adventure sports or prefer to go it alone and explore.
Diamond Head Crater
Just next to Waikiki is the Diamond Head Crater, which is a huge bowl that you can drive into and then do a 45 minute mountain walk to reach the top. Along the way you see remnants of the World War with outposts and get some wonderful views. The walk culminates with a nice view from the top –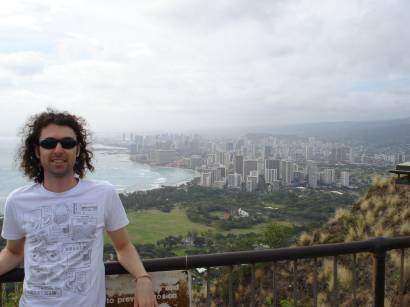 The view from atop Diamond Head Crater
Waikiki is a nice area to visit, however next trip to Hawaii I definitely want to explore further out and rent a car so I can be more independent. O'ahu is a great island and despite containing 75% of the population, there's plenty of nature you can explore without feeling crowded.
Vancouver
I landed in Vancouver last night after the five and a half hour flight. Vancouver is one of my favorite cities because it's built for net junkies like me.
I'll be organizing a meet-up this week since so many people emailed asking to say hello in person. If you live in Vancouver stay tuned as I'll have more details about the meet-up shortly.
More On Traveling With Your Business
Lea Woodward emailed me in response to my traveling posts to share a resource she and her husband put together about their travels around the world, taking their family with them and living for months at a time in different cities.
Lea calls it a "location independent life" and if you love the idea of travel and making it meld with your work and business, then you should take a look at Lea's article on her blog here –
Is A Location Independent Life Cheaper Than Living In One Place?
Back to Business
I'm settling soon in Toronto after a week here in Vancouver and the first thing I'm focusing on when I get settled is opening Blog Mastermind up again to new students.
I've had a bunch of people email and ask about when they can join again so it's not too long a wait now.
As much as I like traveling and working, there's something to be said for settling in one place and focusing on business, which I can't wait to do.
Yaro Starak
Back in Canada