I arrived in Vancouver last week and thankfully with my nose, ears and throat functioning as they should, I could enjoy all the delights that Vancouver offered – and wow, did it deliver!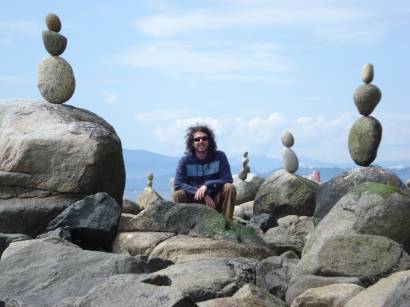 Balancing rocks at the beach on Stanley Park
Vancouver is an amazing city and by far my favorite destination on this trip so far. As I demonstrated in a recent video, I rented an inner city apartment on coal harbor, complete with Internet, cable TV, full sized kitchen, great views and close access to everything I could want from Vancouver.
Organic Food Paradise
I'm not the kind of guy to spend money on many frivolous things. I don't drink and I'm not really into clothes or cars or gadgets (I've had the same laptop for over three years now – a good old trusty Asus), however there are two areas I will spend good money on with no regret – food and shelter…err, accommodation.
In Australia I shop organic as much as I can. New organic shops open up regularly in Brisbane, but nothing compares to the full blown grocery store called Capers in Vancouver – devoted entirely to organic produce.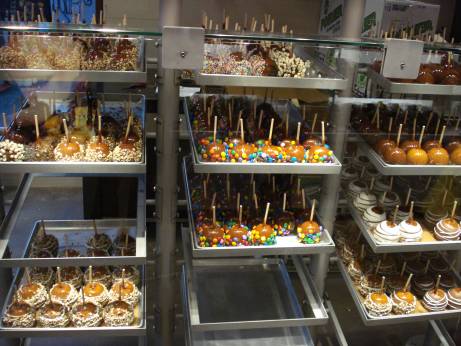 Okay, these aren't organic but they look tasty
I spent the early part of my first day in Vancouver walking around Capers with wide eyes, shopping for food. This turned out to be the beginning of a trend and I have to say with no hesitation – Vancouver is the best city for good healthy and tasty food I've ever been to.
Maybe it's because of where I was staying (in the West End of Vancouver – strangely enough my favorite suburb in Brisbane is West End too), but I had a lot of trouble finding many overweight people, quite the contrast to Brisbane. Vancouver, the land of healthy eating and healthy living it seems!
One guilty pleasure for me is chocolate and again, Vancouver spoiled me for choice. Australia just doesn't do dessert the way North America does, which is a good and bad thing.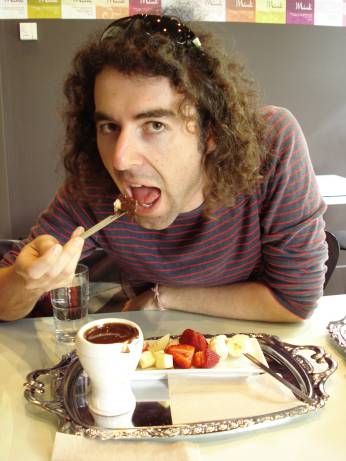 My favorite place for chocolate in Vancouver is a boutique shop called Mink, where I am presently sitting typing this article (Vancouver has to be one of the best cities for Wi-Fi net access – even laundromats have it!). I just finished consuming a rich dark chocolate Fondue, with cake and fruit pieces. They also have the most amazing rich dark drinking chocolate here that frankly, is better than sex – honestly!
Nature's Glory
Vancouver is a truly beautiful city in terms of pure natural wonders. Just down the road from my apartment is Stanley Park. Since I'm here in May, Spring is in full bloom and nature is putting on an amazing show. Tulips are everywhere, the grass is a rich green that nowhere in Australia can match and the mountain peaks that lie across the sea passage are wondrous to look at.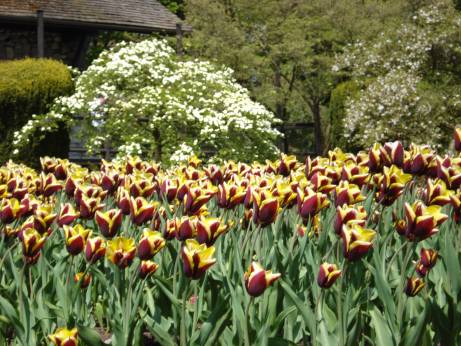 Flowers are on show everywhere in Vancouver
One day I went for a bike ride around the perimeter of Stanley Park and another day I went for a rollerblade around the lost lagoon and aquarium area. The centre of the park is full of wildlife like squirrels (which are very cool to see if you come from Australia since we don't have them – too cute!), geese, ducks, swans – and even a raccoon came out to greet people once. Spring has had an impact on the animals too and I came across several goslings and ducklings with protective parents circling near by.
On a clear day I caught the boat across to North Vancouver and then rode the bus up to the Capilano suspension bridge, which frankly is a bit overrated and overpriced. The bridge itself is great, but the tree and cliff walk are not nearly as exciting as they sound and I didn't see any wildlife the entire time besides a dead fish. At $27.50 I felt a bit cheated, so decided to leave and head up to Grouse mountain.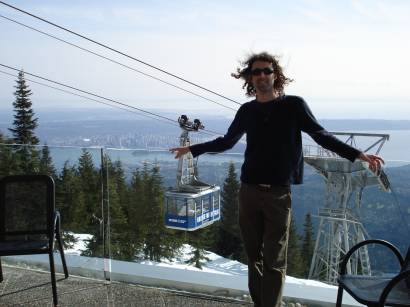 The top of Grouse Mountain with Vancouver city in the background
Grouse Mountain is at the top of North Vancouver and during winter, offers a basic ski area. It's no Whistler, but since you can get there via public transport there's no excuse for Vancouverites to not know how to ski. I caught the gondola ride up to the top and then trampled snow with my street shoes (one Asian tourist did it in high heels!) and visited the newly awakened from hibernation grizzly bears.
The bears were clearly not "morning bears" and despite no longer hibernating were still having trouble getting out of bed – they preferred to sleep while us tourists captured photos.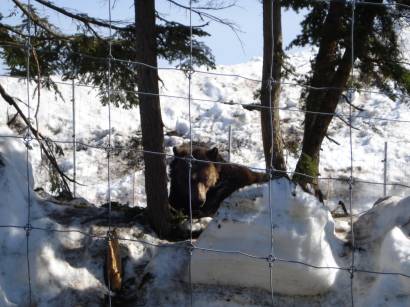 Sleepy grizzly bears
After visiting the bears I captured some shots of the amazing views of the surrounding mountains, the snow and the man-made dam. The mountain area is truly spectacular and an interesting contrast to the Australian mountains around Brisbane.
The trees are very different in Canada, even the smell in the air is different, it's an interesting comparison to make if you enjoy forests. Around my house in Brisbane is a wonderful forest that is very peaceful and you get a sense of timelessness there. Vancouver's forest is colder (obviously) with a crisp feel. There's more water in Vancouver too, not surprisingly since it rains the entire winter (they need to ship some of that water to Australia).
The Vancouver Meet-up
When I announced I was making my way to Vancouver, several locals emailed me interested in getting together for a chat. I arranged a meet-up for Tuesday night at a gourmet burger bar in the city and enjoyed meeting several of my blog readers. Big hellos to David, Doug, Vera and Leo, Haffiz and his dad, and Jimson (Jimson covered the meet-up here).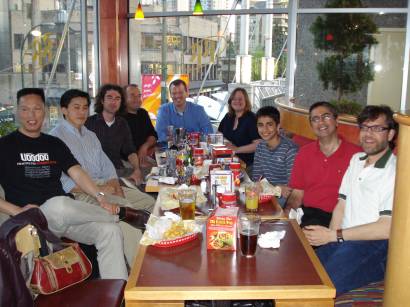 Vancouver Meet-up Dinner Photo
I twittered John Chow and informed him that I was in town and that I hoped to make it to his next Dot Com Pho meet-up. John gave me the details and wrote on his blog that I was attending the next event. From there things seemed to have spiraled and it appears that the Dot Com Pho may turn out to be the biggest one yet. I can't take responsibility for that though – it's all about the free pens!
John and his wife also made it out to my meet-up on Tuesday night and it was great to meet one of Vancouver's most famous bloggers. John in person is so much like he comes across in his blog – he loves his technology, the Internet and clearly enjoys the lifestyle it allows him to lead (amen to that!).
John Chow and Yaro Starak
John covered my meet-up in a blog post here.
With all the talk of making money from blogging there's an intrinsic benefit that isn't talked about as much – it can help you make friends too. Without my blog I couldn't enter a foreign city and instantaneously have a connection with some of the locals like I've experienced in Vancouver.
Onwards to Toronto
My "holiday" is almost over as I head to Toronto next week, my destination point for the coming months. I have family there who I will stay with initially, until I locate a sub-let somewhere near the downtown area (I'm aiming for the annexe or high park).
Toronto is my second home as I have stayed there for months several times in recent years, although this will be the first summer in Toronto in a long time. Since I will be settling for longer, my focus returns to work and I won't be traveling quite as much, except to go to conferences that take my interest.
This month I hope to open the doors to Blog Mastermind, though it might spill over to early June. I also have a new project planned with Gideon Shalwick that extends what we offered at BecomeABlogger.com and my long awaited Membership Site Mastermind program will debut later in the year too, which is currently running in BETA with a small group of Blog Mastermind graduates.
I'm itching to get back to work. While I love seeing all the sites and sounds that traveling offers, I do enjoy knuckling down and getting great content out to the world. There's not much more satisfying than helping others with your work, and I hope I can do that many times in the coming months.
My experiment traveling, working and living for a few weeks in different places shows that it's a real possibility to have the lifestyle of a wandering Internet entrepreneur without needing to spend excessive amounts of money. If you intend to follow in my footsteps, I suggest you do it now rather than later, before the price of oil makes air travel prohibitive for all but the wealthy.
Bye from Vancouver.
Yaro Starak
Wandering Entrepreneur