Three quick updates for you today, starting with a way cool video and tool from StomperNet's latest Going Natural 3.0 launch series of videos (if you haven't opted in to get these free videos, go do it now – you're missing out!).
Assessing Your Website's SEO with Stomper Site Seer
Today (Friday USA time) StomperNet are making available a search engine analysis tool called Stomper Site Seer (or SSS for short).

It will cost you NOTHING to use it. You can submit your site and get a complete StomperNet search engine diagnostic report.
To prep everyone for the release of this tool Jerry West and Howie Schwartz put together a video that explains some of the key on-page and off-page elements that matter when it comes to your website (and blog) ranking well in Google and the mistakes you need to avoid.
The video is worth watching even if you don't use the SSS tool because it's a fantastic primer on some search engine optimization fundamentals, including metrics you need to know about to assess where your site is performing well and where it is not.
The video reviews things you can do to your website internally (on-page), such as how much the title tag matters, what you should do with your Meta Keywords and whether a sitemap is still important or not.
Then they cover external linking elements (off-page) such as keyword cost analysis, how well your site is performing in social media sites and data on the number of incoming links to your pages. This is all very handy stuff for anyone doing SEO.
One of the cool features that the tool offers is information on what Google thinks is the THEME of your website. If your site is not themed by Google how you think it should be, then this is an opportunity for you to create some new pages to target the traffic Google is sending you because of your theme.
This might sound confusing, so if this is the first time you have heard the term theme as applied to websites, you need to watch the video and then grab the SSS tool to find out the theme of your site. I'm not sure what the theme is for my blog, so as soon as the SSS tool comes out I'm going to find out.
The SSS tool and the video are available today. To get them and all the other free videos, all you need to do is opt-in to the newsletter from StomperNet here –
StomperNet are not spammers when it comes to their email list, they send out some very good content, so you should be on their newsletter anyway.
Cow vs Conn a Case Study for Making Money Online
You may not have realized, but the Cow of JohnCow.com fame recently went through a change of ownership. I actually know who the new Cow is, but I've been sworn to secrecy.
What I can tell you is the new owner REALLY knows his Internet marketing, so you are going to get some great posts there.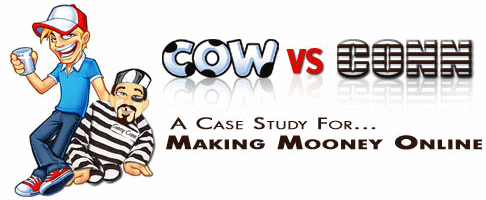 The Cow and Garry Conn are running a competition starting next week. The competition is in the form of a case study, where the Cow and Garry have a month to build a profitable website and flip it on Sitepoint. The winner will be determined by whose site sells for more and the proceeds go to charity.
There's also a competition for readers and you enter in a variety of ways to earn "tickets". See the cowpetition page for details on how to earn tickets and the prizes up for grabs (including something from me too!).
It's worth keeping an eye on this just to watch the case study, especially if you are new to building profitable websites. Garry and the Cow have promised to document it all on their blogs.
Strategies For New Bloggers
Lastly a link to an article over at Pure Blogging, which covers Smart Strategies for New Bloggers that I wholeheartedly agree with.
Michael states that successful bloggers are doing entirely different things than what you're doing. He then goes on to break down what he thinks these are. There's some solid strategies here – not tactics – it's more about mindset and behaviors.
This article reminded me of one of my previous posts that you might want to check out after you read Michael's – Reporter vs Expert – Why Most Bloggers Are Stuck Reporting.
Don't Waste Your Time
There's some great content in the above links, but to make sure you don't waste too much time, I suggest you set aside about an hour for checking out the above sites.
Go watch the StomperNet Video (37 minutes), try the Site Seer tool when it's released today, check out the competition from John Cow, read Michael's article if you are interested in blogging and then, get back to work doing whatever productive job you have to do today.
Oh, and have fun 🙂 .
Yaro Starak
Bossy Boots