If your blog is your "business" and it doesn't convert, you don't have a business!
How's that for the start of a blog post? I know – not very encouraging, especially if you've been struggling with the concept of conversions recently.
Don't worry, by the end of this blog post, you'll know what you need to do to increase your conversion rates now!
In an interview with Derek Halpern, creator of Social Triggers, he shared five tips with me that anyone can use to increase your blog's conversion rates, and I want to share them with you.
But before I do so, I would like to answer two questions . . .
Question 1: Leslie, What Do You Mean By Conversion Rates?
When someone comes to your website, you want them to DO something (if not, then you should consider shutting it down). That something might be opting into your email list, sharing a post on twitter or purchasing one of your products.
Let's take the example of purchasing one of your products. If 100 people visit your site, and three of those people purchase one of your products, that gives you a 3% conversion rate. It's that simple!
Question 2: Leslie, Why Should I Even Care About Conversion Rates?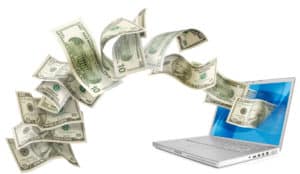 Let's say that you have 5,000 people visiting your blog or sales page on a monthly basis. If your conversion rate is 3% on a $47 product, this means that 150 people will buy your ebook and you will make a whopping $7,050.
You are doing the happy dance, and all is well with the world.
Then, let's say you decide that you want to double your income using the exact same setup. There are two ways you can do this:
You can try to drive 5,000 extra people to your site.
You can increase your conversion rate from 3% to 6%
Which one of those options sound easier to you? The second one of course. In fact, it is MUCH easier. The great thing is that there are small changes that we can make to our blogs to add that extra 3% (and even much more).
So, now that I have you sold on this whole increasing your conversion rate thingy, let's get into Derek's five tips:
Tip #1: If You Want People To Take Action, You Have To Ask Them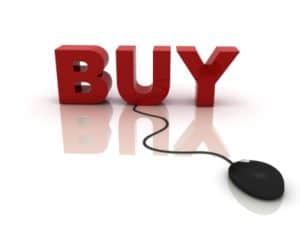 Yeah, I know – it sounds simple, and I'm glad. There are things you want people to do whenever someone reads one of your blog posts.
It can be as simple as tweeting your article or as involved as purchasing a product. However, a lot of the time, we fail to ask the audience to do those simple tasks.
A simple example would be a statement like "If you found this blog post helpful, please help sharing the word by tweeting it" goes a long way. If you are wanting people to purchase something, tell them to Buy it.
Derek's advice is to get people accustomed to doing something after reading your blog posts. That way, when you ask them to do something bigger, there used to being in an action-oriented frame of mind after consuming your content.
Tip #2: Keep Your Opt In Forms Above The Fold
In my experience as a blogger, I've come to see that my email list is one of my most valuable assets. It's how I'm able to nurture relationships with my subscribers by offering them valuable content that can help enhance their lives and their businesses.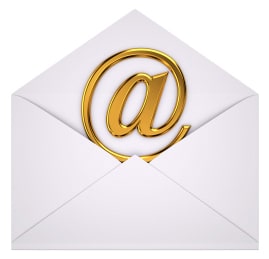 Not only that, but it's a way for you to get people to keep coming back to your site.
In 2009, I abandoned my blog for a few months, because I was experiencing some serious burnout as a result of doing things the wrong way. The traffic to my blog had decreased significantly, because people no longer returned to my site. However, when I got myself together, I sent out one email to my list and my traffic was restored almost overnight.
It also gives you the ability to promote quality products to your subscribers that will help them accomplish their goals and you make more money. I've made more money online as a result of having a list than from any other source in my business, and I'm sure many other bloggers would say the same.
Because this is such an essential part to any blogging business, it's important to keep your opt in forms above the fold. In other words, you don't want your website visitors to have to scroll down to see it. The easier it is for them to see, the greater the likelihood that they will subscribe to your list.
Tip #3: Write Content Worth Writing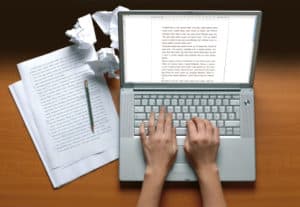 Yes, he went there. In fact, according to Derek, if you don't have something to say, don't say it!.
This is a little different from what a lot of bloggers say. When it comes to blogging, one of the big things people emphasize is getting lots of content out there. You hear things like "post daily if you can".
Derek uses a different model. Instead of writing a bunch of content for his blog, he takes his time to craft high quality articles, and only posts to his blog approximately twice monthly. However, he still manages to get a ton of traffic to his blog. It's an issue of quality vs. quantity.
The concept is simple – if your content is awesome, people are more likely to take action on what you are asking them to do.
Tip #4: Make Sure What You Are Writing About Is Clearly Connected To A Monetization Model
At first glance, this might seem like he's saying to make sure you are hardselling. However, that's not the case. I'll give you a perfect example.
In my 7 Day Bootcamp training, I walk people through the process of deciding on a niche, setting up a blog, producing content, building a list, driving traffic and making money.
As a part of that process, you will need to get your own hosting account. So, in showing my students how to set up their website, I also direct them to HostGator if they need to purchase hosting. Of course, the link I use to direct them to HostGator is an affiliate link.
Is that a hardsell? No it isn't. I offer them value, I show them what they need, and if they don't already have hosting, I make hosting accessible to them in a way that makes me money. A win-win situation, in which it's clearly connected to my monetization model.
There are all sorts of ways to connect our posts with a monetization model, and sometimes it just takes some creative thinking.
Tip #5: Stop Promoting Your Social Media Profiles All Over Your Website At The Expense Of Your Email List
This is probably the tip that will cause the most stir. Facebook and Twitter are bursting at the seams. A startling amount of people are using these social media sites on a regular basis to interact with friends as well as businesses. You want to use these sites to attract eyes to your business. However, when it all comes down to it, you don't own your Facebook and Twitter profiles. They are owned by Facebook and Twitter.
A lot of people say that email is dead. The truth is – it's not. Rather than trying to explain to you why email is still strong, I'll let the following infographic speak for itself (click on the image to see it in full size).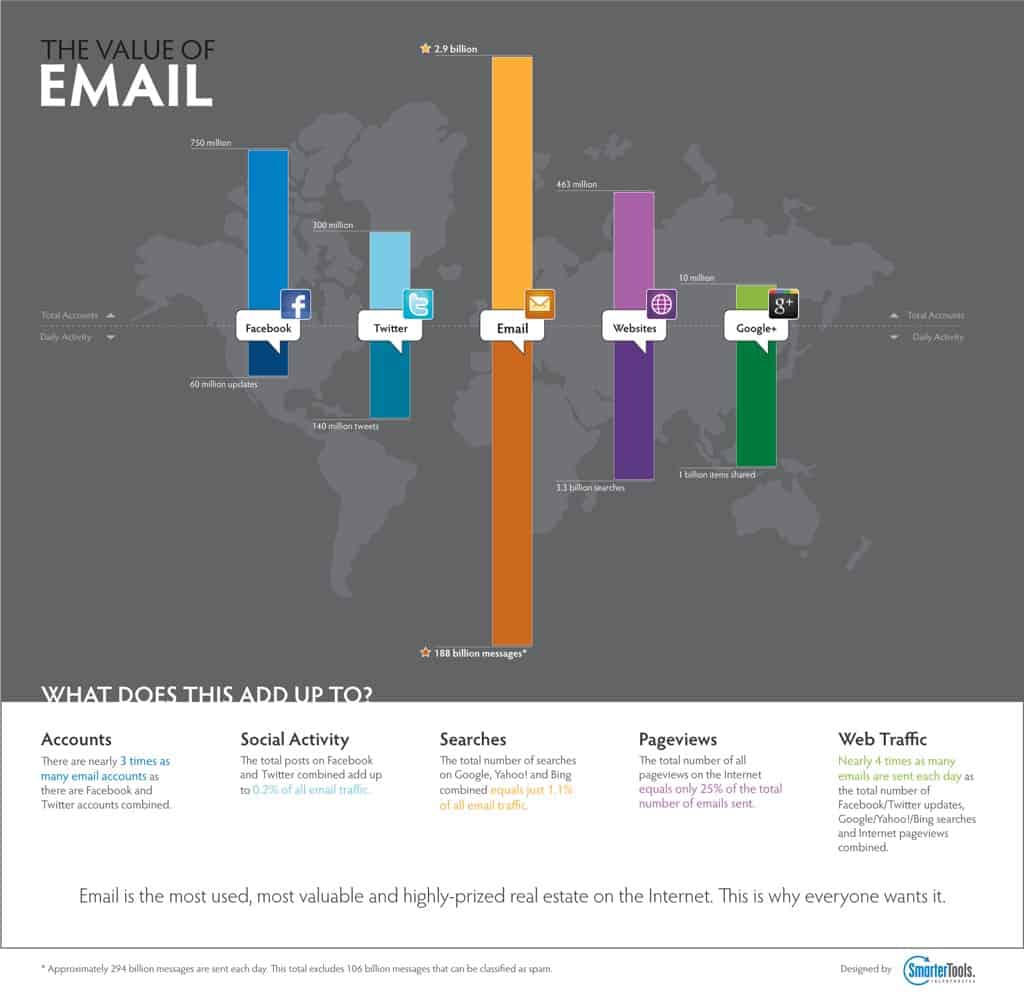 Now that we've gotten that out of the way – there's absolutely nothing wrong with using Facebook and Twitter, but as Derek says, don't promote them at THE EXPENSE OF your email list. Make your email list your priority, and you will be building an asset that will do wonders to help you grow and expand your business.
In Summary
If you are trying to make money online, focusing on improving your conversion rates is a good thing. It can make the difference between a mediocre business and one that accomplishes great things. Implementing the tips above can go a long way to giving you the blog you've always wanted.
If you'd like to hear the entire interview and learn how Derek was able to build a number of online businesses very quickly, listen to my entire interview with Derek Halpern.
Comments
Have you implemented some of the above tips and seen a difference? Do you have any tips on how to increase conversions? Let me know in the comments section below.