I've been involved in internet Marketing since January 18th, 2011.
Since I started, I've had the privilege of taking part in a number of online courses that have given me a solid Internet Marketing Education. On the other hand, I've also purchased courses that just didn't live up to the awesome sales page (and trust me, in some cases, the sales pages were simply amazing).
Anyway, as an internet marketer who loves to learn, I found myself taking a bunch of courses just so that I can learn as much as possible about this dynamic thing called the internet. In the past, I've found myself spending hundreds of dollars a month, and in some cases, over $1000. Why? Because I believe that in order to stay on top of the game, you have to know more than your competitors. It gives you that competitive edge.
Was it worth it? In retrospect, I would say a definite Yes. I've learned so much, and get joy from sharing what I've learned with others, as you've seen from my past articles. But there was a problem.
I'm pretty sure that this is a very obvious: Every dollar you spend is a dollar you no longer have. In other words, it's a dollar that you can't reinvest into the growth of your business, and the lifestyle you are trying to live.
I also realized that I became pretty knowledgeable about internet marketing, and that a lot of the info I was getting in the courses I continued taking, was info I already knew. So I decided to do something "drastic"…
My "Drastic" Decision To Cancel Almost Everything
I remember the day. I was on the phone with an Internet Marketing buddy of mine and we both decided that we were going to cancel every program that we were a part of (well, almost), and focus on optimizing what we already had. We were going to perfect what we already knew, adding on little bits here and there.
I quit every program except one – Mixergy Premium. Allow me to explain why…
Mixergy: Home Of The Ambitious Upstart

I first got introduced to Andrew Warner and Mixergy sometime last year. I'm not quite sure how I stumbled onto the site, but I'm sure glad I did. As Andrew puts it, it's the "Home of the Ambitious Upstart".
At Mixergy, Andrew interviews entrepreneurs almost every day, from all over the world, asking tons of questions about how they started their business, what their businesses are about, where their businesses are going, and what average people like you and I can learn from what they have done to grow our online businesses. What I really like is that he has a way of probing to get them to reveal stuff that the average person wouldn't get them to reveal.
His interviews are available as a podcast, and this is the way I choose to consume them. For me, it's extremely valuable for a number of reasons:
I live in the middle of nowhere (no exaggeration), and there aren't any entrepreneurs in my area that I can sit down and talk to;
I can take the interviews with me everywhere on my iPhone, listen to them and learn;
The more I listen to what they have to say, the more I think like an entrepreneur and the better I am at dealing with issues I encounter;
The interviews are actually quite entertaining. It's not just some boring mumbo jumbo that's educational. It's exciting, while being educational at the same time;
"By beholding, you become changed". This is a principle I believe in strongly, and I've seen first hand that by constantly listening to entrepreneurs, you start thinking more like one.
My First Mixergy Course Experience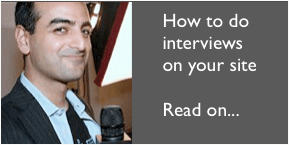 A while back, I saw that Andrew released a course where he teaches how to conduct an awesome interview.
I had just gotten into podcasting, and was about to start doing interviews more often. Since I had learned so much from the interviews he did, I was inspired to do some of the same kinds of interviews to benefit my audience. The cost for the course was $49 and it seemed like a Sweet deal. So I jumped at it.
I signed up for the course, and spent two hours going through the info. Let me tell you – it was awesome. Let me share some of the tips I picked up from his course with you:
When requesting to interview someone, understand that their time is precious. Keep your email short, sweet and to the point. Give a sample of your interviews and request a specific date and time to interview them. You come over professional, goal-oriented, and you increase your chances of success.
Your opening statement during the interview is VERY important, because it sets the stage for the rest of the interview. Write out your script, don't just wing it.
When doing an interview, make sure you have a well-defined purpose. Know what you are trying to accomplish, and guide the interview in that direction.
When you ask a question, let your interviewee talk. It's their time to shine, not yours. Ask, and then shut up!
Don't be afraid to change course during the interview if the story is developing in an interesting way that was different than what you expected.
After the interview is posted, make it as easy as possible for the interviewee (and listeners) to share the interview using a service like Clicktotweet, where you can setup predefined tweets that say exactly what you want them to say.
In addition to those tips, he also gave templates of emails that can be sent out at various stages to make the process easier and a bunch of other advice that would take too long to get into in one post. All in all, it was the most step-by-step, thorough information I'd seen on the topic.
I decided to implement what I had learned from the course, by testing it on him. I sent out an email, requesting an interview, wrote up my opening statement, had a defined purpose of having him share tips on how to conduct successful interviews, asked my questions and listened to what he had to say.
Because of what I learned in the course, I was very confident in what I was doing, and the result was awesome. It was the best interview I had ever done up to that point, and I'm saying that based on the feedback I've received from many sources. Not only that, it was one of the most popular interviews I had done.
All in all, it was a good thing. You can listen to my Interview with Andrew on my podcast. His techniques also landed me an interview with Guy Kawasaki, which I thought was pretty cool.
(Editor: You can also listen to Yaro's interview with Andrew Warner)
My Second Trial Of A Mixergy Course
A few weeks later, I saw that Andrew was releasing a course on using Facebook to connect with your audience. When I hear this, I got very excited. Why? Because I had set up a Facebook page for my Biology website, and was using it regularly. However, I just wasn't seeing the type of engagement that would get me excited. I was obviously not doing something right.
Then I took the course, and learned a few tips. Let me share some of those tips with you:
Take full advantage of your Fan Page photo. Let it showcase what your site/business is about, and if possible, make it interactive
Post to your Facebook fan page at least once daily. That way, your fans will know that you're around and keep you in mind (if you do things the right way)
Use simple fill in the blank status updates. For example – "The most important aspect of your blog is the _________"
Use call to action status updates. For example – "Click LIKE if you think that having a blog is better than an ecommerce website"
Use "this or that" status updates. For example – "Happiness or wealth?"
I know what you are thinking – those are some pretty simple tips that probably won't make a huge difference, right? Wrong. I started implementing those tips and my engagement went up immediately (literally). I went from one or two likes to my status updates to 10 to 20 responses as soon as I started doing those simple things.
Needless to say, I was sold on the courses that he was offering, because they were simple, step by step, and easy to implement. Not only that, but I was able to SEE the difference it was making in what I was trying to accomplish online.
Mixergy Premium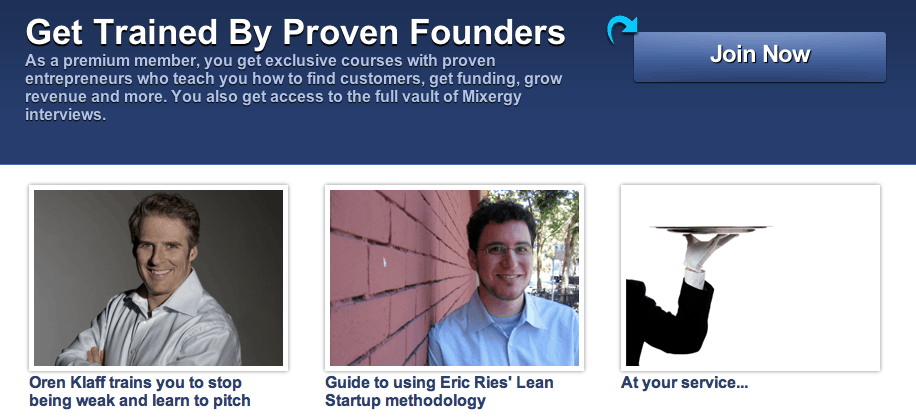 Then I saw Andrew was doing many courses where he'd bring in different marketers to deal with specific topics. You could buy the courses individually as I did, at a price point of $49, OR you could pay $25 monthly for access to all of the courses he released.
I jumped at it and subscribed to his Premium membership, because the cost was less than I've paid for most other membership site, and offer a ton of value. Here are a list of some of the courses he's released:
Persuasive Product Videos – How to make killer sales videos that will entice your website visitors to click the "Buy Now" button.
Landing Page Conversions – How to increase your sales by having an effective landing page
Recruiting Interns – How to get free help to grow your business
Launch Session – How to conduct a successful product launch
Email Marketing – Techniques to help you get sales with your email marketing efforts
Copywriting – How to write headlines and copy that converts
Facebook Marketing – How to use the biggest social networking site to increase traffic and grow your revenue
Affiliate Marketing – Everything you need to know about affiliate marketing
Google Analytics – How to use Google Analytics to grow your business
Mobile Apps – The nuts and bolts of creating successful mobile apps
Startup SEO – The founder of SEOmoz gives Step by step instructions for increasing Search Engine Traffic
Non-Boring Copywriting – Head Copywriter of Appsumo teaches how to get more clicks
Hacking Content Creation – An automated system of content creation
Others – The list is getting long, so I'll stop here. Lets I'll say that it's a lot, and that more is added on a regular basis. There are 36 at the moment, and by the time you read this, there might be many more.
These courses are taught by experts from a wide variety of niches, and are guided by Andrew to make sure that it's as practical as possible so that you can walk away from each course, take action and see changes (sometimes instantly) in your business.
Who should NOT get Mixergy Premium
Mixergy Premium isn't for the absolute beginner. It doesn't teach you how to set up your blog, and get your stuff going. If that's what you are looking for, you should probably look somewhere else.
Instead, it's for the person who already has an online presence that's looking to take it to the next level. It's for the person who, like myself, is tired of looking in a bunch of different places for courses on various topics related to growing a business.
Are there any negative points to Mixergy Premium?
It all depends on how you look at it. One potential problem is that it isn't about any one specific problem. If you are looking for an Affiliate Marketing course specifically (just as an example), this isn't the place to go to get a 6-month in depth handling of just that topic (for example). If that's all your looking for, them Maybe Mixergy Premium isn't for you.
What Mixergy Premium does VERY well
A lot of information products that are currently on the market give you a lot of theoretical stuff. However, theory means nothing if you don't know what to do and knowing what to do means nothing until you actually do it.
Mixergy Premium does very well on giving Actionable content. Andrew has connected with people that are among the best at what they do, and gets them to share information that most people couldn't get them to. Of course, he can't do the work for you. That part is up to you!
My Final Verdict
Yes, I have canceled everything else, but this is one I'm sticking with. The truth is, I will never be able to implement EVERYTHING that is taught in Mixergy premium, but I know that whenever I need it, I will have access to a great resource that will serve me for many years to come, and always have content that I can use to help take my business to the next level.
Would I recommend Mixergy premium to someone else? I think it's pretty darn obvious that I think Mixergy Premium is great. If you are looking for ideas and actionable content on how to grow your business, check out Mixergy Premium today.
Click Here to go to Mixergy premium
Leslie