Being in the business of publicity, I love exploring the elements that contribute to specific examples of someone who is successful at building their profile. I'm interested in figuring out how someone unknown can build a large following and public interest, particularly online.
When recently presented with one such example, it got me thinking about the reasons someone chases publicity, aside from the obvious (making money!)
Kiki Kannibal – Teenage Social Media Sensation Or Little Girl Lost?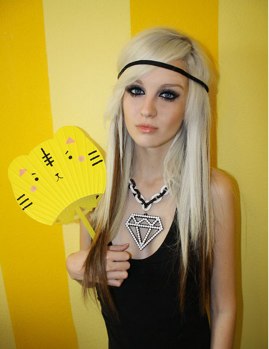 Recently, the controversial story of teenager Kiki Kannibal (Kirsten Ostrenga) came to my attention.
Back in 2006, Kiki first made her appearance online as a lonely 13 year old girl, searching for belonging, having just moved from Chicago to Florida with her family.
She filled her MySpace page with pictures of her dressed in punky "scene kid" fashion (a teen trend that is gothic with piercings and heavy make-up, yet also cutesy with vivid 80s colors and Hello Kitty accessories). Her profile online was brash, confident and outrageous – completely the opposite to the girl she really was. The result is an intriguing mixture of adult and infantile.
Within a few months, her friends count had skyrocketed to 25,000, all keen to see her latest photos. Unfortunately, not all her "friends" were admiring, with plenty of kids also sending her hate mail.
When she was kicked off MySpace, she joined Stickam.com, a site where teenagers streamed themselves live, while instant messaging with viewers. Her debut was a video of herself lip-synching and dancing crazily while wearing a hoodie with kitty ears. That was in 2007 and the video, now also on YouTube, has been viewed 500,000 times to date. There are now hundreds of facebook pages claiming to be her, and she has a YouTube channel and 14,000 Twitter followers.
Kiki's journey on the road of publicity has sadly not been an altogether easy or bright one.
When she was 13, an 18 year old boy connected with her via MySpace, and they began a relationship that tragically resulted in him being charged with statutory rape by Kiki's family. Kiki and her family's were also subject to late night drive-bys, abusive calls and stalkers to her home. The family were forced to move, leaving their jobs and home.
They now all live with Kiki's grandmother, have filed for bankruptacy, and have been sued by the family of the young man who was charged with Kiki's rape (he died while trying to escape a police arrest). Not really a happy ending for Kiki or her family – yet Kiki is still online, despite the fact she feels lonely, stating –
I feel like a butterfly in a jar. They'll watch me. And they'll take from me. But no-one ever connects.
The Purpose of Publicity
The story of Kiki Kannibal got me thinking about the "why" rather than the "how" when it comes to publicity. My job is helping my clients create their public profile and generate publicity, and most certainly part of the strategy addresses the reason they want to become well-known.
From a business perspective, I don't really see the point of becoming well-known or even "famous" just for the sake of it. Interestingly, I have been approached by clients who have asked me to build their profile, and many of them actually had an interesting story to tell. I had no doubt that certain media would be very interested in them.
But then, I asked them what they were trying to sell, and they couldn't tell me. They had no product or service, and weren't even sure if or what they were going to want to sell in the future.
This makes it challenging from a publicity point of view, because it doesn't give me a clear direction where or how to position that individual. And, on top of that, I saw it as a waste of time and money (paying for my publicity services) on their part if they weren't going to earn money from our publicity efforts.
For The Love or Money?
I mostly work with businesses or individuals in business. I always create a publicity plan with the goal of making money. As a wise person once said –
If you are not making money from your business, then it's not a business, it's a hobby.
There are certainly many people out there raising a profile for reasons other than to make money. They may be trying to draw attention to a cause or charity they are passionate about, educating others, or sharing knowledge or an opinion. Others want to be controversial, and others still (like Kiki Kannibal) just want to feel popular and important in their own way.
It is certainly not my place to judge the reason why somebody wants publicity, but I do like them to explore the reasons why they want it. There are always considerations, because there is a lot that can go wrong (like in Kiki's case).  
I would advise anyone setting out on a journey of publicity to ask themselves the following questions:
Are you building your profile to earn money and if so, what are you selling?
Does your publicity plan contradict or endanger other positions you hold (for example, if you are in a position of authority, you may not want to be sending out extreme controversial messages, as it might not sit well with your reputation).
How will your approach affect your personal life – are you putting yourself or your loved ones in any physical danger?
It can be difficult to change your reputation once you have built it. If you are building your reputation as a strip tease sensation online, but then decide to become a lawyer or judge, for example, you might get stuck with a reputation that won't necessarily bode well for you in your future career.
I have just completed my very first free product, called Stratosphere Me – the Launch Pad.
This package helps you to determine your publicity focus and ensure that all your efforts are interconnected. It allows you to discover the "why" before you move onto the "how."
I encourage you to head to my page and enter your name and email into the form on the to download the free guide and to join my monthly newsletter.
Kerry