This happens to me far too often. I think change can be a good thing, but change for the sake of change is not.
The same goes for growth for the sake of growth. There is no quicker way to kill your business than to grow too fast.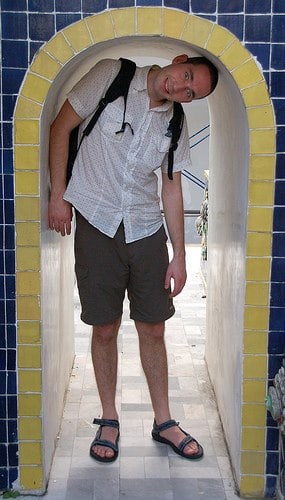 When I communicate with new bloggers I always tell them to start small, and let their sites grow and evolve with what their audience dictates. This is crucial, because the audience has a better idea as to what is important to them than you do.
I know by writing my column I give away some of my "secrets" as to what has made me successful. I also know that my competitors and potential competitors could easily read this and apply it, but I have to admit, it doesn't bother me. I know most people simply don't grasp and implement what it takes to build a successful business that is reliant on public usage and acceptance.
I have gone back and forth with new bloggers by email phone, forums, you name it, and I can honestly and assuredly say that less than two percent of those who start blogging are willing to take the chances and walk the walk and truly let their audience dictate the shape their blog will become.
They would rather impose their will and their ideas on the site only to find out they are just doing the same thing that a site they like or respect already does. In one hundred percent of those cases it is already done bigger and better with an already acquired audience and therefore probably a much bigger budget.
This usually leads to my next question, which I ask and answer at the same time:
Why would I go to your blog instead of XYZ blog for that? I wouldn't.
When I give people my honest opinion of their sites and advice to what plan of action would be appropriate for them and what worked for me, I do understand there is more than one way to get it done. While it isn't that I don't care if they are successful and take my advice or not, I know that most don't, and most are unsuccessful and end up packing it in.
I usually can tell within 15 seconds who is going to make and who isn't. The people who don't make it are the people who just say "yes" to everything I say with no intention of taking the actions (aka: Yessing to death) or those who don't ask questions as to why their current ideas, or plans that have having glaring faults aren't viable over the short term. I am close to one hundred percent in predicting these outcomes.
Listen To Your Readers and Apply What You Hear
People don't like the idea that their own ideas and plans aren't the best, and while they wish (and in some cases truly believe) that the bulk of their audience agrees with them and want the same things that they want, this is not always the case.
In order to be successful you need to be able to truly sit back and observe what is working for you and what is not. If something you did for the heck of it works, you got lucky and now you have at least one thing that works. If something you put a lot of time, effort, and money into doesn't work, you need to realize that maybe it wasn't such a great idea.
In most cases things that didn't work aren't a matter of the wrong website skin or color scheme or something you didn't Tweet or Facebook enough. More than likely it was something that people don't care about and it was a bad idea.
It happens to everyone.
We all have spent a lot of time, thought and money on things that don't work. The people who get past these mistakes are those who can realize the mistake and move on instead of trying to fix it. Sometimes I just let these things remain out there and maybe there is a small section of people who actually like it as much as I do.
While many of my long term readers often mention how much my site has grown, to me it didn't really grow, it evolved and continues to evolve. I have never once pushed for an area to grow or tried to direct my readers that they need to or should read a specific area of my site, it just isn't how I do things. Instead, I will try things here and there and if they grasp hold of something, I will build upon that.
One thing I don't do is this: I do not eliminate things and replace them with something else.
If something is eliminated from the site it is because we cannot cover it to the level that I or my readers expect. If we aren't going to do something right, then I would rather not do it at all. I would never want my readers to feel or get the impression that we are doing something just for the sake of doing it or having it. It looks bad, and when I see it on other sites I cringe.
When To Call It Quits
While I do build upon things that are working well and are popular, I do not eliminate something people continue to read and enjoy, and what was part of what made the site successful to begin with.
What inspired me to write this article is that my site is currently preparing to undergo our biggest expansion since its inception; since going from a college football site to a site that covers all sports.
To be honest, I have no idea how it is going to work out and I have modest expectations on my most optimistic days. The changes will open my site to a whole new audience, allowing a new platform for guest posting if readers choose that is something they want to do, and it will make us more of a comprehensive sports site.
Current readers will remain able to read the same things they come to the site for now, and find it in the same way they find it now: why would I mess with what has worked when I don't have to?
It isn't difficult to tell what is working and what isn't. I use a very simple formula to define what works for me –
If it brings in traffic or makes money it works, if it doesn't, it doesn't work.
If One Idea Didn't Work It Doesn't Mean They All Won't
A blog that doesn't work and an idea within the blog that doesn't work are two entirely different things.
A lot of people confuse a blog that doesn't work with a blog that has had very little direct time and effort put into it; where the owner has not tried different things that attract people and keeps them there. An idea that doesn't work is just one of the things attempted to attract and keep people coming back to a blog; there should always be several of these going on at the same time.
I am frequently offered ideas, suggestions, and the "you should do this or that" comments. I refuse to take on more projects than I can handle at the same time. I want to deliver what my current and growing readership expect.
What this means is my list of things I want to do or plan to do gets longer, and it gets shuffled around as well. I have an actual list and I keep it in a Word document.
I also have a small notepad I bought at my corner drug store for about 59 cents that I call "the 59 cent investment", and it changed my life. My handwriting isn't great and sometimes I can't read what I wrote, sometimes the ideas seemed better at the time, sometimes I never do anything with them at all.
There are also some phone numbers there where I forgot to write down the person's name. If one of the numbers is yours and you haven't heard from me, then that's probably why. One thing this notebook does is at least make certain I don't forget some great ideas or things I want to do.
Prioritize Your Projects
On my "Project List" Word document, some of the projects on there never make it to reality. I have found in just the last four years that things change, technology changes, human behavior changes, and so does where I want to put my time and effort.
I have also learned things in the time that occurs from when something made the list and when it became time where it could be done. Not being able to get to some things right away can be a good thing as it can save time, money, and the aggravation and frustration that are part of any successful project.
There is something I mention in just about every article I write here: I do not do any of my own tech work.
I have no interest in it, and no matter what it costs, I save money by having someone do my tech work for me and it gives me the time to work on the things that grow my site and make money. While my tech projects used to be a fix here, a glitch there, now they never end and neither has my expenses regarding this.
Everyone likes to talk money here so in a month where I don't have any special projects or anything big going on, my tech bill is $1,800 to $3,000. That's the cost of doing business and most months it's more than that. My tech guy only has five or six clients and he earns every penny.
In any event, my site will never stop changing nor will I ever want it to, but at the same time it will still always be the same as long as I am there. Finding what works over a broad scale once is difficult enough, there is no reason to try and reinvent it and make it "better", especially if it isn't something people wanted in the first place.
Growth is important but growth should be an addition to what currently works, not a replacement of what your audience is accustomed to.
Mitch
Photo courtesy of ralphunden on Flickr.