When it comes to building an online business (especially if you're a blogger), one of the most valuable assets that you can have is a email list.
I currently run two relatively active blogs, and my mailing lists play a HUGE role in helping to keep them going. In fact, back in 2010, I reached a stage in my business where I burnt out and essentially gave up on my online business. It was a tough time, in which my traffic virtually disappeared because I was no longer updating my content.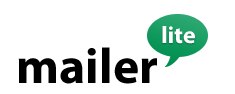 After I got myself together, re-evaluated what I was doing and decided to take action to build an even better (and stronger) online business, I sent one message to my list and my traffic reappeared almost instantly. If I didn't have a list, I would've had to build my traffic from scratch – a task that isn't very appealing.
When it comes to choosing mailing list providers, the choices abound. There are choices that range from Free all the way to VERY expensive, with different features that serve different purposes. Services like Aweber, constant contact and Mailchimp have become the industry standard.
However, in this article, I'm going to do a detailed review of a service I hadn't heard about until recently – MailerLite.
What is MailerLite?
MailerLite is a very simple email marketing tool for Small Businesses. This relatively new UK-based company started earlier this year and has grown to service over 2,000 companies globally in a short few months.
One of its main features is its simplicity. They cater to small businesses that want to get an mailing list service up and running quickly, at a very affordable cost.
In an email exchange with the founder, he said that –
We are working a lot on new features, but we still want to keep MailerLite very simple to use
This is the exact impression I get with their service. You'll see what I mean as I go through this review.
Getting Started with MailerLite
The signup process is pretty simple. You enter your details and choose a login address as shown below.

Once you click on "Start My Trial", that's it – you're in and ready to create your first email.
Formatting your email is as simple as it gets. You have all kinds of options as to the type of content and arrangement you want for all of the different aspects of your email, with options that include text, images, image headers, dividers, and even social sharing links.
This is where the easy part comes in – You can literally use a simple drag and drop editor for adding all of these features to your email and make it look pretty professional. See the following image to get an idea of its simplicity.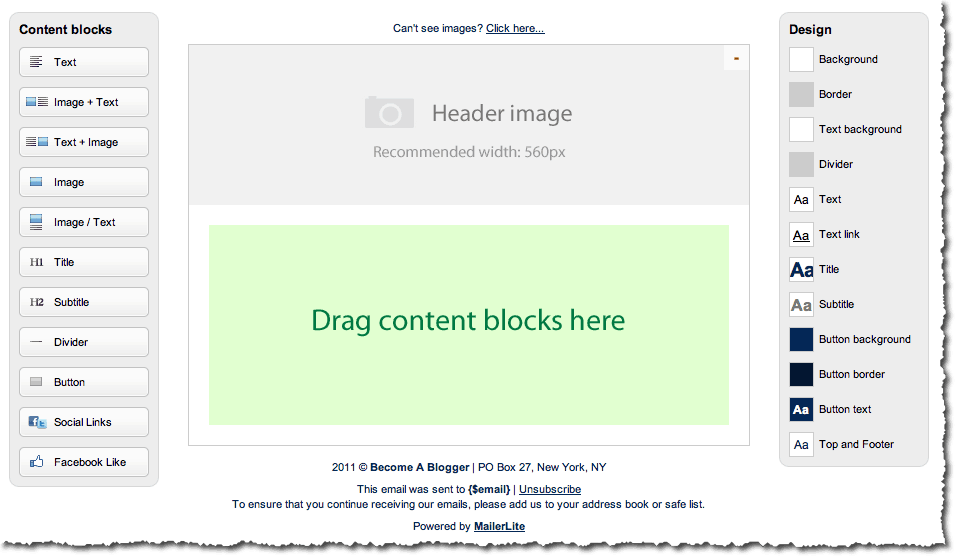 Once you've created the email, you then select the list that you'd like to send the email to. Of course, if you're just getting started, you'll need to create a list and get some subscribers, and they make the process pretty easy with standard web form capabilities. The process of testing and sending your emails is pretty standard in comparison with other email marketing services.
What I Like About MailerLite
It's very simple to use – There's no complicated set up, and if you can send an email, you should be able to figure it out
Very affordable cost – There's one payment plan. $99 per year for up to 10,000 Contacts and UNLIMITED emails. If you compare that with a service like aweber, you'd be paying $69 per month.
The Ability to track email statistics. Where this is concerned, they do very well. You can see open rates, clickthrough rates, and all of the regular stuff you'd want to see to be able to evaluate your email campaigns.
Personalization – I hate getting emails that say things like "hello everyone". Yes, I know it's automated, but seeing my name still gives me a little warm fuzzy feeling.
Easy Drag and Drop email editor – Makes it very easy to design a very attractive email newsletter
Mobile-friendly – One of the problems with other email newsletter services is that it looks great on your computer, and terrible on your mobile devices. MailerLite has recently added mobile-friendly capabilities that make it easy for your subscribers to consume your content regardless of what device they're using (see below)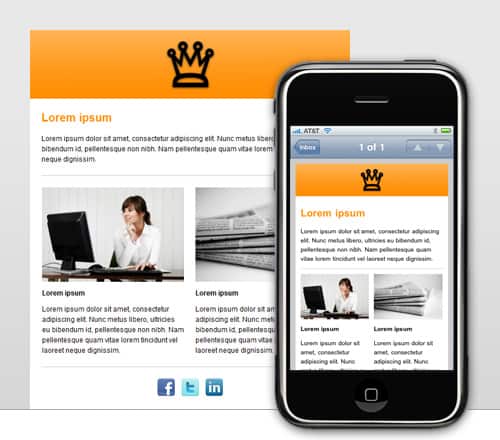 What MailerLite Could Improve
No autoresponder service. This is a very handy feature that isn't available on MailerLite as yet. However, according to their founder, that's a feature that will be added in the future, in a way that doesn't take away from its simplicity.
No Plain Text emails. When it comes to my email list campaigns, I personally don't try to design fancy looking emails. For me, this is not the way to go. I like simple.
No Automation rules. When someone signs up for a free product and then upgrade/purchase one of your products, it's nice to be able to have them unsubscribed from your free list and only be on your premium list. This helps you segment your different lists. Mailerlite doesn't offer this.
So Who Is MailerLite For?
MailerLite is not a heavyweight in the email newsletter industry. If you are an individual or business who wants to take full advantage of email lists for automating your business, this is not the service for you – at least not until they get an autoresponder service built in and a few other features. For those types of features, I would recommend a service like Aweber.
If you are an individual or business who wants to send out regular mailings to your list with updates in a way that's well formatted and looks professional on a small budget, this might be a solution that you will find useful. It's an easy way to get started at an affordable price. It gives you the ability to get people opted in to your list, to keep in contact with them, and to send as many mailings as you would like.
It's simple to use and you don't have to be very tech-savvy. If you have been postponing getting a newsletter started, check out MailerLite today. If you are unsure as to whether this is a service that will suit you, you can try out their full service for 30 days, free of charge  (you don't even have to enter your credit card details). That way, you can get a full understanding of how it works and whether it fits what you are trying to accomplish.
Sign up for a FREE 30-day trial today
Leslie
This review was requested by the MailerLite team when they ordered a sponsored review. Although we are compensated for this post, our reviews are intended to cover both pros and cons to give you the reader a balanced point of view. If you are interested in a sponsored review for your product, service or website, see the Advertise page.