This week I have something really exciting for you. It's a sneak peak behind the scenes of some work I did for a client.
I must admit I love behind the scenes and before and after makeovers, especially when it has to do with marketing or copywriting.
A big thanks to Carma Leitchy for allowing us to use her as a case study. Carma is a web designer and a marketing consulting client of mine who asked if I would rewrite her squeeze page.
What Is A Squeeze Page?
A squeeze page is in essence a page that "squeezes" information from a client, commonly email or contact details. In this case study it was getting people to sign up for a free webinar.
Watch the videos below as I dissect the original squeeze page and then a post squeeze page video talking through the changes that were made and why. For those who aren't into video, you will find text and graphic commentary below as well.
Basically a squeeze page is a short form of copy. It contains a headline, short intro, bullet points, social proof and call to actions. It's like a mini sales letter. So it follows the same principles.
Your headline must speak directly to your audience. Remember you don't win any friends by being too general (you can actually sell more by appealing to fewer people). You want to polarize people and speak to only your intended market and offer them something of benefit to them.
In Carma's case her intended audience is "creatives" or creative entrepreneurs like photographers, painters and artists. With that in mind we want to talk directly to that sub group of entrepreneurs and position Carma as the resident expert for creative entrepreneur web design.
Pre-Squeeze Breakdown
Initially when looking at the squeeze page we see a pretty straight forward headline "WordPress For Creative Entrepreneurs". Nothing flashy or exciting, it just tells it like it is. There is nothing wrong with that, but remember you do want to "wake" people up a bit out of browsing mode.
Then we go into some bullets. The bullets are question based, trying to get the reader to say "yes" which is always a good thing. Then we finish with a positive statement "if you answered yes to any of the questions above, this free webinar is for you!"
So far everything has been very straight forward. It's not exciting but it is telling it how it is. Remember you want your copy to be exciting, you have to "sell the sizzle".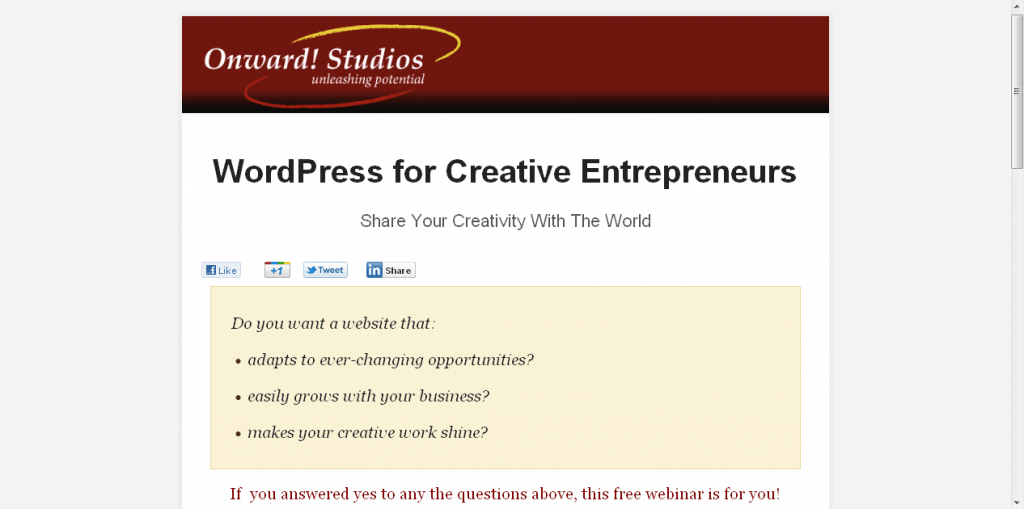 The "before" squeeze page as shown above the fold. Note the headline and pre-headline. Remember we want the headline to draw a reader in, so it needs some excitement.
As we move down the page we see a picture used on the right hand side. Now to be honest I had no idea what this picture was. It took me a while to figure it out. It appears to be a picture of a creative entrepreneur website.
Now it's very important when using images in copy to ensure the images add value to the copy. Poor choice of images can actually hurt sales.
When selling physical and especially digital products, showing images makes things seem more real and tangible for the prospect. In this case, while I understand what Carma was trying to do, I felt the image didn't really add any value to the copy or achieve the desired outcome of the copy, which was to get people to sign up to the webinar.
We then come down to the first call to action, the orange "join us" button. And we have some social proof in a testimonial.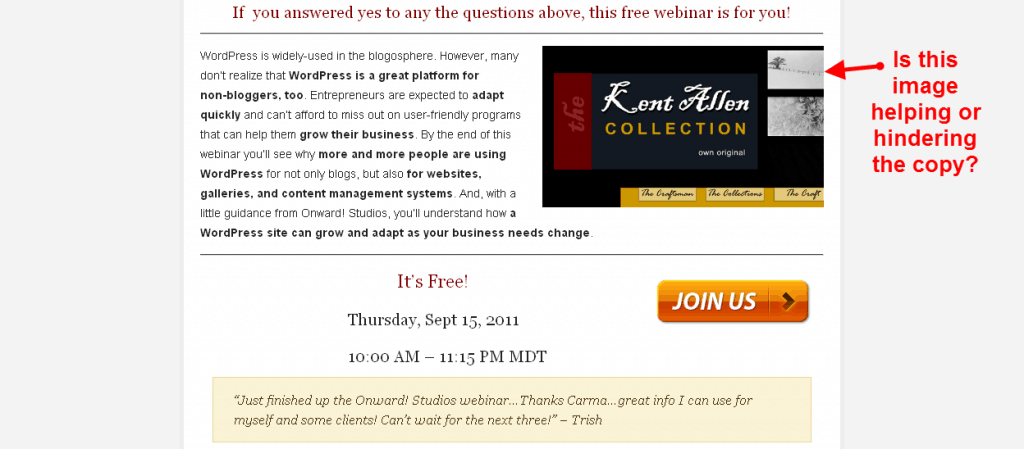 We see a dense paragraph on the right and what initially appears as a random picture on the right. Also note the first "call to action" with the orange button.
We must keep in mind that we want to excite and compel prospects so they want to take action.
Now we come to some bullet points. In general people often write very poor bullet points. Bullet points are a great way to really hammer home benefits. Read this article with great tips on sharpening up your bullets.
As product creators or owners we often get caught up in the features of products. Remember always think of what benefit this has for the prospect. Get in the head of your prospect and know what makes them tick.
More social proof and a last call to action.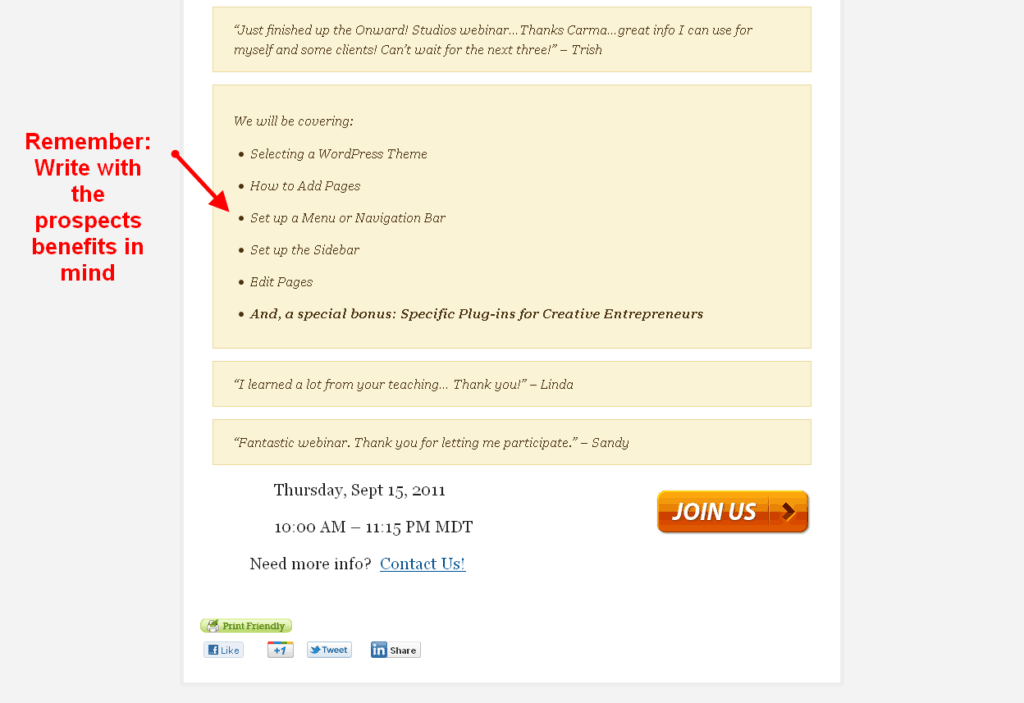 Bullets are great… when they are used properly. By all means list features, but don't forget to always draw them back to what it means for the prospect, what are they getting out of this feature?
Post Squeeze Breakdown
As previously mentioned the goal of rewriting the squeeze was to really focus on and speak to creative entrepreneurs and position Carma as their go to person for web design information. The copy has to be exciting (well as exciting as you can make learning web design) and really benefit driven.
It has to be attention grabbing, quick and easy to read. And it must tell the reader exactly what to do. Just like with sales copy when you can't be afraid to ask for the sale, never be afraid to ask for the "call to action", which in this case is a webinar sign up.
The Layout
To begin with I go with a classic two column layout. A main body and right hand sidebar. However the sidebar has a bit of a twist which I will get to later.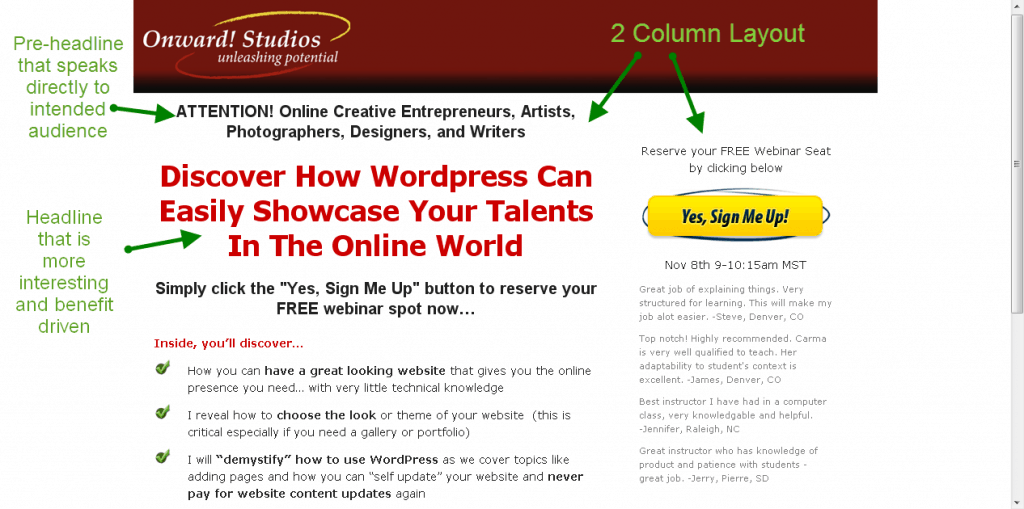 The new layout of the squeeze page as seen above the fold. Note we have some contrasting colors with a strong read headline and the yellow "call to action".
I use a pre-headline to immediately call out my prospect and let them know if they land on this page they are in the right place "Attention! Online creative entrepreneurs…". So the intended audience knows I am speaking directly to them, if you are not my intended audience that is OK.
Then we get into a big bold headline "Discover How WordPress Can Easily Showcase Your Talents In The Online World". A benefit driven headline, letting the creative entrepreneur know what WordPress can do for them and their business on the Internet.
The subheadline is a bold call to action telling them exactly what to do for the free webinar. With the two column layout, the "call to action" button is above the fold and can be seen straight away.
Bullets The Drive Home Benefits
Bullets are great when they are used properly. In this case, while each bullet covers a feature of what will be covered in the webinar, I try and tie back exactly what that means for the prospect.

The bullets have been "jazzed up". We have a positioning paragraph at the end of the copy. Notice the use of the sidebar for social proof with testimonials.
For example, setting up menus and navigation bars, although integral to a website, doesn't really sound that interesting, but when it becomes "The quick and easy way to set up menu and navigation bars to make your website simple for visitors to navigate", some meaning is injected into learning that skill.
Setting up pages isn't that much of a "sexy" topic either, but when I let you know this means that you will never have to pay money to add content to your website, then I have a bit more of your attention. See how you can draw out the benefit from a feature.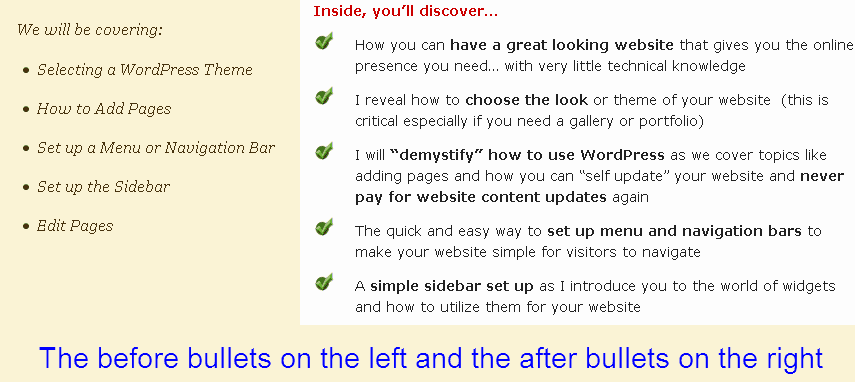 A side by side comparison showing before and after bullet points. Focused on turning the features into benefits.
After the bullets is another call to action.
And then a short paragraph with more info about the webinar. We use this paragraph to really get across to prospects the specialty that Carma has for creative entrepreneurs.
The Sidebar
Carma has some great testimonials from previous webinars. If you have social proof make sure you use it. So instead of letting it go to waste or stretching out the body copy, I place it in the space on the sidebar in between two call to actions. Remember social proof is one of those "check boxes" that if prospects can tick off in their minds, they feel more comfortable about their decision to take action.
The post squeeze is vertically a lot shorter but visually very easy for the prospect to read and then take the desired action.
Leevi