I know the headline is a bit contradictory. Local search is still considered SEO by those near and dear to our hearts.
Maybe for you targeting people all over the world makes sense. I'm certainly not saying to forget it completely, but I read a lot blogs semi-regularly and you might be pretty well served if you started catering to your local audiences with a more grassroots marketing campaign.
Let's run over a few bullet points of how local marketing might just kick your blog into high gear.
The Ultimate Blog Start-up Strategy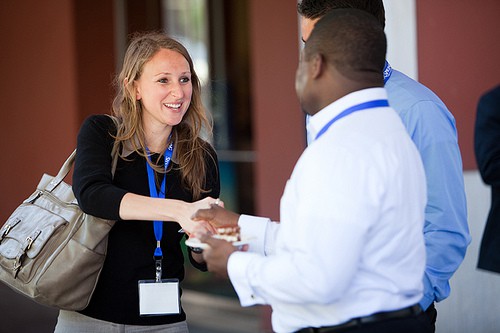 People have heard the term "grassroots" before, but most don't apply it to internet business. Before you launch your next site, why not take the time to make friends with those in your area who are blogging as well? Tweetups, forums, groups, and clubs exist for nearly every major city. It's time you jumped in and made the most of them.
Starting your blog with a built-in following is gold. It looks more successful to outsiders, it gets you feedback right away – which ultimately helps you grind out those posts – and you have a backing that is rooting you on just out of loyalty to the city you live in. Hopefully you do the same for them.
How much simpler would it be to walk down the street of your home town saying hello to someone rather than trying to shout it across the planet? Twitter has a million toys that allow us to seek out those with similar interests, but an oft-overlooked search metric is the ability to use services like WeFollow to find Tweeps in your area.
Twitter is just the beginning. You can use Twitter information to seek out other local bloggers (they often post the URL to their blog on Twitter), and start conversations with them. You have a lot more in common than most… you live in the same city.
Something I've discovered when using this approach is: not only does it make you new friends, but these friends actually visit your blog semi-regularly and start commenting – assuming you do the same for them. There is a sort of camaraderie that you share being from the same town, and they're generally more than happy to help you promote your wares to other locals as well as make some introductions for you.
Nobody Likes An Empty Blog
When you start promoting your blog to the masses, you'll notice that you are writing some of your best posts, but nobody is reading them. It's hard to stay motivated when it takes an hour or more to craft a quality post that is only read by thirty or forty people.
Here's where your new local blogging friends come into play. I live in St. Louis, and when I browse local blogs, they're all very sparsely populated when you check the comment field, or the RSS subscriber numbers. This isn't new and most local bloggers are used to it. They won't care if your post has 1 comment or 10,000 – they'll still interact with you because they know you on a personal level.
This differs a great deal from blogs who target a national or international audience right off the bat. If people aren't already connected with you, they need to see other people connecting before they'll make the first move.
In simpler terms, if you already have interactions via comments, RSS subscriptions, Facebook "likes", Twitter "retweets" and LinkedIn "shares" they are more likely to interact as well. Imagine being at a party in which you know no one. It's much easier to mingle when you see others are doing the same.
Our local visitors know us on a personal level, so they are there to make the party look a little more lively.
Local Advertisers – The Overlooked Revenue Stream
I've yet to see the vast majority of gurus mention just how profitable local advertisers can be when utilized correctly.
You've built the framework for a local audience. You've contacted local bloggers through Twitter, you read and interact with their blogs, you attend their seminars, and you make your way to all of the "Tweetups"… right? Here's where most of us are missing the mark. You've got a targeted local audience that interacts with your website semi-regularly. Do you know how valuable that is to advertisers?
Think of it this way. When you buy a newspaper, you read what you want and then toss it aside. Businesses know this. Show them how, for a fraction of the price, you can get an ad on your website that is going to market to the same local audience nearly every day.
One newspaper ad can cost thousands of dollars. An ad in your sidebar might cost a few hundred. Sell them on the idea that once people read that paper, the ad is done, and they aren't going to see any more traffic from it. Your blog on the other hand, has 60% of its audience from the locale they are trying to reach, and they only have to renew the ad once a month. See how this works?
It's An Easier Market To Crack
The fact is, the local market is just easier to market to than a global one. By now you've got dozens or hundreds of local blogging friends who are doing their best to back you, why not turn it into some real cash? Use the power of your local friends, as well as their reach to other locals, and tap into that for all it's worth.
If you plan on selling an info product for $97 to the web, why not start with your local audience?
Instead of your $97 product, you can turn it into a $299 seminar (plus up-sells and product sales of course) by renting out a small space, and finding others who will often speak on any number of topics for free.
Local seminars don't often have problems finding people to attend them, as most aren't willing to shell out the nearly $2,000 for a ticket to Blog World. I've been to at least a dozen local seminars in the past few years. The information is generally lacking, but they still somehow manage to pack the house year-after-year. Also, even though you might not learn a ton, the networking opportunities are priceless.
This isn't meant to be a complete list of ALL the reasons why local marketing can help your business or website. Instead, it's just the tip of the iceberg, and the intention isn't to give you all the answers. The intention is to spark a thought in your head that allows you to come up with the best plan of attack.
I want this post to remind you that in this global economy, sometimes all you need to get going is a few locals. Global interest is nice, but you have to start somewhere. When launching your next website or product, I urge you to think of those in your local area first.
Bryan
Photo courtesy of greentechmedia on Flickr.