There are many reasons why success took its time for me. Nearly all the reasons were my own fault.
Interestingly however, I have recently noticed that many others stumble with some of the very same issues. Thus by learning to overcome these problem elements we all have a much greater chance of success or increasing our current rate of success.
It was only after I finally tasted success, that I was able to look back and actually see what had been holding me back. By reciting them here, perhaps it may help some of you to clearly see certain obstacles that may be holding you back too. As only when we clearly know what the problems are, can we apply an effective solution.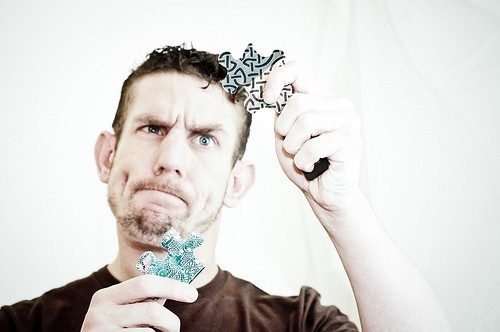 Here are 10 ways I sabotaged my success:
1. I Listened To Far Too Many People
Whenever I needed advice, I asked around. I've never been shy of seeking anyone's opinion. The problem is, often the avenues I used to ask such questions led to far too many answers. That often confused me and actually slowed my work down as I was dealing with information overload.
Asking a question on a forum, for example, can bring you scores of replies, but you cannot really trust any reply as none of them really know YOUR business.
The Solution:
Do not collect advice. Take advice from someone who has the life you want. Stick with them until they can offer no more advice then add a new mentor.
Learn to be specific in your questions as this always gets you relevant and useful answers. Simply asking 'how do I make money with my blog?' may bring a variety of different answers, all relevant but maybe in totally different directions. Asking a more specific question that is relevant to your situation such as 'how do I make money from the mailing list that I collected from my blog?' will elicit more targeted answers, perhaps some that you can action straight away.
2. I Did Not Have A Mentor
Of course you can make a success of yourself without a mentor, but be prepared for it to take perhaps 3 or 4 times longer. I tried to plough through the world of online marketing on my own before I accidentally found myself a great mentor. What this guy taught me within six months, changed my life and success story forever.
The Solution:
Find someone who has the life you want and convince them that you are worthy to be mentored.
Catch your target mentor's attention through comments on their blog that are thoughtful – it's so simple and it works, just be consistent. Yaro himself has mentioned numerous times that good comments on this blog catch his attention as a surprisingly small number of readers ever make the effort.
Think about what you can do for them in return. Why should they invest time in you and not someone else? Make yourself attractive to them.
3. I Focused On Far Too Many Things At Once
This is indicative of what I like to call 'the entrepreneur's curse'. The problem with me being both creative and an entrepreneur was that I could not seem to finish anything, as I could always dream up a hundred other great new projects.
The problem was that because I had so many projects on the go at once, none of them received the dedication they required, and naturally many of them fell below par. That is until I learnt to focus on one thing and do it well.
The Solution:
I developed my rule of 3 which stipulates that you must always think in threes. Write down the three most important tasks of the day. What are the three key features that your product must have, what are the three key messages your readers should learn etc. It helps you prioritise and stay focused on what is important.
Don't overcomplicate things. Think in three and prioritise, as it is better to do three things well each day then 10 things that you will never be happy with.
4. I Never Finished Things
Half finished products got me nowhere as I could not sell them or do anything with them. They sat there, waiting to be forgotten.
That is until my mentor instilled one very important habit – the habit of finishing something. It's contagious, once you feel the relief and exhilaration of completing a product, you cannot wait to finish another. Then it is not only the starting of a creative idea that excites you, but looking at the finished product too. I guess it would come as no surprise, that when I learnt to finish things, success came knocking at my door.
I cannot tell you how many times I almost stalled when creating my flagship product: The Online Marketing MBA.
It is a mammoth six month course so I had ample opportunities to start something else and forget about it. Each time I found myself doing this however, I forced myself to get back to finishing what I had started.
Teach your brain consistency and it will start trying to work with you. Keep teaching it the opposite, that you can avoid finishing something by starting something new, and you will only learn to make it harder and harder for yourself to ever finish anything. Start setting the good habit now.
Learn to accept that one finished product is worth more then 100 unfinished ones.
Do not try to be perfect – JUST FINISH IT. We only ever need to be good enough, so get the thing finished and work on perfecting it later. Odds are that once finished you will find that you are more than happy with the end result, without the need to continue perfecting it.
I often used the excuse of perfecting things to stop me from completing projects. Just make it 'good enough' and FINISH IT.
5. I Never Really Listened To The TRUSTED Advice I Was Given
I was always so good at asking for advice, but strangely I would never use any of the advice I received. I liked to make excuses as to why their advice would never work for me, such as 'they already have a bigger list', 'he is already well known' and so on. It took a very confrontational encounter with my mentor for him to kick my butt into action and stop me from making excuses. Sometimes you become so blind to the obvious.
If you trust the person, then try their advice…
6. I Did Not Really Believe I Could Be Successful
Interestingly I always longed to be successful, yet I would keep making excuses so that I would not have to try too hard. This naturally made it very difficult for my to become successful until I learn that I have nothing to lose by trying.
If I failed then I would be exactly where I was now, but perhaps richer with the experience and knowledge I may gain. In the best case scenario I may even actually achieve success.
It's bizarre. Once I cracked it, I could look back and see how much easier my journey could have been. I had this 'it can't be that easy' attitude, which always kept me back from reaching my potential.
The Solution:
Understand that most people fail on their first few attempts. That is why it is called a learning curve.
Surround yourself with people who are successful. There is a reason why powerful and successful people follow this rule.
Believe that you have the ability to be successful or you will just be wasting your time and energy.
7. I Was Just Too Lazy
I would spend so much time getting distracted and actually doing nothing. I had to admit, I was just too lazy.
The Solution:
Do something, it's always better then doing nothing.
I hung my 'Four Magic Words' above my computer: 'This is useful because…' and I constantly asked myself that question.
Turn off all distractions when you work. Your phone, your email, internet and anything else that distracts you.
I still have to fight this today. It's much easier to control but the laziness is still hiding there somewhere. Even this article has tested me, yet only by forcing myself to do something, will I teach my brain that laziness has no place in my life any more.
8. I Could Not Prioritize
Working hard is not the same as working smart. I often pretended I was working yet the most important jobs always found a way of being avoided. I lost track of what was important, I would be working, but not on the tasks that were most important for my business success. I totally neglected to prioritize.
The Solution:
Remember my rule of three. Ask yourself at the beginning of the day: 'What three tasks are most important' – now you know your priority so do not let yourself become distracted.
Write down all your tasks on a piece of paper and number them: 1 = urgent, 2 = important, 3= perhaps should do. Do the 1's first, then 2's. Forget 3's for now.
Put all your tasks on post it notes and have the satisfaction of throwing them away whenever you finish one. This was really motivational for me.
9. I Did Not Have Anyone To Hold Me Accountable
The best athletes in the world have forfeits if they miss training, and a coach who measures their performance and tells them off if they are slacking. A boss always keeps on eye on their employees to ensure they are also conforming. Yet I, for some reason felt I could do it all alone, until my mentor kicked my butt and showed me how productive I really could be.
The Solution:
Find yourself an accountability partner to help yourself be accountable (I used my mentor, who would not talk to me unless I had done the tasks I promised).
I hope you find these tips useful. Remember, the road to success is supposed to be a little challenging, it makes us respect the journey once we finally make it.
Nobody has an easy ride in life as we all have to face challenges. The successful identify those challenges and tackle them head on, whilst perhaps the unsuccessful sometimes allow those challenges to get the better of us.
I'd love to hear your feedback on this post, and perhaps encourage you to share this with a friend or even bookmark/tweet this for your readers too. Who knows, you may help someone else's day become that much more successful.
Oh yeah, number 10:
10. I Did Not Realize The Power Of Just Getting Started…
Take the first step and start doing something. It's crazy but everything always seems to fall in place. Just get started… yes, NOW.
Dee
Photo courtesy of CarbonNYC on Flickr.