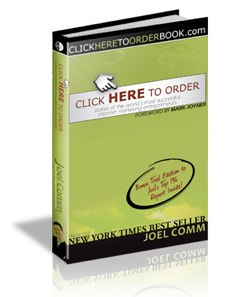 As a blogger with some exposure in my market one of the "perks" is an endless stream of freebie books sent my way from authors and publishers all trying to score publicity for their latest releases. This is one of the first benefits you can enjoy once your blog starts to build a readership (sometimes you do need to ask for free stuff for reviewing purposes though).
Unfortunately in my position – especially now as I travel – I rarely have time to finish all the possible books that come my way, so I tend to say "no thanks" to books rather than waste the paper. However I do say "yes please" to a few that really catch my eye and today I have such a book, one that I knew I wanted as soon as I first heard about it.
The book is called "Click Here To Order" by Joel Comm – Stories of the worlds most successful Internet marketing entrepreneurs.
Joel told me about this book back in July 08 when it was slated for an early August release. It was pushed back to September 2nd and I was sent my review copy a few weeks ago. I'm almost done reading it and it has been a thoroughly enjoyable romp through what is obviously a big focus in my life – Internet marketing. I can really plow through a book when I enjoy the subject matter and this is definitely such a case.
A Trip Back In Internet Time
This book recounts the history of my favorite industry – the Internet marketing industry. This is not a book about the Dot Com days, or anything to do with IPOs or failed start-up Internet companies that burned through venture capital and had no substance (or profits). This book is made up of the stories of individuals – the pioneer Internet marketers who paved the way for all of us who today who make a living online.
I'm talking about guys and girls like Corey Rudl, Gary Halbert, Mark Joyner, John Reese, Perry Marshall, Mike Filsaime, Jay Abraham, Terry Dean, Stephen Pierce, Rich Schefren, Jeff Walker, Marlon Sanders, Willie Crawford, John Carlton, Armand Morin, Yanik Silver, Jason Potash, Paul Myers, Ken McCarthy, Rosalind Gardner, Declan Dunn and a whole heap of other pioneers (there's a directory listing at the end of the book that is 6 pages deep of well known and respected Internet marketers).
For me, as not just a person who makes a living in this industry, but also someone who calls Internet marketing a passion, this was a wonderfully enjoyable read because of the people involved. I know these people, many of them I have met, some of them I have followed and studied their materials, and most of them I have heard of along the path of my own Internet entrepreneur journey.
This book is like what the history of baseball book is to a baseball fan. However it's more than just a chronology of people, events and achievements because the subject matter is applicable to everyone. Unlike professional baseball where talent dictates how far you can go, it's realistic that most people, given the right training, an appropriate mindset and determination, can succeed, create an Internet business and follow in the footsteps of the people featured in Click Here To Order.
Hearing the stories of the people in this book, most of whom appear to be normal people who became tremendously successful by sticking to something long enough to find success, is a very inspiring experience.
Some of the characters in the book have gone through a rags-to-riches journey, with many failures, bankruptcies and naysayers along the path before ultimately finding what worked for them. I felt excited and motivated many a time as I read this book, and I expect you will too no matter where you are in your Internet business career.
Key Lessons Learned
Besides offering a great story telling experience (well, actually several), the book is full of gold nuggets of wisdom on how to succeed at Internet marketing. Each of the people interviewed has made many hundreds of thousands or millions of dollars online, so they all are doing something right. There were a few common threads that I took away –
The big lesson was email list building. Nearly every single success story seemed to hinge on an email list of some kind. Many of the case studies started slowly, with failures until finally the budding entrepreneur figured out how to build a list and leverage the list for big time income (Terry Dean's story was of particular relevance in this case).
Niche specialization is critical. Nearly every success story came about because of the ability of the person to deliver a very focused service or product to a niche group of people.
Traffic is at the heart of every success. While list building is important (and relationships with your list just as important), before the list exists there must be a means to attract attention. Some people leveraged search engines, others presented on stage, some used Pay Per Click marketing, while others depended on tapping the existing traffic at other sites (such as John Reese tapping into eBay traffic).
There are many more lessons to learn from the book, but I leave it up to you to find out what is relevant for your situation. No doubt everyone who reads this will walk away with different insights – just remember to read between the lines – these are not just stories, these are successful case studies of how to make money online.
Recognizing Those Who Came Before You
Internet marketers belong to a community and each new generation owes thanks to the previous.
The book begins with a look at some of the very first Internet marketers making money on bulletin boards selling goods. With the dawn of the World Wide Web, the browser and eventually the email autoresponder, the market shifted away from plain text and became more interactive (what we consider Web 2.0 is the next shift currently in development).
Despite the constantly evolving mediums, much of the success Internet marketers enjoy today came about because of the techniques and marketing psychology developed by direct marketers (you know, people who used copywriting in magazines, catalogs, trade journals, newspapers and snail mail letters to sell stuff long before the web came about). Many of the pioneer Internet marketers got their start leveraging what they learned from direct marketers like Dan Kennedy, Jay Abraham and the late Gary Halbert.
The pioneer Internet marketers studied under the, at the time, contemporary leaders of the direct marketing world and those who had come before them (some are still current today and are now active Internet marketers too). From there, the pioneer Internet marketers created teaching materials about how to sell online, and the next generation studied under these people. The baton continues to pass forward, as many a successful student becomes a teacher to the next generation (I might be considered a teacher of one of the current Internet marketing mediums – blogging – and I studied Internet marketing from the generation before me).
This may seem like an incestuous cycle, and Joel in the book is careful to point out that it is in some ways, but as he states, it's not simply a case of each Internet marketer living out of the pockets of other marketers, the ideas and techniques go much further than just the Internet marketing industry. People are applying these concepts and methods to thousands of different industries and many an entrepreneur who is not selling how to make money information owes their thanks to the Internet marketers who shared what they learn.
If You Like Internet Marketing You Have To Buy This Book
The heading above pretty much says it all. This is a must read book for any fan of the Internet marketing industry. It's also a great choice for a student of marketing if you want to know how many of the people we currently consider leaders got their start.
Click Here To Order by Joel Comm offers many insights and directly applicable techniques for any beginner or experienced Internet marketer and business owner who is looking to "borrow" the ideas that have already proven successful for current Internet millionaires.
You can order the book from here –
Make sure as you order the book that you take careful note of the selling process Joel is using (trust me – you will know what I mean when you buy it).
While Click Here To Order stands alone as a great book, Joel knows that a paperback is not likely to make him rich (or richer in this case) from direct sales and instead, as most authors realize, a book release is better used as a credibility and exposure building tool than a profit center.
However Joel has done this before and he's a pioneer when it comes to combining the exposure of a book launch with the conversion power of Internet marketing. He has a host of bonus offers for buyers of the book, including cross-sells, down-sells and up-sells, with continuity programs and higher priced back-end offers available.
Study Joel's process and you will see that a book release done well on the Internet can be a very profitable experience. That's my plan – in fact I may order the book myself even though I have a copy to see what he's done.
Of course you can just buy the book and skip all the extras, which is something I recommend you do at the very least. If you like any of the additional products Joel makes available, then give them some consideration and purchase what you like – just make sure you know what you are buying when you buy it.
Again, here is the link for the book –
Click Here To Order by Joel Comm
Yaro Starak
Gen 3 Internet Marketer