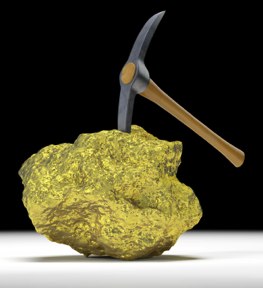 There's a well known story that the only people who got rich during the gold rush era were the smart business folk who sold the tools to help the prospectors search for gold – the shovels and picks and so forth.
There were thousands of miners and a limited supply of gold. Those who got in first or were lucky, struck it rich. Their story spread far and wide, encouraging others to chase the same dream, feeling the hope and motivation that comes when you hear others success stories.
Sadly, most left empty handed, in debt and bitter (or dead!).
Smart entrepreneurs saw a much more reliable opportunity. When you have thousands of people experiencing a desire for something with such passion, you can sell them tools and resources to help them meet that desire. While there was no guarantee of gold, there were enough people trying to find it, that businesses who served the gold-digging industry profited a lot more than the average miner ever did.
A comparison has been made between the gold rush era and what we are going through online today in the Internet marketing industry.
We have a bunch of people "mining for gold" trying to make money from the Internet.
They are inspired by those few success stories they hear about others who have "struck it rich" online.
And there's a small crowd of business folk teaching how to make money online, who are themselves making good money supplying the "miners with tools".
So the question needs to be asked: Are the only people profiting today selling tools to the struggling miners who are foolishly digging for gold by trying to make money online?
One Point Of View
It's true a lot of people make money teaching others the techniques to make money, or selling software that exists to help with this activity. If you read my blog for long enough you will see plenty of coaching programs, scripts, reports, MP3s, DVDs, seminars and conferences that all exist to serve the needs of the prospective Internet marketer.
Unfortunately, many people who never actually earned a dime on the web are spending their entire time trying, and usually failing, to sell the manuals, courses and scripts that help people to earn a living online.
They are selling make money products without every having made money, or put another way – it's like the blind leading the blind!
On quick inspection you might even look at the Internet marketing industry as a modern day pyramid scheme, with the few profiting marketers at the top – those who got in first or early when the craze began, making money selling hope to those who came after, pushing the dream of making a living online knowing full well that most people will never realize that outcome.
What Is The Truth?
I recently had a conversation with a person who clearly considered the current Internet marketing boom a temporary fad.
The gist of his argument was that everyone, including myself, who sells training products to people to help create an Internet income stream, will face tough times eventually as too many people are burned, realizing no result despite spending hundreds or even thousands of dollars on courses and products to help them start an Internet business.
In some ways he's right.
Many people do buy courses and products and then proceed to make no money. The usual reason why is because they simply fail to follow through and take enough action to get a result. Some try for a while, but for all kinds of reasons (technical challenges, poor choices, bad mindset, lack of patience, bad timing, life circumstances, change of direction, laziness, etc) they just never meet the money goal.
Some of these people are not going to feel very satisfied with their experience, especially if they put in a lot of effort for little reward. They may become totally jaded about the whole industry and consider all Internet marketers scammers.
Will this mean an end to the "gold rush" and is our entire industry based on false hopes?
Personally, I don't think so, for many reasons.
I agree only a minority will actually reach the point where they do make enough money online to quit their jobs and that's a discouraging situation. I also agree that there are a lot of junk training products out there and marketers who focus on selling hope without much substance in what they actually provide in their products.
However, there are quality marketers operating today, people with proven records and effective strategies and tactics to teach.
There are training products that if followed by a diligent and persistent person, will deliver results. There are experts in our industry who have made millions running real businesses that have nothing to with "mining for gold" on the Internet. There are established practices and concepts that work, which are not new ideas, they are based on marketing principles that were proven successful long before the World Wide Web existed.
Perry Marshall is one such example of an expert who delivers sound advice without a hint of selling hope or hype. His Pay Per Click training materials have helped thousands of real businesses, both big and small, make a ton of money selling in all kinds of industries. These are sound proven tactics that are genuine tools for making money, when used by the right people in the right circumstances.
We are not talking about fighting for a limited pool of resources, which is what the gold miners were doing. We are talking about using strategic processes designed to leverage an abundant source of wealth: servicing the needs and wants of the human race.
Humans always need and want things. Needs and wants are not a limited resource like gold.
Abundant Resources and Growing Demand
We are still very much in the early days of the Internet marketing industry. You can be confident of this simply by looking at the growth rate of the Internet. As long as the web grows, more people come online, many of whom will spend money and some who will want to learn how to make a living online too.
All the variables are trending upwards. More people are becoming comfortable using their credit cards to buy stuff online. More services that empower people and merchants with the tools to conduct commerce online (shoppingcarts, PayPal) are created each year. People from countries like China, where spending money online is not mainstream, will become more e-commerce savvy, driving huge demand for products and services as their massive populations become online shoppers.
It's getting easier, more people are doing and it and a general awareness of the Internet as a business, shopping and wealth creation tool is forming.
This is a growing industry full of people just starting on the education curve. There are so few people who even know what Pay Per Click is that it will be a long time before the Internet marketing industry "fades away", if it ever does. For that to happen, the Internet itself, or the way we consume goods and services online, will have to change or disappear and barring any major disasters, I just don't see that happening.
You could be cynical and say that sure, that just means there is a consistent stream of "new lambs for the slaughter" who are going to get burned by evil Internet marketers selling hopes and dreams, and yes, many budding entrepreneurs will walk away unsatisfied with their experience, but that's human nature. You can show people how to do something that is beneficial for them, like eating healthy, but that doesn't mean they will follow through.
The fact is, for those people who have the willpower, the right mindset, who are willing to push through the setbacks and who follow in the footsteps of those who have already succeeded, opportunity abounds in the Internet marketing industry.
As long as business exists, people will develop new ways to market on the Internet, which means teaching Internet marketing is not a fad, it's a growing industry ripe with opportunity.
But Isn't There Already Too Much Competition?
If there is so much money to be made teaching Internet marketing, and clearly a lot of people already do it, isn't it foolish for any new people to consider entering this market?
If this is a pyramid scheme, then the boat has well and truly sailed, right?
No, definitely not.
I had a new Blog Mastermind student (Mike) who posted in the private members-only forums asking what niche he should start his blog in.
Mike listed a bunch of his interests and activities from his life he could start a blog about and also talked about launching a blog that would be very similar to mine – a chronicle of how he has made money online.
In most circumstances I'd tell this person to steer away from the Internet marketing niche, but in this case a couple of things he said indicated that it might in fact be a good choice.
He explained that over a 9 year "career" online (4 years full time) he has made $300,000. Not a small sum of money even if it is spread over several years.
Yet, despite how much money he had made, currently he still needs to find a job.
My assumption is that a lot of what he focused on previously online was very much temporary money makers. He made good money, but the income stream dried up quickly each time.
Regardless of the reason, as you can no doubt see, Mike has stories tell. He's made money, yet he's not financially stable. How did he make money? What went wrong that he can't keep doing it? There are questions we want to know the answers to and that is the foundation for a great blog in the Internet marketing niche.
Mike has done something. He's taken action and experienced both good and bad results in his attempt to run an Internet business. This means he has materials from which to draw upon to help others. Most people who start a blog or website aimed at selling make money products do not have this experience to draw on, which is why I tell them to stay clear of it.
When you are in a situation where you can distinguish yourself through experience or education or by being an action taker, then you can succeed in the marketing niche. You still need to find something unique and pick a target market to focus on so you stand out from the crowd, but if you can make it work, Internet marketing is a great topic area for many reasons.
Why Internet marketing is a great niche:
The commissions on affiliate products are some of the best available in any industry with a standard of at least 50%.
People who sell Internet marketing products put together comprehensive launches with fantastic free resources you can be happy about giving away because you know they benefit your audience regardless of whether they buy anything.
Comprehensive launches also mean, generally, that you sell more product too. It's much easier to sell something when the free launch content is good stuff.
The Internet marketing industry "get" affiliate marketing. They know how to put together affiliate campaigns, pay out generous commissions and understand that their affiliates are key for big success. They do the math and see that even making a loss on initial sales is a profitable model because the lifetime value of a customer is what matters. The back-end sequence of products and services create the profits and hence they can afford to pay out big commissions – as much as 100% – which is clearly a huge motivator for affiliates to promote their product.
Right now there are only a handful of smart marketers in non-Internet marketing niches that leverage affiliate campaigns well, which hopefully will change over time as more people in other industries come to understand the power of an affiliate army (and there is yet another education gap that is ripe for an emerging internet marketing teacher to fill).
You Don't Have To Be At The Top Of The Food Chain
Internet marketing is not a pyramid scheme, but there are definitely layers to it, but that's a good thing. It enables any person to carve out their own specialty and make very good money doing so, no matter how late in the game you join.
While you may not totally understand how to manage a good affiliate campaign, or run pay per click ads like Perry, or market with blogs like myself, or do search engine optimization like Aaron Wall, as long as you know something, or you are prepared to go through a training process, you can be an expert. All you need to know is more than someone else knows who desires that knowledge, and then sell it to them (you can always make money selling to beginners too).
This is why a person like Willie Crawford, and many others, can do so well teaching Internet marketing basics to small businesses. What Willie teaches might be common knowledge in Internet marketing circles, but it's not to most people, including offline small business owners, who want to learn how to use online marketing to grow their business. They have marketing budgets in the thousands of dollars that they are willing to spend on training or marketing services, and all you have to do is learn how to get the basics right – some pay per click, maybe how to set up a blog and do a little SEO, and bam, you have a business.
It might seem incestuous, but there is no reason why you can't take an online course in anything – pay per click, affiliate marketing, blogging, search engine optimization, social media – and then simply re-purpose everything you learn and apply it to a market you can tap into (think differentiation by geography, age, category or any social or economic demographic). You don't come up with the ideas, you just learn how to apply and sell them to a different market that you can introduce to the concepts. That is all market differentiation is – taking what already works and applying it to a different subset of the population.
How To Succeed At Internet Marketing
Given the scenario I've painted through this article, your path, if you are interested in profiting as an Internet marketer, should go something like this –
1. Study the true experts. Find people who have the proof, the endorsements, the third party testimonials and a style of teaching that resonates with you and soak up as much as you can from them.

2. When studying other's work, don't just learn what they teach, observe how they teach and how they run their business and replicate what works that is applicable to what you are trying to do.

3. Avoid people claiming expertise selling products and services that seem too good to be true, which can't be backed up, where the focus is more on unrealistic dreams than tangible outcomes.

4. Take what you learn and apply it to a specific task or group of people – something you could eventually become the expert in. If you plan to service others, practice what you learn by delivering value to clients and then ask those clients to endorse you.

5. Once you have your niche and a little history behind you, start thinking about going deep in your market.
The important thing to realize is that yes, there are scammers out there, but there are also teachers offering proven techniques and although you face a lot of variables that may stop you from succeeding even when you have the highest quality information, the greatest roadblock is you, so if you get past that, your chance of success is VERY good.
From there it just gets easier.
Internet Marketing Is Serious Business
Internet marketing is a branch of marketing and marketing has been fundamental to business since people began trading things. Marketing has long had a bad reputation because people associate the term with things they find annoying, like TV commercials, billboards, telemarketing and door-to-door sales people. The same thing is now happening with Internet marketing.
Despite the sometimes bad reputation, if you want to make money on the Internet you have to engage in some form of marketing. As long as our society is driven by money, marketing will remain a legitimate activity and serious opportunity for those who want to learn the skills…
And it's not going away.
Yaro Starak
Internet Marketer