Willie Crawford posted this photo up on his blog. It's a snapshot he took at the Las Vegas networking event attended by a bunch of people, including myself and Rich Schefren, the target of my tom foolery in the photo…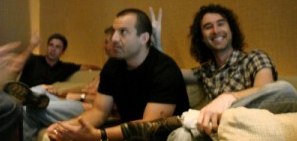 Rich definitely didn't see that coming and probably hasn't seen the photo yet, but now he will 🙂 .
Rich may not have noticed my joking around (he was in a serious discussion at the time so he had an excuse) but in general he's definitely one of the best guys I know of at predicting the future and seeing the big picture when it comes to business.
Right now he's completing the final touches on his next report, the latest incarnation of the ideas he began with the Internet Business Manifesto, which as I explained to my newsletter subscribers, is the best free report I have read – it had the most impact on my business of anything I have studied online.
If you haven't got the Manifesto yet, now is the perfect time to download it and read it in preparation for what is to come.
Download The Internet Business Manifesto
Did You Miss The Call?
A couple of days ago I was included on a call with Rich Schefren and a bunch of his previous clients, all of whom are tremendously successful Internet business owners.
If you missed the call you can listen to the streaming version here –
The Internet Business Manifesto Teleseminar
The call was a special series of expert-only interviews, where Rich interrogated each of us by asking the following four questions –
What was your biggest constraint to your business?
How did you overcome that?
What was the quantifiable results of your solution?
What did you take away from it?
Listen to my turn as the target of the interview and you will hear how my major constraint was so big that it led to me selling an entire business and starting a completely different one.
This is a great call, featuring the below successful people like all talking about how they were failing at something and what they learned from Rich, then consequently changed about their business and what the results were.
Featured on the call:
Mike Filsaime
Brad Fallon
Jeff Walker
Frank Kern
Willie Crawford
Joel Comm
Liz Thompson
John Carlton
Yaro Starak
Tellman Knudsen
Michael Cheney
Kevin Hogan
Each person has a very short interview (5-10 minutes) so the call is not too long.
There are some amazing stories here and there's a good chance one of the people featured had the exact same constraint you currently face, so it might help your business too.
Note this call is only available for a limited time as a streaming file, so go listen now rather than later (unfortunately Rich doesn't like to keep these things up for long).
Enjoy!
Yaro Starak
Still Constrained