At the time I did this particular interview I didn't realize it would become so cool, but Mert Erkal and the team at the new Bloghology blog magazine, which debuts at this weekend's Blog World Expo conference in Las Vegas, decided to feature me on the front cover.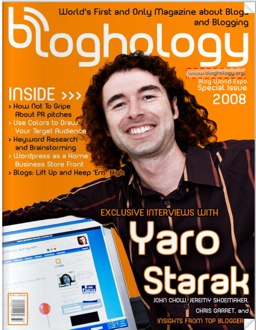 I'm honored to be featured and I thank head editor Mert for including me in this way, especially for the very first edition.
You can catch my short interview along with interviews with expert bloggers Chris Garret, Guy Kawasaki, John Cow, Garry Conn and Mani Karthik when you get your copy at the expo, or you can go right now and download the digital version from here (you will need to register to read the magazine in entirety) –
Bloghology Magazine Digital Version
The only thing I am disappointed about is that I could not make the expo. I had every intention of going but my new baby brother is coming (along with my dad) all the way from Spain for a brief visit this weekend. This will be the first chance I have to meet him and one of the rare opportunities we are in the same place since we live on opposite sides of the planet. Family before business I'm afraid!
Enjoy the magazine and the expo this weekend everyone!