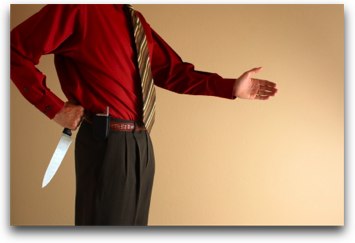 I wanted to use the word "honesty" in the title for this blog post, but I expect the word "Lying" will pull more attention. However don't let that mislead you, this article is about using honesty in your marketing, not lying.
At the start of September you may recall StomperNet offered their Stomping The Search Engines 2 course for the cost of shipping if you were willing to try their new print newsletter. They made money off this offer because of the multiple upsells involved during the ordering process and the potential for rebills if customers decided to stay subscribed to the print newsletter.
I had no problem with this offer, in fact I thought it was a good deal and promptly blogged about it and sent a notice to my newsletter too.
Besides a brief hiccup that killed the opening day, StomperNet did well, and many of you, my readers, grabbed the offer.
A few days later Brad and Andy at StomperNet decided to up the ante a little and with the help of many of their top Internet marketing friends, put together a bonus package that was, well, a little over the top.
Guys like Ed Dale, Jeff Johnson, Jeff Walker, Rich Schefren, Mike Filsaime, Paul Colligan and Shawn Casey (and others) gave everything from teleseminar downloads, audio files, free months in coaching programs, reports and more on top of what was already offered by StomperNet, just for the cost of shipping. That offer has since passed, though you can still buy the course and trial the first month of the newsletter if you pay for sending it to you.
Why Do They Do This?
The reason why all these guys are willing to include the bonuses is because it brings them more potential customers. Maybe a person will buy their product after sampling the bonus that was included, or maybe they go on to an email list, or perhaps the bonus was a trial month, after which a monthly charge will kick in. Regardless of the method, the guys throwing in bonuses saw a potential upside and the Stomper boys were happy to have such a huge bonus package to increase the uptake on their initial offer.
You can expect to see a lot more of this happening in the Internet marketing space. Frank Kern started it by including a bonus for John Reese's Traffic Secrets 2.0 customers and obviously it's working as a great way for all the top players to expand their customer network by helping out with bonuses during big launches. Given the chance I'd probably do the same, so don't be surprised to see a Yaro bonus thrown in with someone else's big launch offer – it makes good business sense.
So What's This About Lying?
People often accuse marketers of lying – of selling get rich quick products, taking advantage the hopes and dreams of the average wannabe Internet marketer, to take their money and then move on to the next sucker without really caring about the success of their customer.
And let's be honest – some marketers are doing this. Some people are cheats and scumbags and care little for the people they sell to – they just want the money and will do whatever they can and say whatever they want to get it.
Personally I don't want to be like this in reality and do my best to not be perceived like this online either (remember perception and reality are different and online reputation should be important to every Internet marketer).
…and no, I'm not at all accusing the people involved in the StomperNet offer of anything suspect either. Besides their online presence, I barely know most of the people who offered bonuses or the StomperNet guys themselves (I think I said about 3 sentences to Brad Fallon when we met at a networking event because he was clearly focused on something else at the time), so I'm far from qualified to comment on their sincerity as people and marketers – although most of them seem like nice guys (Ed Dale's a bit of jerk though – just kidding!).
As far as I'm concerned there was nothing illegal or wrong about the bonuses or any aspect of the offer, except one thing…there was just too much provided.
Information Overload Is A Real Problem
As I read through all the bonuses on offer I thought there was some truly good stuff, items that I personally desired but I knew I simply didn't have the time or the focus to go through it all, and I knew my audience are in the same situation.
If I was to pitch the bonus offer to you like everyone else was selling it – as a once-in-a-lifetime deal – I'd be doing my subscribers a disservice. I'm always talking about the 80/20 rule and seeking lifestyle freedom and all these good things and felt that while there was huge value on offer by StomperNet and their bonus-giving buddies, it wasn't going to work if you tried to consume it all.
At first I decided not to write about it, but then I thought wait… there are some good things in the offer, the trick here is to realize what you need and ignore the rest.
So what I did was decided to send a notice to my newsletter basically saying the truth as I saw it. Here's an excerpt from the newsletter –
This is a great incentive and no doubt there are some valuable resources you are going to get (again, just for the cost of shipping), but you have to be careful with this – it's simply TOO MUCH for one person to go through at once.

You will experience information overload if you try and study it all.

My advice is to take the offer if you haven't already for the SEO course and the sample of the newsletter, cherry pick from the other bonus offers, and then IGNORE THE REST.
I also broke down exactly why this offer was made, what was in it for StomperNet and was about as transparent and as honest as I could be. You could say I wasn't really pitching people the offer, I was warning people to think carefully before taking it and how best to leverage it.
Oh, and here's the subject line I used in the newsletter –
"Be careful of this one…"
(By the way, if you are not subscribed to my newsletter – go stick your name and email into the box you see on the top right of this page to subscribe or join at BlogMastermind.com.)
Honesty Pays Off
Let me tell you something, as a person who runs a popular email newsletter, who has the gall to actually sell something through it now and then, I get my fair share of replies that are not so friendly.
Actually "fair share" isn't accurate. I really only get about one or two complaints a month from people who take offense that I would sell through my newsletter. You may have seen the same thing happen here at this blog in the comments on the rare occasion a person doesn't like a blog post I have made because it sells a product.
This is just something you have to come to grips with whenever you operate an online business. You can minimize this type of feedback by focusing on value before selling and by the type of language you use, but as your exposure grows (a good thing) you tend to piss more people off too (usually a sign your business is growing). It's impossible to please all of the people all of the time, and it's a guarantee that not everyone is going to share your point of view.
However, when I sent out this particular email newsletter, which was about as transparent and directly honest as I could be while still selling the StomperNet offer full of all the bonuses, the opposite happened.
People started replying to the newsletter saying how thankful they were that I had "acted honestly" and told the truth with a warning about an offer, rather than over-hyping it as the best thing since sliced bread.
This certainly says something about the current state of the Internet marketing niche. People notice when you don't use the same language all the other marketers use to sell the same products.
Don't Be Afraid To Be Honest
Would my results have been better if I followed the standard pitch saying the offer was the best thing ever? Maybe. Despite using the honest approach with that newsletter I still referred over 300 people, placing me 17th in the affiliate competition and netting somewhere around $5,000 in commissions. Obviously 16 people did better than me, but I'm still pretty happy with that result.
I'm also happy because I was able to write an email I felt really good about writing and I received lots of replies confirming that it was appreciated. Online reputation is important to me and as always, I can't please everyone and I know some people haven't always agreed with what I do, but I think I have the majority on my side, which is nice.
Sometimes when you have to sell something you experience an uncomfortable feeling. This shouldn't happen if you truly see value in the product, although I know of people who simply don't like selling at all and it's a struggle for them.
Obviously I got over this myself, but with so many people selling the same thing on marketing lists every day, sometimes it's hard to find an angle you are comfortable with – after all, you don't have to sell, you could just keep sending out great free content and not worry about ever making money (and then lose your house because you can't pay the mortgage!).
Don't Be Afraid To Sell Too, But Be Yourself
The lesson here is that you can write emails and blog posts that are honest, present your opinion, that help your audience AND sell something.
It's a fine balance and you have to be prepared for feedback from people who don't like that you are selling or who don't agree with you, but most of the time these people are in the minority. It's hard not to respond emotionally when people don't like what you do and are outspoken enough to tell you, but that's just yet another mindset issue all budding entrepreneurs need to go through.
Take the time to craft words that you believe in, focus on products you know provide value (though you may need to provide instructions on how best to extract that value), be honest, and you can do well, assuming people are paying attention to you of course!
Understand that people use manipulative language to pull at emotions – that is part of what copywriting is about – so be wary whenever you face a buying decision. In most cases what is offered is not something you need to deal with your immediate problem and should be ignored. Do not consume information simply because it's there or it looks interesting unless you have nothing better to do (which I doubt is anyone reading this!).
Yaro Starak
Spilling Beans