How To Create Recruitment Systems To Hire People Before You Need Them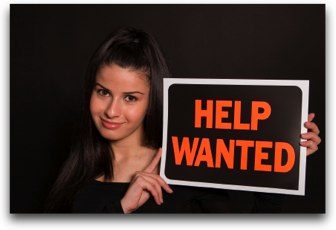 I was recently asked how I hired quality editors when running my previous business BetterEdit. As I responded to the question I realized the information provided might well serve others, so I'm going to explain my system for staying on top of the recruitment process here in this blog post.
Before I begin, a brief caveat – this system as I implemented it only worked because I had a website that received a continuous stream of traffic from Google. It was by no means a huge amount of people, perhaps a few hundred daily unique visitors, but because the traffic was targeted and due to the supply and demand ratio for editors versus work, I was in a good position to make the following system work.
However, that doesn't mean this can't work for you if you don't have consistent search engine traffic or if the dynamics of the employment market in your industry are not as favorable, you just have to work a little harder to find the good people and bring in the traffic. If your website already receives consistent search engine visitors then you are position to immediately benefit from this technique, so make sure you write this down on your to-do list after you finish reading.
Slow Companies Fail
If you read Rich Schefren's recent report, the Uncertainty Syndrome, you may remember he talked about hiring solutions that bring good people to work for your company BEFORE you need them.
Due to the speed of today's markets, those who are quick and stay ahead of the curve generally win. Your company is only as good as the people working for it. If you combine those two ideas, then it makes sense you need the best people working for your business and you need them yesterday.
Think about any time you learned something new that you just knew you could apply to your business and immediately benefit from it, yet you don't personally have the time to do it (nor does it make sense that you do it – it's not your core strength), none of your current staff are available to take on the role and of course hiring new staff is never quick if you start from scratch. By the time you have the right person you've missed the boat – the market has moved on to the next thing and your prospective customers have already been captured by faster-moving competitors.
An even more common problem in successful organizations is business growth. In order for your business to take the next step you need help. Perhaps you require someone to take on the extra administration responsibilities, new talent to deliver the services your company provides, added customer support, maybe a project manager or a new tech person to help handle increasing technology demands.
If you are hiring reactively, then every stage of growth is hindered significantly by each new hire you have to make. This can be such a huge problem that you have to turn down work, work that is your company's core strength that you would love to take on, simply because you don't have the capacity to deliver the results due to limited resources. That's VERY frustrating for an entrepreneur.
Be Proactive
When I set up my system to hire editors I wasn't thinking about any of the ideas above, even though it makes a whole lot of sense to me now.
Simply put – I saw a way to make my life easier and take advantage of what I saw as excess capacity – a resource I wasn't leveraging. I should also point out that even though this is a proactive solution, I came up with it reactively. Sometimes you need to react to a situation and then come up with a proactive solution for all future instances of that situation.
My proofreading business experienced a consistent six to twelve month turnover of about 20% of my editing contractors. Because of this, and business growth, I had to hire new contract editors once or twice a year to fill gaps in the roster and meet demand.
Thankfully, as I stated in the caveat to this article, BetterEdit.com was receiving a steady stream of organic traffic, some of which was coming from editors looking for work. As per all industries, it's tough to know the good people from the not-so-good, so a hiring process is necessary to weed out the unqualified and find the gems. However that didn't stop every single editor sending me an email saying they were perfect for my company and I should hire them immediately.
At first I was typically manual with my process. Any emails I received from prospective editors were responded to via a written email from yours truly (that's me). I kept a folder in my email client where I stored all editor applications, and when it came time to hire, I'd email them one by one about job openings.
Unfortunately by the time it came to hiring new editors, most of the applicants who had contacted me had found work already, or changed email addresses or thought I was spamming them or turned out to unqualified. I spent a lot of time emailing people who would never respond or getting the hopes up of people who I would never hire.
The System: An Email List
One day it dawned on me – instead of manually processing email applications from random out of work editors finding my site through search, I'd direct them to a page on the site specifically for people looking for work – a "Jobs" page. On that page I would put an email list capture form and create a new list of all the people who came to my site looking for work.
I set the jobs page up within a day and immediately the list started to grow. A few months later when it came time to hire, I sent out one email to the list with details about the job openings and the application process used and then proceeded to hire people using the hiring process I had established.
This was a great solution for many reasons –
I only had to send one email when it came time to hire new editors
Only the people in a position to apply and qualified would reply to me (the application process outlined what kind of people we wanted during that hiring round
I no longer received as many random emails from editors and when I did, I used a template response email to send them to the jobs page to fill out the form and get on the waiting list
I created another business asset – a list of potential editors to hire from whenever the business needed them (this was a big deal when it came time to sell BetterEdit because it made managing the business that much easier for the new owners, they knew where new editors would come from)
It made hiring people much quicker because it completely eliminated the search process – all I had to do was the filter process – pick the best from the people already available in my database
Applying this idea to your business isn't hard. Create a new email list for potential hires, place a "jobs page" on your site outlining the type of people you are looking for with an opt-in form to join the job openings notification list, and when it comes time to hire, just send out an email.
This obviously won't work for every industry and the unique conditions in your employment marketplace will dictate how well it works, however if you have a website with traffic, why not use some of that traffic for a purpose other than selling.
Internal lists are the best place to source new staff from, and a list specifically of people who want to work for your business is a potential goldmine when it comes time to hire new recruits.
(This advice should be applied to your prospect and customer lists too – don't be afraid to email all your lists when you have a job opening , you never know who is listening.)
What If You Can't Create Email Lists?
Of course if you don't have a good email autoresponder yet, you should know I have used AWeber for my email lists for years now and recommend them to anyone serious about their online business. You are not really in business until you have a list.
For more on email autoresponders, read my review of AWeber here.
Go Apply This Idea Now
While writing this article I realized I haven't applied this recruitment technique to my current blogging business. That's going to change.
This blog has always been helpful for hiring people but at the moment I don't have an automated method to capture the details of those who want to work with me and fill positions that open, and I will be looking to hire people in 2009, so now is a great time to get started. Don't be surprised if you see a "Jobs" tab in the navigation bar on this blog very soon.
Why not take this advice and apply it to your website too? Even if you are not sure who you need right now if you are working hard on your business you are going to need someone soon enough and the sooner you start building your potential employees list, the larger a pool of talent you will have to draw from when it comes time to hire.
Yaro Starak
Recruitment Systems Engineer