How I Started Making Money From The Internet
Hi, my name is Yaro Starak and I am the founder of this blog,
Entrepreneurs-Journey.com
.
The purpose of this page is to explain to you the background story about how I first started to make money from the Internet.
If you already know my story and want to dive in and begin your own journey to make money by packaging up your knowledge into digital products you sell online through a blog and email list, go immediately to the How You Can Start page.
If you want the short story about what this blog provides, head to the About Page.
Scroll down and watch the video or read my story to hear how I started making money online…
Hear My Story

Learn How To Make $10,000 Per Month Blogging 2 Hours A Day
Enter your email to join my newsletter and download the Blog Profits Blueprint Exclusive Report
How The Internet Changed My Life

Blogging and the internet has well and truly changed my life…
Thanks to the work I put in over the last few years I have generated over a million dollars from the Internet.
I purchased a half million dollar inner-city apartment in Brisbane Australia where I lived until 2015, when I bought another apartment in Toronto Canada, where I currently live.
I've also used the profits from my blog business to purchase investment properties, a brand new BMW car and help support my parents.
Since my business is 100% online, I frequently pack up my laptop, get on a plane and travel the world.
In one trip I did a complete circle around the planet, starting in Fiji, then Hawaii, Vancouver, Toronto, Las Vegas, Chicago, New York, Winnipeg (to visit my grandmother), Montreal, Quebec, Glasgow, Edinburgh, London, Brussels, Amsterdam, Paris, Rome, Florence, Venice, Naples, Athens, Dubai, Singapore and then back to Australia.
More recently I moved from Australia to Canada, traveling through Hong Kong, Tokyo, LA, San Diego, then living in San Francisco for three months, Vancouver for a month, and finally settling in Toronto.
While at home I spend a couple of hours a day writing on my laptop at cafes, and the rest of the time I do whatever I like, including tennis, dinners out with friends, skating, movies, reading, working on new projects, trips to nature and sometimes nothing at all.
If you set up the right kind of Internet business, you gain financial freedom and time freedom, which is something most people only dream about, especially if you currently have a day job that you despise.
The perfect situation as I see it is owning a website business that generates more than enough money to live off, that runs without you or requires very minimal upkeep so you can travel and do other things, and there is work you can do when you want to that is fun and rewarding (because if you are like me, just living a perpetual holiday gets pretty boring eventually!).
It wasn't always like this for me. It has taken a long time to bring together the necessary ingredients to live this sort of lifestyle…
How I Set Up My First Money Making Website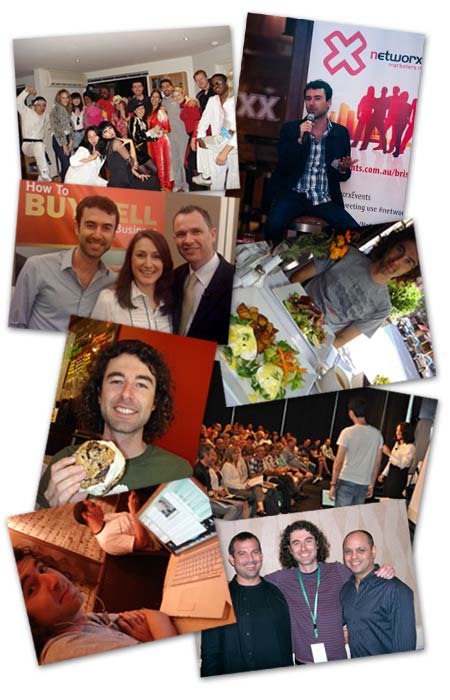 I first went online in 1998 when I was an undergraduate student at the University of Queensland, in Brisbane Australia.
I spent a couple of years focusing on my studies, while in my spare time I played with the still very new world wide web (the internet). This was during the days of online chat rooms, bulletin boards and newsgroups, and the start of the dot com boom (crazy internet companies getting huge valuations on the stock market).
Eventually I became interested enough in the Web that I wanted to have my own website.
At the time I played a card game called Magic: The Gathering (it's competitive like poker, but with dragons and elves and goblins, etc). I was a competitive Magic card player, which meant that I played in tournaments and was serious about the game.
The first website I created was dedicated to the Magic card game. It grew slowly, initially from my own effort to write articles about the cards, and later with the help of other card players from around Australia who submitted articles.
Eventually I added a trading forum to the site so people could buy, sell and trade cards. This immediately boosted my traffic and kept people coming back to my site every day to trade cards.
Although my website wasn't huge – at best I had about 500 visitors per day – I was able to make some money from it.
I sold banner advertising to sponsors, mostly card game shops in Australia. They paid me about $50 a month to place their banner on my site. Some also paid $100 to place an advertisement in the newsletter I sent out to all the members of the card trading forum.
By the early 2000s my website was making between $500 and $1,000 a month. I consider this site my first online success story. I didn't make enough money from it to survive financially, but as a university student living with my parents, it was more than I needed.
How I Increased My Online Income So I Never Needed A Job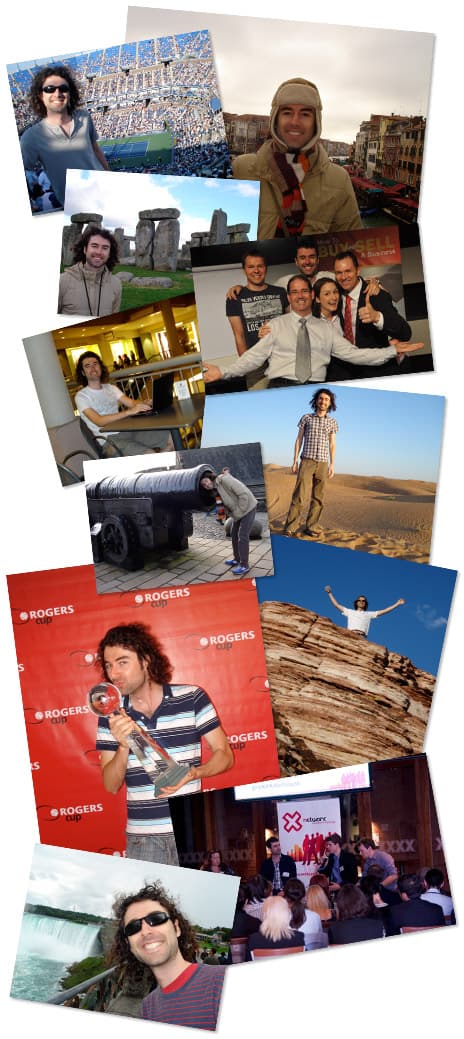 After several years of running my Magic website, I grew bored of playing the card game and sold the site for $13,000 to one of the people who traded cards in my forum. This provided some money to invest in a new project (and move out of my parents place!).
My next website was different. I wanted a real business with real potential for growth. This was just after the crash of the dot com boom on the stock market, and I was excited about creating my own big success story.
One day I was in a newstand browsing through a Yahoo! magazine (back when they published a paper magazine). I came across an article about a young guy who was studying business in Harvard. Although he was enrolled to study a degree, he spent most of his time in his dorm room running an essay editing service. His business edited papers for students who were applying to enter university in the USA.
I used this story as inspiration to start my own essay editing service in Australia. Australian universities do not have entrance essay requirements like the USA, however I saw a need in the market that I believed my business could fill.
As a student at university myself, several times I was part of group assignments. Often my partners were international students from Asia or the Middle East, who had English as a second language.
As a group we all had to write a paper, combining our words. It became apparent that most of the international students struggled to express themselves with written English, especially in an academic context.
My editing service focused on this group of people, who needed editing and proofreading of their essays, and feedback on how to write better academic English. My business was called BetterEdit.com.
Although the business started slowly, eventually I grew a small loyal customer base. To do the editing work I hired contract editors, usually professors or postgraduate students from universities. To promote the business I used the internet and placed posters at university campuses.
After several years of slow steady growth, BetterEdit eventually broke through to $100,000 in sales in one year. It was a big milestone for the business, and meant after taking out costs I made a full time income.
Because BetterEdit services were delivered by contract editors, the work I personally did required only a few hours per day. I had created a great lifestyle business.
How I Started Making Money With A Blog
In 2004 a friend suggested I start a blog to promote the editing business. I didn't know what a blog was, so I did a little research.
Despite reading about blogs I still didn't understand what made a blog different from a normal website. I always learn best by experimenting, so I started a blog on the BetterEdit.com website.
I lasted about three months writing to the BetterEdit blog. I found it difficult to write about the subject of editing – it's a somewhat boring topic (in my opinion!).
However the experience gave me insight into exactly how blogs work. I was excited to continue blogging, but about a different subject.
I decided to start a new blog focused on something I enjoy… entrepreneurship.
In January 2005 I registered the domain Entrepreneurs-Journey.com intending it to be a hobby site where I shared stories from the previous years I spent as an entrepreneur.
At the time I didn't realize my blog would become my main business and completely change my life, ramping up my income beyond a million dollars.
Initially I treated my blog as a hobby and had one goal: To take as much of the experience I had in the past seven years as an entrepreneur and write about it on my blog.
Initially I wrote every day, created tutorials, did updates on how my editing business was going and just indulged in being creative with a blog.
I also spent time visiting other blogs in my niche, leaving comments and getting to know other bloggers via email and chat. Slowly but surely I built up a readership, and although I wasn't making any money from it, I knew the possibility was there.
After six months I had between 300 and 500 daily readers, so I decided to begin testing different ways to make money with my blog. I tried the following methods in this order –
I started promoting an ebook someone else wrote, which paid me 50% commission for every sale I made. Later that year I also sold tickets to a conference run by the same person who wrote the ebook, other products like audio CDs and home study courses. This is called Affiliate Marketing.
Like I did with my Magic card game site, I sold banner advertising on my blog too. Over a few months I slowly attracted a handful of sponsors at $50 to $100 per month.
I also tested Google AdSense, an advertising system lots of bloggers were making good money with. However in my case, I did not. I made about $1 a month and realized AdSense was not going to be my path to profit for this blog.
Using these methods, well the first two anyway, I was able to grow my income to about $1,000 a month after a year of writing to my blog. It wasn't consistent income, so I still didn't see my blog as my main business, but I was loving it.
How I Increased My Blog Income To Over $100,000 A Year
I am an avid student of internet marketing, buying courses, reading books, and learning how other people made money online. It quickly became clear that the big money was made by people who focused on email marketing (having a "list" of people you can send email to).
In January 2006 I started my first email newsletter. I offered people blog traffic tips writing one email per week with advice on how to grow traffic to your blog. You can read my early Blog Traffic Tips newsletters here.
Over the course of 2006 I focused on attracting more readers to my blog, grew my email newsletter and made more money with affiliate marketing and sponsors.
By the end of the year my income had reached a steady $3,000 to $5,000 per month.
In 2007 big changes happened. I decided to sell my editing business.
After about six months of looking for a buyer, the sale finalized in June (you can read How I Sold My Business For $100,000 for more details). From then on I made the decision to focus only on my blogging business.
That same year I decided to create a training product of my own. I wanted to teach people about how to make money with blogs, based on what I had done in the previous two years to reach an average of $5,000 a month. By this stage maintaining my blog only required a couple of hours work per day, so I figured this style of online business would appeal to a lot of people.
I launched my first training program, Blog Mastermind, and 400 people signed up to take the first run of the course.
I promoted my program to my blog readership, my email newsletter, and offered 50% commission to affiliates for any sales they made. Many other bloggers promoted my course, which helped me reach a lot of new people.
By the time the dust settled I was earning $15,000 a month from my blogging business.
Thanks to the proceeds from selling my editing business, and the confidence of steady cash-flow from my blogging business, I purchased a new car and my first home.
2007 was the first year I made over $100,000 from blogging, two years after starting my blog.
Finding The Right Balance
Since the launch of my first training course I continued to run my blog and create more training products. By the year 2009 I had generated over one million dollars in product sales from my blog business, a huge milestone.
I've also had the pleasure of seeing some of my coaching students become successful too, launching their own profitable blogs. Some have made more money than me and become millionaire bloggers too!
By 2010 I realized my blog business reached a point where I was very satisfied with it. I had many new opportunities in front of me, but I felt something was missing. I still wasn't happy and I knew what was wrong – I didn't have the kind of social life I wanted.
Instead of focusing on new projects to make more money, I spent the year working on my social life and expanding myself in non-business areas.
I didn't neglect my business during this time, but since I had built it up to a point where it required little maintenance beyond writing articles and helping my coaching members, I had plenty of time for other things.
This experience taught me the importance of finding balance between how much you work, how much money you want, how much time you spend developing yourself personally and whom you have around you to share your life with.
Closing My Courses And A Family Tragedy
By 2011 I realized most of my courses were due for a major update. The internet had changed and my programs were starting to show their age.
I was feeling burnt out from teaching at this point, so I decided to close down my programs and take a break to focus on another project with a friend.
As you can imagine, with no products for sale anymore, my income took a huge hit. My blog was still popular and I continued to write and publish my podcast, but my business basically grinded to a halt.
Early one morning I received a phone call that my mother had a stroke. She spent two years in hospital, but never recovered unfortunately. She passed away in 2013.
I was thankful to spend almost every day in hospital with my mother during this time. I was financially free, and even with none of my own products for sale, my blog continued to bring in at least $5,000 a month and required very little work to maintain.
This situation hammered home to me why I made the decision all those years ago to avoid the traditional 9 to 5 career path. I wanted freedom. The freedom to do the work I wanted, when I wanted, freedom to control my income, and most of all, free to control how I spent my time.
In this case I had the freedom to make the choice to spend my time with my mother, without worrying about work commitments or having concerns about whether I'll be able to pay my bills unless I work.
Rebooting My Business
After my mother passed away and I ended the project with my friend, I felt a renewed desire to return to my blog business.
Years prior I had a vision for a range of products and services I wanted to create, but I didn't have the motivation at the time to dedicate myself to years of product development after already spending three years to create three courses.
As 2013 began I had was ready to turn my vision into reality.
Today I Help Experts Sell Their Knowledge Online
One of the big changes to the internet in recent years is how crowded things have become.
Because of this I had to refine my system to teach a more focused method of blogging. I call this new system, The Blog Sales Funnel.
There is a certain type of person who is perfectly suited to make money with my new system. People who are experts, authors, speakers, teachers, trainers, and coaches – any person who wants to package up their knowledge into digital products and sell them online through the power of blogging.
Today I continue to write to this blog, run my podcast, travel the world and teach experts how to apply the Blog Sales Funnel model in their business, through my various training courses and guides.
How Can You Benefit From My Story?
This story touches upon many different aspects of how I have made money online and the different stages of my own development as an entrepreneur.
No doubt you feel there are lots of pieces of the puzzle missing in your situation if you are to sell your own products and services online.
Your next step, if you want to follow in my footsteps and create both time and money freedom in your life, is to go to the How You Can Start page.
Thank you for reading my story, and I'll see you on the next page.
Yaro Starak
Entrepreneurs-Journey.com
P.S. To hear this story in audio format, listen to the Yaro Starak Backstory Podcast.